W

ith your garage's limited square footage, there is only so little that you can do with it. That is if you do not employ space-saving techniques in your garage. It is a challenge, correct, but one that is satisfying to take on especially if you are able to up the functionality of your space.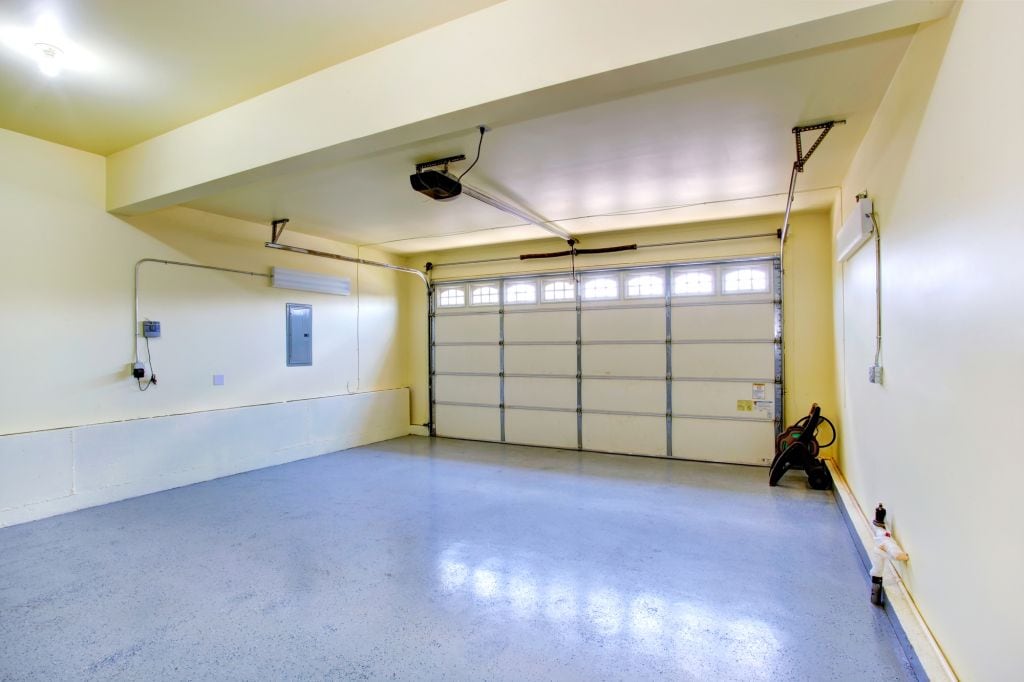 But first, how "small" is a small garage?
By definition, it could be a garage space that could hold one or two cars. And by two cars, it does not necessarily translate into fitting both cars comfortably in the space. Typically, a one-car garage's sizes range from 12 feet wide by 20 feet deep to 16 feet wide by 24 feet deep while the two-car garage's size ranges from 18 feet wide by 20 feet deep to 24 feet wide by 24 feet deep.
In older homes, expect even smaller garages. This is because the garage's sole purpose is to have a covered parking space for the vehicles.
Nowadays, the garages are quite bigger compared to the older homes because the garage is also a space to store items. However, vehicles also get bigger in size. So, even if you own a slightly larger garage, it would still seem small because of your car. The reason behind the ever-growing sizes of cars is because of the growing demand for more built-in features a car can have.
Do you need your garage to be both a parking space and a storage area? You do not need to pick one over the other. Efficient layout and design, and of course, constant tidying are your best solutions. Read on to get ideas on how to maximize every square foot in your garage space.
Tidy your space
It is an obvious step toward making your space bigger is to declutter and remove all the junk and unnecessary items that are stored in the garage. Non-essential items only occupy much-needed space.
A study conducted by Braun Research shows that a third of the homeowners were left wondering what items occupy their garage's storage space. And while 75% of the survey respondents wish that their garages are tidier and more organized, though, almost a third of them do not actually organize the garage.
If you scour through your items and see that you have things unused for the past year or years even, then it is about time to let them go. Much so if you find broken appliances, old furniture, leftover materials like paint and scrap wood, and old tools that should be replaced. Imagine how much space this stuff has been occupying that makes the small garage space even smaller.
Take advantage of wall space
Most likely, your garage walls are empty except for some tools leaning on them. So, it will be wise to make use of the walls productively by installing wall shelves, slat wall storage systems, and pegboards. They are good to be used to hang accessories, sports equipment, ladders, tools, power cords, and garden hoses. It also makes it a lot easier to organize them by grouping like items together for easier access and tidier visuals.
Maximize your ceiling space
Look around your garage and identify the spaces that are underutilized or not used at all. You will find that the ceiling is a possible area that should have been maximized. While not all garages have ceilings that are high enough, if yours do, might as well install overhead garage storage racks.
Heavy-duty storage racks can handle a lot of weight, so bulky items such as out-of-season items like holiday decors and seasonal sports equipment like snow sleds, spare tires, plastic storage bins, and garden and car mechanical tools are fit to be stored there. Lifting their storage area will free up a lot of floor space, which can contribute to making your garage space appear larger than it actually is.
Make sure that the overhead storage rack that you will install is properly anchored to the ceiling for safety. One that is made of high-quality steel and powder-coated finish will assure longer shelf life as it is naturally made to prevent rusting.
Garage Storage You Can Trust
The FlexiMounts GR48M Pro 4′ X 8′ Overhead Garage Storage Rack is built with heavy-duty in mind, as the reinforced hanging garage storage wire deck design guarantees a high loading capacity of up to 800 lbs. But you need not worry because the quality construction of this rack assures safe and high loading capacity. For added stability and safety, the ample vertical supports longer ceiling brackets and a larger contact surface. The screws that are included in the package are thicker compared to the others available in the market and went through strict tests to assure the quality of the hardware. Moreover, the rack is also waterproof, which protects the stored items from getting damaged due to water or liquid leakage in your garage.
The GR48M offers flexible installation as you can practically mount the garage ceiling storage racks nearly anywhere. With Fleximounts smart joist configuration, you can mount the rack in both wood and concrete at any position–perpendicular, parallel, and even on slanted ceilings. Just make sure that you maintain 48-in. Distance in between the vertical posts. Use a stud finder to locate the joists if the ceiling is finished with drywall.
What's more is that the garage rack can easily be expanded with hooks and clamps to store more items like bikes, tools, cables, and more.
Also included in the package are the installation instructions and template to help with the do-it-yourself construction of the rack. You do not need to fret as the instructions are easy to follow. Although basic knowledge when using the hardware is a big plus, newbies can still construct the rack in no time.
FlexiMounts 520 Brand Day Sale
A smart homeowner would love to take advantage of the sales available. From March 20 to 26, FlexiMounts is having a Brand Day Sale, which offers a 10% discount on selected products, namely, FlexiMounts GR48M Pro 4′ X 8′ Overhead Garage Storage Rack, FlexiMounts BHR4 Flexible And Foldable Bike Hitch Rack, and FlexiMounts WR Series Classic 2-Pack Wall Shelving (WR16/WR16B and WR26).
Use the "flash10" coupon code to pay only $215.99 from its original price of $239.99 for the FlexiMounts GR48M Pro 4′ X 8′ Overhead Garage Storage Rack. What a deal, right? So hurry and purchase yours now!