The number one problem every garage owner faces is the lack of floor space. And it should not be the case. Here's why–you are using a less effective garage storage system. Of course, the garage is a vehicular parking space, as well as a storage area for items that you use in your workshop, car maintenance, garden pruning, and other mementos that need to be stored that are not used daily. So that leaves you with minimal foot traffic access. Not only is this kind of setup a complete eyesore, but it also poses danger for anyone who happens to use or pass by in the garage because it could lead to injuries.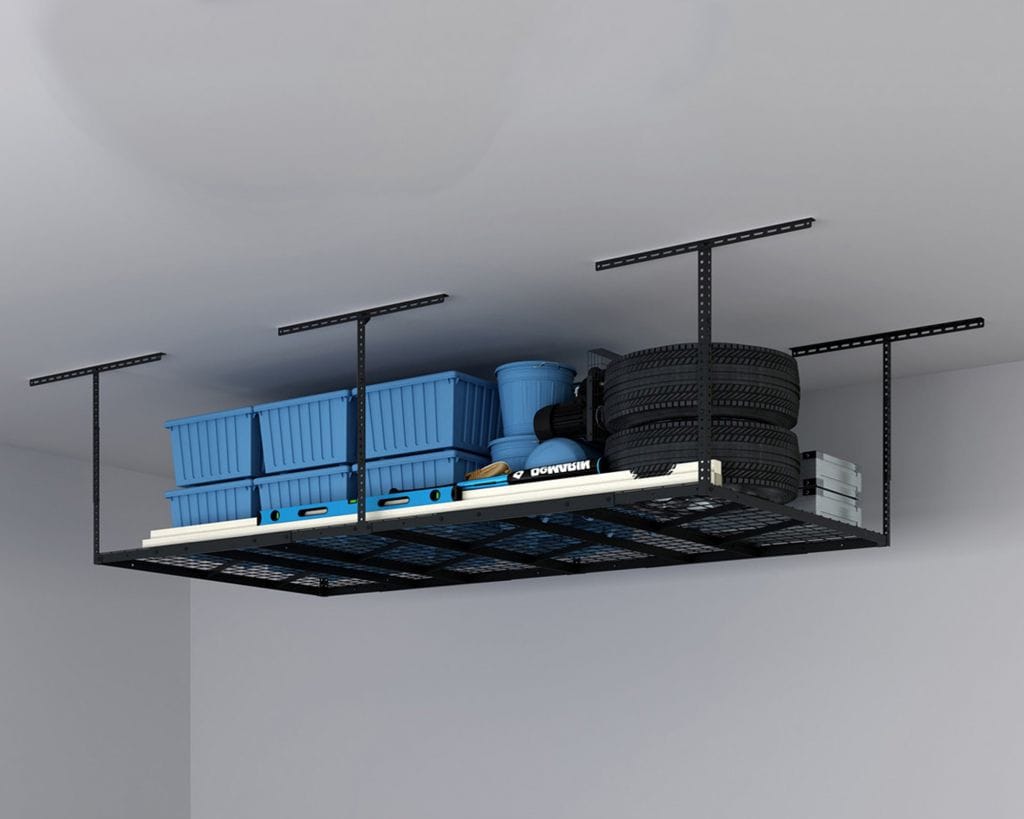 Neat and organized garage space is on everyone's dream list. And the best way to achieve this is by installing overhead storage. Maximizing the ceiling space will free up floor space for the needed activities done in the garage and storing more oversized items such as your vehicles or workbenches. We cannot emphasize enough how overhead garage storage racks can add value to your garage space by keeping your seasonal items, workshop stuff, and other things that don't belong anywhere else in the house. By utilizing overhead garage storage racks, you are maximizing the spaces available in the garage which are most likely left blank like the ceiling. And there are a lot of Fleximounts products that you can install in your garage. To help you in finding the perfect organizational solution for your garage, here is the rundown of the overhead garage storage racks available.
Priced at $139.99 to $449.98. The GR Series Classic Overhead Garage Storage features a safe and high loading capacity because of its high-quality construction. This ceiling-type installed garage storage rack has a sturdy and stable design. Its grid design and frame are welded together and used heavy-cold rolled steel as material. Not only is it durable, but the integrated grid design allows easier assembly of the storage rack. The GR Series has a weight capacity of 400 to 600 lbs, while its height adjustment can go from 22 inches to 40 inches ceiling drop-down. This feature enables the garage owner to customize the height to fit perfectly for the garage space and the comfortable height one wants it to be. The rack is also suitable for securing either ceiling studs or solid concrete ceilings. Furthermore, the screws that are provided in the package have undergone strict tests, and are proven to be thicker than those from the other brands that also supply overhead garage racks. Not only does the overhead garage rack optimize ceilings, but it also provides an advantage in avoiding flood damage by storing your stuff off the garage floor, which protects your items from getting soaked. Moreover, it makes your garage look neat, and avoids rodents and insects from making a home in your garage.
Priced at $239.99. The Fleximounts GR48M Pro 4′ X 8′ Overhead Garage Storage Rack is built with heavy-duty in mind, as the reinforced hanging garage storage wire deck design guarantees a high loading capacity of up to 800 lbs. But you need not worry because the quality construction of this rack assures safe and high loading capacity. For added stability and safety, the ample vertical supports longer ceiling brackets and a larger contact surface. The screws that are included in the package are thicker compared to the others available in the market and went through strict tests to assure the quality of the hardware. Moreover, the rack is also waterproof, which protects the stored items from getting damaged due to water or liquid leakage in your garage. The GR48M offers flexible installation as you can practically mount the garage ceiling storage racks nearly anywhere. With Fleximounts smart joist configuration, you can mount the rack in both wood and concrete at any position–perpendicular, parallel, and even on slanted ceilings. Just make sure that you maintain 48-in. Distance in between the vertical posts. Use a stud finder to locate the joists if the ceiling is finished with drywall. What's more is that the garage rack can easily be expanded with hooks and clamps to store more items like bikes, tools, cables, and more.
Priced at $259.99. The rack is made of heavy-gauge cold-rolled steel construction, which is responsible for the safe loading of up to 600 lbs. Its integrated wire grid design and frame are welded together, making the unit more sturdy and stable. Moreover, the wire grid underwent strict tests with triple load breaking strength. It is specially designed for easier assembly. The height can be adjusted from 22" to 40", providing a convenient and safe place to store your stuff. The height-adjustable ceiling drop-down lets you customize to your preferred height. The ceiling brackets are designed to be attached to two joists for more flexibility and security. The rack is suitable for securing to either ceiling studs or solid concrete ceilings. The screws provided are thicker than comparable products available in the market and have gone through strict tests to prove the top-quality make of the hardware.
Priced at $129.99. The heavy cold-rolled 14 gauge steel construction ensures long-lasting use and provides safety loading up to 600 lbs with ⅜" plywood or thicker. The high-quality screws provided in the package are thicker than industry standards and have gone through strict tests. The rack is also height adjustable to suit your needs. It can go from 22 inches to 40 inches dropdown and provides up to 105 cu. This is beyond compare to other racks available in the market with a maximum of 33 inches ceiling drop down and a maximum of 88 cu. ft. of storage. The dimensions of the GR48F is 96 x 48 x 22-40 in. Moreover, the Basic 4′ X 8′ Overhead Garage Storage Rack GR48F offers installation practicality as it can be both for parallel and perpendicular installation. In either case, you only have to make sure that the vertical posts are 48 inches apart. If your garage's ceiling is finished with a drywall, you can use a stud finder to locate the ceiling joists. The rack consists of four corner triangles and two frame reinforcement bars. The rack is a specially designed vertical post that allows for embedded deck mounting. And for added peace of mind and security, it has multiple mounting points for attaching the deck and frame firmly with tapping screws. This Fleximounts overhead storage rack provides space for flexibility and creativity as you can customize the color of the wooden decks or even better, recycle the old wooden boards that you have lying around the garage or lawn. But note that the recommended size is 4'x8' and has a thickness of at least ⅜". Also, you can opt to choose Fleximounts wire grids as a base or deck for the rack. Either way, it provides sturdy storage for all your unused and seasonal items. Do not worry about the installation as it is easy to comprehend with the installation instructions and template that go with the package. And you do not need to be a construction expert to do such a garage project.
Take Advantage of the 15% Discount
If you buy now, the bundle of an overhead garage storage rack with hooks comes with a 15% slash off the original price. The hooks available are GRH1 4 pcs Flat Hooks, GRH2 4 pcs Rail Hooks, and GRH3 2 pcs Utility Hooks.