M

ost people love working outside their homes and into their lawns or backyards. This is the area of the household in which you might create your projects minus the fear of offending anyone with the clutter you create. All carpentry and painting are completed in an outdoor workshop. Most of your useful items are conveniently kept in this location for easy reach.
[caption id="attachment_212351" align="aligncenter" width="1024"]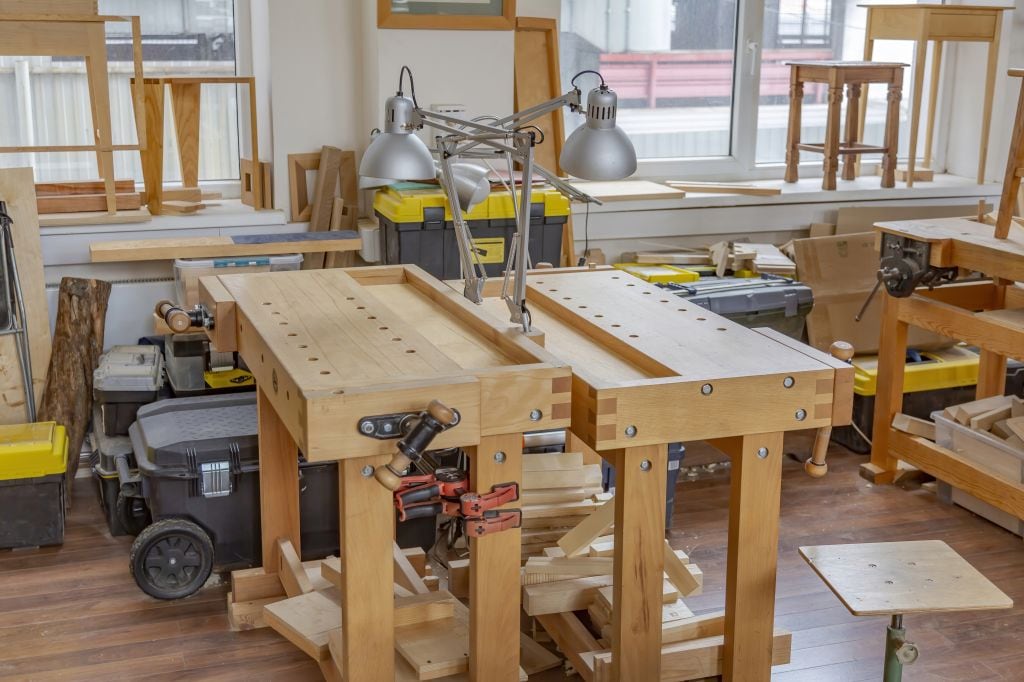 Moscow, Russia - May 27, 2021: Empty workshop of the Rubankov joinery. Workplaces and workbenches for the production of precious wood products[/caption]
Nevertheless, the majority of homeowners pay the price themselves by utilizing a substandard working table. Such justifications might span from the fact that their current workstation functions great to the fact that a modern workstation is prohibitively overpriced yet still falls short of their requirements.
Fortunately, FlexiMounts is ready to help! FlexiMounts aims to develop comfortable products for each professional worker, and also takes the risk of developing goods that enhance a basic carport. FlexiMount offers it everything, from ceiling storage to bicycle docks!
Now, we'll take a look at how FlexiMounts' workstation benches may help perfect a garage. Therefore, kick back, unwind, and continue reading to discover the finest workbench for the home and operating style.
The WB201 is suitable for performing a wide variety of tasks, from simple common tasks to massive and time-consuming activities. The WB201 GARAGE WORKBENCH WITH BUILT-IN DRAWER was developed with superior workmanship and stringent production management in mind. It can handle a total load of 3000lbs so each and every piece of equipment you may have will always be neat and accessible.
Additionally, the workbench's extra-thick 1-inch genuine wood top makes it a lovely complement to a homey carport. Apart from enhancing your area, it also provides a tough yet beautiful worktop that will withstand the strains of any job and endure for ages. To enhance the appearance of the carport, the hard wooden top has been covered using only an eco-friendly lacquer that is completely harmless for kids and your tiny animal companion
Storage for working tools is provided by a straightforward compartment built within the workbench. The exquisite style complements the décor of your house while preserving and securely organizing essential belongings!
Along with the cabinet, the adjustable legs shield your ground from scuffs and offer an effortless way to change the level of the workstation base gradually to minimize the workstation from toppling someone over and swaying on bumpy floors. The simple and robust structure of the workstation renders it perfect for a multitude of commercial and private uses. Customize it for usage inside your workshop, store, corporate workplace, bunker, studio, or residence.
FlexiMounts customers could now create their personal workstation using the Wb107 Customizable Workbench Shelving Frame. Every purchase includes a set including all of the necessary components for the customizable work desk. With the connection openings in the workstation base to the metal fastening panels and guards, the finest premium bolts, and a convenient guide, the Wb107 Customizable Workbench Shelving Frame will not disappoint. Additionally, you may select the wood that best complements the appearance of your personal working space.
The Wb107 Customizable Workbench Shelving Frame kit is constructed of tough, rust-resistant metal. FlexiMounts ensures superior reliability throughout the foreseeable future. The rivals' resin-based connectors are certainly not equal to the FlexiMounts steel connectors' dependability and massive load capacity.
Besides the thick metal construction, the Wb107 Customizable Workbench Shelving Frame offers an unparalleled level of personalization. You may combine and blend whatever hue, and also construct the ideal proportion for each member of your family. Whatever users choose to color, model, or construct, FlexiMounts ensures that anyone will enjoy a fantastic workstation regardless of however users prefer them.
People that adore hardwood décor but are unable to buy the ideal piece may utilize the Wb107 Customizable Workbench Shelving Frame anyplace in their residence. Using a little creativity and inspiration, the carport workstation may be transformed to become a reading table, gardening station, or even presentation display. While you possess the Wb107 Customizable Workbench Shelving Frame, your options remain infinite.
The Wb107 Customizable Workbench Shelving Frame is surely a hit. It features a very easy way to set up inside the garage, it is extremely durable, and every customer will love this because they have the option to decorate and customize this, however, the want which proves why it is a keeper.
FlexiMounts Wb107 Customizable Workbench Shelving Frame also has a five-star rating which is no surprise considering the fact that customers love this garage workbench.
This is the best chance that workbench users will have if anyone is looking for an upgrade. Speaking of upgrades, the FlexiMounts Wb107 Customizable Workbench Shelving Frame provides more space for your important equipment depending on how you will configure it. There are buyers who designed this workbench with multiple storages beneath the table where they can put their recreational supplies without worrying about the mess.
The metal used for the workbench frame can withstand any hard labor you will put upon it while still being a breeze to put together as long as the users will follow the manual. The workbench legs would never experience any problems staying durable. This will guarantee that it will give you years of service that would never budge nor rock even on any surface you decide to put this on.
This FlexiMount workbench kit is created by serving the best product in mind coupled with ease of usage. With just a lone wood, one can even construct a workbench that fits their working habits as the FlexiMounts Wb107 Customizable Workbench Shelving Frame proves to be a versatile option for those who have specific tastes in garage furniture. Most customers are impressed with the durability of the steel utilized as it will never curve or avert at all. Unsightly workbench abrasions are also a thing of the past. For the users who want a more portable option, they can install casters beneath the workbench to ensure that this would be easy to transport from one room to another.
Because FlexiMounts prides itself on never misleading our potential customers, hurry online and grab your new workbench from our store.
That concludes the discussion! Considering the information in this post, you should experience no difficulty determining which workstation is ideal for yourself and the workshop. While all provide superior quality, you may as well get both to ensure that you and your family never pass on the opportunity of having a fantastic workstation!