E

ver since Marie Kondo popularized the KonMari method, we've been hearing the phrase "keep the things that spark joy in you." This is how we know if we'll keep something in our home or choose to throw it away.
Other people still find it confusing or a hefty task to determine whether an object sparks "joy" in them. What does that feel like? What if it sparked joy in me today but I still won't use it the next day? Is it still worth keeping or is it just taking up precious space in my already limited area of residence?
Since space will always be an issue, it's important that one will be able to determine the value and worth of an item in his or her life. So there are guidelines that you can follow whether or not something is still worth keeping.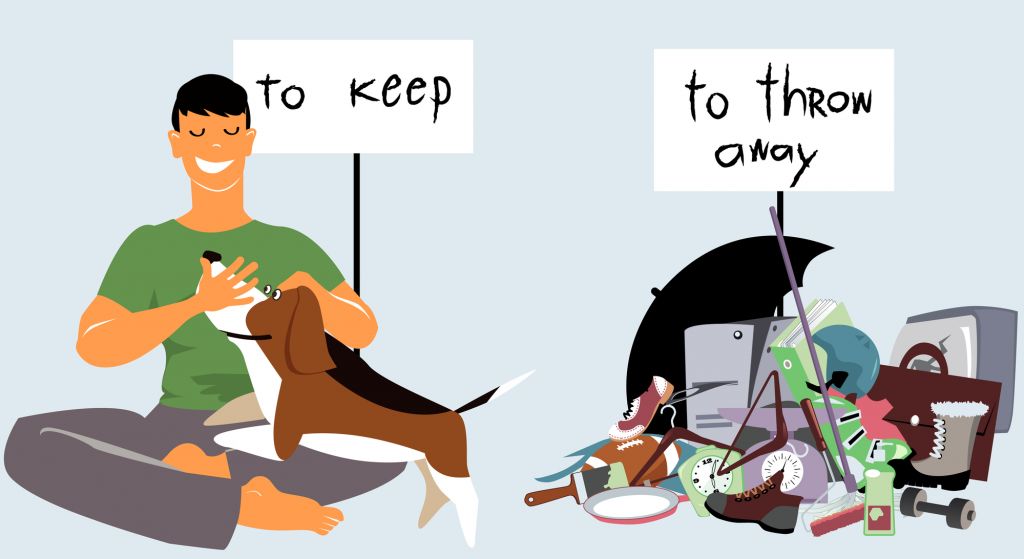 For instance, if you haven't worn an item for more than a year, then it's worth considering if you should still keep it in your closet. Maybe it doesn't fit you anymore or the style doesn't speak to you like it did before. It's a general rule of thumb that you bid goodbye to this piece of clothing that chances are, you will never wear again. If it's not ripped or has holes in it, you can always sell it or give it to a friend, relative, or charitable institution that will value it more.
You also throw away hardware that you no longer use. There are for sure so many things that are kept in your garage that no longer serve you in any way. There might be tools that you no longer touch, leftover paint that you can't find any use for anymore, or hardware that most probably already accumulated dust. You have to be wary of the toxic materials these are made of so be sure to check with your city how you can get rid of them safely.
You can also put in the trash bin paperwork that doesn't matter to you anymore. Maybe you have already paid your mortgage in full so letters of your monthly bills can already be discarded, sold to a junkshop or used as scratch paper. You can also buy a shredder to the grind the paper into pieces.
An item that is just sitting in any area of your house can already be up for throwing away. It's just becoming more and more dusted so it's much better if you give it to someone who'll be able to use It if not daily, at least regularly.
And you should consider throwing away objects that are already aging and too old. If you've had it since birth or even before you were born, then maybe it's time to part ways with it. Again, be wary of how you dispose of these items, making sure it's safe and won't be hazardous to anyone who will touch or come across your trash.
You can also get rid of something when you already have too much of it. For example, you already have six plain red t-shirts. What's the point of keeping all six? In this case, you are just hoarding and accumulating waste at home for an unnecessary big amount of one thing.
Follow these simple guidelines to know whether or not you should keep an item. We listed down FlexiMounts storage solutions that you can install after you're done decluttering.
If we haven't reiterated enough, for items that you need to be accessible on a regular basis, it's best to store them in a wall shelf where it can easily be reached by hand. This wall-mounted storage solution from FlexiMounts comes with all the necessary hardware which makes it easier to install in a concrete wall or wall studs. It's 2x6 in size and could carry 400 pounds in total. It's made up of top of the line, powder-coated steel that has undergone quality tests. Its buckle design comes with velcros, a feature that prevents it from falling. Homeowners may play around with installment because of the product's flexible layout with various combinations and different stud spacing. This unit comes in either black or white. It is a certified classic FlexiMounts' product.
WS SERIES ADJUSTABLE 3-TIER WALL SHELVING
If your garage isn't wide or you want multiple shelves, FlexiMounts also has wall storage options that feature up to three levels of shelves. The company boasts a patent design in structure where you don't need any tools to adjust the product. The weight capacity of this wall shelf is 300 to 450 pounds in total. You may adjust the height of each level according to your actual needs. It comes in two sizes that you can choose from: 1'x3' and 1'x4.' It is made of powder-coated steel that is guaranteed to be of high quality. Like the other products, even though this is in three shelves, it can also be easily installed by one person. It is also compatible for use in wood studs or a concrete wall.
This product will provide ample wall shelving, preventing the shelf from falling from the ceiling because it is secured on the wall. Its weight capacity is 400 to 600 pounds and the height can be adjusted from 22 to 40 inches. It is made of cold-roll steel that is guaranteed to be of high quality after undergoing rigid tests. This is also a waterproof product that could avoid getting your products damaged from water. It could store seasonal items such as athletic gear you only use for winter or for summer. This comes with an integrated grid design that makes it stand out from others available in the market. This comes in black and white and you may choose from different storage spaces: 4' x 8', 4' x 6', 3' x 8', 3' x 6', and 2' x 8'.
If one of your worries is installation, don't worry because this can be easily installed by following the step-by-step manual and installation template that comes with the product.
GR48M PRO 4′ X 8′ OVERHEAD GARAGE STORAGE RACK
This overhead storage rack has a weight capacity of 800 pounds. It is 4'x8' in size and its height can be adjusted from 22 to 40 inches, meaning it provides up to 150 cu. ft of storage. Made of cold-roll steel like the other products, it is also waterproof and has that signature FlexiMounts integrated grid design. It can also be easily installed, coming with the trusty step-by-step instruction and installation template. Everything will arrive in one box on your doorstep. You won't be afraid if it will fall from the ceiling because it comes with high quality screws and all the hardwares of this product has gone through strict quality tests. Note that this is compatible with joist spacing of less than or equal to 24".