T

he garage is one of the last things people spend their money on, and understandably so. People have too many expenses that should be paid every month such as college debt, mortgage, electricity and water bills, food, clothes, and more. The garage, often neglected, is at the bottom of the list. As long as you can store things somewhere or you can park your car in the garage, never mind the paint that is already wearing off. Never mind the holes and cracks in some corners. Never mind that it's hard to regulate the temperature inside. Never mind that it looks like a pile of trash when you roll out the garage door.
But what people don't understand is the instant life upgrade they get from fixing, renovating, redesigning, or even just cleaning their garage. That vacant space can serve many functions for you and your family and that potential is being untapped when you don't go out of your way to do something about your messy and stinky garage.
Lucky are you that there are sales of great quality garage items that you can get an instant upgrade at a discount. Since you don't leave that much budget for your garage, grabbing offers from sales and promos is one way for you to not break the bank.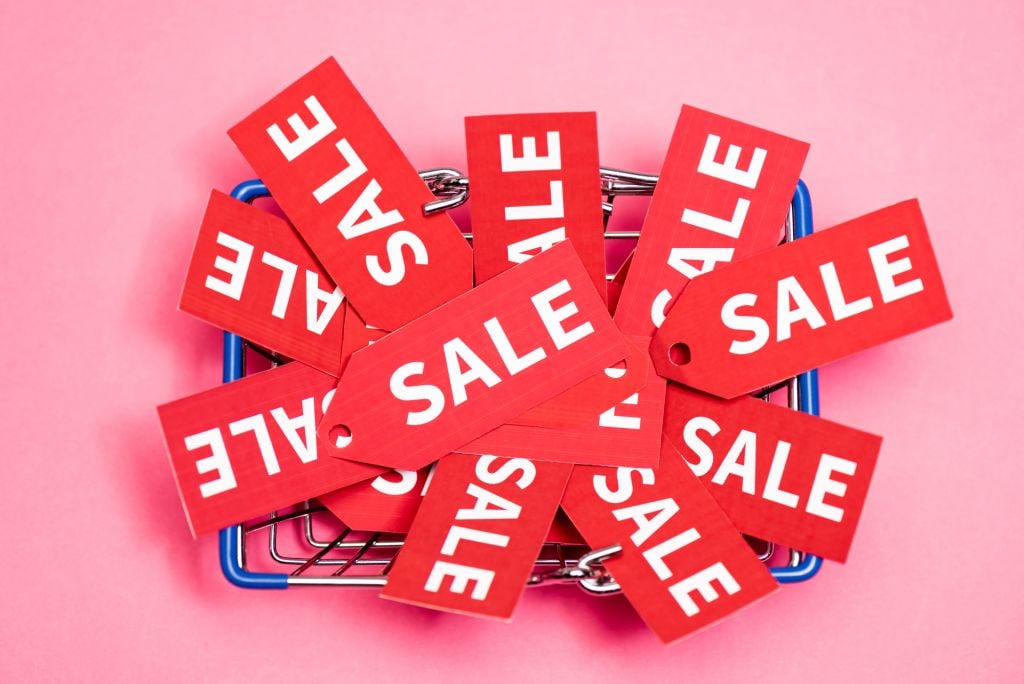 We listed down here some ceiling-mounted storage units and wall shelves that you can install in your garage to order some organization into it. You'll be able to segregate your items properly and organize them in a way that will maximize the storing capacity of your garage and free the floor space for the many functions it can serve.
For 7 days, FlexiMounts is offering a 15% discount on selected products. Don't miss this chance and shop on the site from June 27 to July 3.
Price: $139.99 - $449.98
Get an Extra 15% discount when you use the coupon FM701 upon checkout.
This is a classic overhead storage rack that you'd want to get your hands on. It offers vertical support and longer ceiling brackets. It will prevent the shelf from falling from the ceiling because it is secured to the wall. Its weight capacity is 400 to 600 pounds and the height can be adjusted from 22 to 40 inches. It is made of cold-roll steel that is guaranteed to be of their belongings damaged from water. It could store seasonal items such as athletic gear they will only use for winter or for summer. This comes with an integrated grid design, a standout design from those available in the market. This comes in black and white and has different storage spaces: 4' x 8', 4' x 6', 3' x 8', 3' x 6', and 2' x 8'.
Price: $79.99–$369.98
Get an Extra 15% discount when you use the coupon FM701 upon checkout.
If we haven't reiterated enough, for items that you need to be accessible on a regular basis, it's best to store them on a wall shelf where they can easily be reached by hand. This wall-mounted storage solution from FlexiMounts comes with all the necessary hardware which makes it easier to install in a concrete wall or wall studs. It's 2x6 in size and could carry 400 pounds in total. It's made up of top-of-the-line, powder-coated steel that has undergone quality tests. Its buckle design comes with velcros, a feature that prevents it from falling. Homeowners may play around with installment because of the product's flexible layout with various combinations and different stud spacing. This unit comes in either black or white. It is a certified classic FlexiMounts product.
Price: $229.99
Get an Extra 15% discount when you use the coupon FM701 upon checkout.
This classic ceiling-mounted solution is made of quality, cold-roll steel. Its weight capacity is at 600 pounds and you may adjust the height from 22 to 40 inches. It has 4'x8' dimensions and comes in colors of black, white, and hammertone. Like other FlexiMounts storage solutions, it features an integrated grid design that is waterproof and can be easily installed following an installation template. All of the components will come in one box.
Price: $159.99
Get an Extra 15% discount when you use the coupon FM701 upon checkout.
A smaller option is this overhead garage storage rack that is 3' x 6' in size. Its adjustable height range is from 22 up to 40 inches. It's also made of cold-roll steel that has a weight capacity of 450 pounds. It's waterproof too and can easily be installed by one person. It also carries the signature Fleximounts' integrated grid design. Expect all of these to arrive at your doorstep in one singular box.
Price: $129.99
Get an Extra 15% discount when you use the coupon FM701 upon checkout.
This is another wall-mounted storage type of unit from FlexiMounts. It's made of powder-coated steel with a heavy gauge steel construction that can safely carry up to 400 pounds. Its size is 2'x4' and comes in two levels. It has a buckle design with velcros that will prevent the brackets from bending or falling. You may opt to use thicker or thinner screws. It is suitable to be secured to either a wall stud or solid concrete wall. You can install these in various combinations, using different stud spacing.
Price: $99.99
Get an Extra 15% discount when you use the coupon FM701 upon checkout.
FlexiMounts provides this even smaller option, a wall shelf that comes in two packs and 1'x6' in size. It has a sturdy weight capacity of 300 pounds and is made of powder-coated steel. At bubble level, you may get perfect horizontal lactation. Note that this product can only be used indoors. You may use the installation template that comes with the package to help mount holes. Like the other wall shelves, it also has a buckle design complete with velcros so that each bracket would be stable and sturdy without you having to worry if it will fall or bend over.