W

e no longer feel unusual when we spend the weekend at home. We are finding creative methods to fill our weekends with enjoyable activities as we are halfway through the third year of the worldwide epidemic, which compelled us to stay inside of health concerns. To be completely honest, the distinction between the weekdays and weekends has become lost in the shuffle. Depending on your viewpoint, it may or may not be a good thing.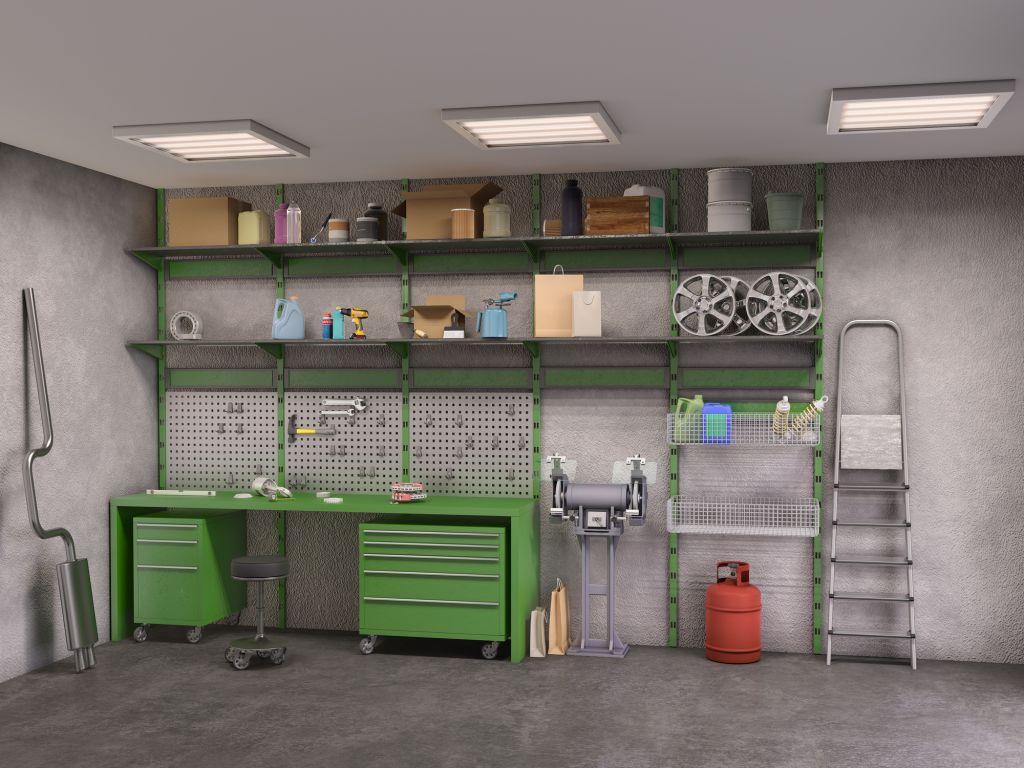 We learn of more and more people's struggles as the pandemic continues. And we constantly suggest that they get expert assistance to manage their mental health and general wellbeing.
It's possible to regain our sanity by working on weekend tasks. And to liven up your home life, you are engaging in activities outside your normal routine. Making DIY storage to use in your garage to arrange the space and the boxes of belongings is one example of a project you may complete at home.
Pegboard
Tools and craft supplies are the most often utilized items in your garage. And it would be a bother to remove them and put them back in a box or cabinet on a regular basis. A pegboard is one such useful storage that you may use. The most typical materials for pegboard bases are metal, hardboard, and plastic. The metal pegboard is the most durable of the three, and it has a sleek, industrial design that can enhance the visual appeal of your garage.
Sports Ball Storage Rack
If you and your children like playing ball sports, it's likely that you own a variety of balls, including basketballs, soccer balls, volleyballs, and other similar items. Even if you promise you'll put them neatly in one corner, once you're done playing with them, you'll still discover them rolling about the garage. Making a ball corral is a simple solution. With no need to unload the balls on top, you and your child may take any ball that is at the bottom.
Recycle Bin Hangers
Recycling containers typically take up too much floor area because they are clunky. Hanging them on the wall is a fantastic way to clear up space on the floor. Install one or more cleats to support a recycle bin. And there you have it: you not only save room, but it is also simpler to reach when you take the bin in, out, and off to visit the local recycling facilities.
Storage Tubes
Making garage storage tubes is another simple method of organization. Using cardboard concrete-forming tubes, you may store long-handled tools, baseball bats, and other items with long rods. The pipes merely need to be fastened to a garage stud using a plumbing strap.
Fishing Gear Storage
The way that fishing rods tangle is always a mystery. A PVC pipe and a foam pool noodle are all you need for this simple do-it-yourself project. Putting your wired headphones in your pocket is analogous to doing so. It will probably come to that if you don't have a good fishing rod organizer.
Storage That Can be Used as a Seat
We should always consider innovative methods to make the most of the garage's limited area. Installing storage that you may use in various ways is one such idea. Box shelves may be quickly transformed into the ideal location to sit by making a few adjustments. You may keep smaller, non-toxic tools and supplies like shoes and auto cleansers in storage. However, take note of the location of where to store them. When your feet accidentally knock these things over, there shouldn't be any fuss or mishaps.
Think Vertically
Organizing your garage doesn't have to be difficult. Clearing and cleaning the garage area may be completed quickly using the appropriate tools. Most of your difficulties with not having enough floor space for your automobiles and activities that need foot traffic can be solved by selecting the right storage for your space.
Both wall shelves and overhead garage storage are widely available on the market. Hundreds of items may be found with a fast search on e-commerce websites. But if you don't know what you need and desire in terms of garage storage, it will take time to find what would work best there.
Along with affordability and cost, you should consider an organizing shelf's versatility and capacity to serve a variety of purposes when selecting a piece of storage equipment. One that will meet your demands, whether it is in terms of weight capacity, reconsidering the shelf's orientation, or compatibility with the type of garage walls you already have. It stands to reason that purchasing a rack that is already suitable for the design of your garage will be simpler and more cost-effective.
One dependable top storage option is the Fleximounts WRC24B Corner 2-Pack 2' x 4' Wall Shelves. Utilizing the corner walls to build the wall shelf will allow you to save a substantial amount of room in the garage. Additionally, the WRC24B provides versatile installation options because you may use it as a corner or a two-pack wall shelf. Both concrete walls and wood studs are compatible with and suitable for it.
Its heavy-duty and strong performance is due to the powder-coated steel that it is built of. You can be confident that the products stored on each shelf will be secure because they can support up to 220 lbs without tipping, and you won't have to worry about fallen items piling up in your garage. In addition, it is more stable than similar products with multi-piece assembly that are on the market, thanks to its one-piece grid design for a simpler construction.
This wall shelf is intended for simple one-person installation, so assembling and installing it will be easy. All the necessary hardware is already included in the kit, along with an installation template that makes mounting holes easier and a bubble level that aids in obtaining the ideal horizontal placement.
Additionally, there are more storage possibilities available with the Fleximounts WRC24B Wall Shelving. With the Fleximounts GRH1/GRH1B or GRH2/GRH2B hooks, one may simply increase the storage. The hooks may be used to hang up things like bicycles, tools, and cleaning supplies.