H

ave nothing to do this weekend?
We've always been saying this—clean your garage! It's a now or never situation. You're not gonna be more motivated to clean it next week, next month or tomorrow. If you have been putting off doing something for the longest time, chances are you won't ever get around to doing it. Before you know it, you already have a dumpsite at home. And yet, you still refuse to clean, declutter, and organize your belongings there.
So instead of watching a new Netflix series, what you should be doing this coming weekend is to finally clean your garage. You can assemble all the people in your household who are available to clean the garage this weekend. You all live at the same house so it's all your responsibility to clean the garage. Again, do not put it off for another weekend. This is you instilling discipline in yourself and in the people who live in the house.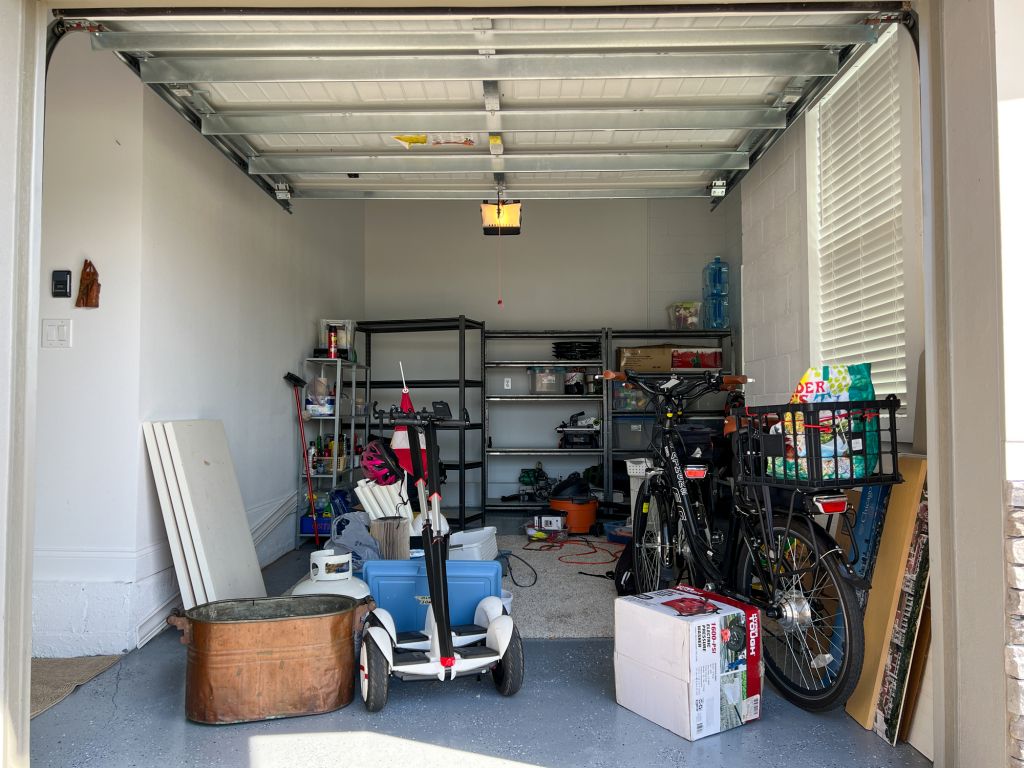 You can even start one by one, area by area so that you don't get overwhelmed with the amount of trash that you have to deal with. So don't ask yourself anymore if you are ready to work on your garage. Stand up and as our favorite Nike brand says, "Just do it." And this is how you'll get your garage finally cleaned. It's the perfect weekend cleanup project. You'll be starting next week on a high note.
Here are items that you can install in your garage once you've decluttered it and there's space to use new storage solutions as well as add items to make your garage more functional.
WRC24B CORNER 2-PACK 2′ X 4′ WALL SHELVING
FlexiMounts offers this wall shelving product that makes use of corner space that can guarantee to optimize all vacant spaces in your garage, especially if the space is limited. It can be used as a corner shelf or a 2-pack shelf. Like the other wall shelves and overhead storage racks from FlexiMounts, this item also features an integrated grid design. It's easy to install by one person because the package comes with all the necessary hardware. An installation template will also help locate where to mount the holes. You may install it in wood studs or a concrete wall. For additional storage, this is compatible with FlexiMounts GRH2/GRH2B and hooks GRH1/GRH1B.
FlexiMounts has this work bench offer that is height adjustable and all-purpose. The workbench maximum load capacity is 500 pounds and could carry anything that you can use for a chosen hobby or a project to make something for the house. It's spacious with 47.2" x 23.6" x 1" dimensions, just about right to make a table. The height can be adjusted from 29.5" to 44.1". With a wide range, this multipurpose desk lets anyone sit or stand comfortably yet efficiently in order to finish a task or a project. It makes use of a crank handle to manually adjust the height, the crank being extra large to offer a smooth operation compared to standard cranks. This allows for easier lifting of desks, even though the load is heavy and full. You won't need extra tools or an electricity outlet just to be able to adjust the height of the table.
The material is made of solid rubberwood surface and a steel frame which is one inch thick. The steel frame makes sure it is sturdy, even at its highest point. Moreover, this product also has adjustable feet.
WS SERIES ADJUSTABLE 3-TIER WALL SHELVING
FlexiMounts has a wall storage option that features up to three levels of shelves, that is if you are looking for multiple storage compartments for your small garage. The brand boasts of a patent structure design where you don't need any tools to adjust the product. The weight capacity of this wall shelf is 300 to 450 pounds in total. You may adjust the height of each level according to your actual needs. It comes in two sizes that you can choose from: 1'x3' and 1'x4.' It is made of powder-coated steel that is guaranteed to be of high quality. Like the other products, even though this is in three shelves, it can also be easily installed by one person. It is also compatible for use in wood studs or a concrete wall.
HOOKS 4′ X 8′ OVERHEAD GARAGE STORAGE RACK
Maximize safety and stability with this Amazon Best Selling product from FlexiMounts. It can carry up to 600 pounds of weight and is 4' x 8' in size. Its height can be adjusted from 22 to 40 inches and it is made of cold-roll steel. It comes with a Step-By-Step instruction and installation template so don't worry too much about the installation process. It is also waterproof like the other products which makes it a great storage option for seasonal items that are mostly tucked away during the year. This will arrive in one box including accessories you may attach to it. You could attach four pieces of flat hooks or the GRH1 or two pieces of utility hooks (also included) or the GRH3. These hooks offer additional storage for your items.
You need to take care of your athletic gear including your bikes if your family is big on cycling. This accessory is made of cold-roll steel and has a weight capacity of 165 pounds. Its arms can be folded when not in use and won't get in the way even if you install them in your vehicle. It has adjustable and flexible straps that could hold up to four bikes of different frame sizes. Its tiltable mainmast can lift bikes easily, swinging it up, down, forward, and backward. These movements make it easier to lift the bikes. Then, the rack can just return to its original position, thanks to the anti-wobble knob. Its maximum weight capacity is 165 pounds and its steel structure is durable, of high quality, and protected with a powder paint finish. With this accessory, there's no need to worry if the rack is firmly secured in its position.