M

y interest in garage organization has recently grown. Though I can clearly state that I still can't Marie Kondo my way to cleaning as a self-described maximalist, I find it soothing to organize, arrange, and tidy my two-car garage area.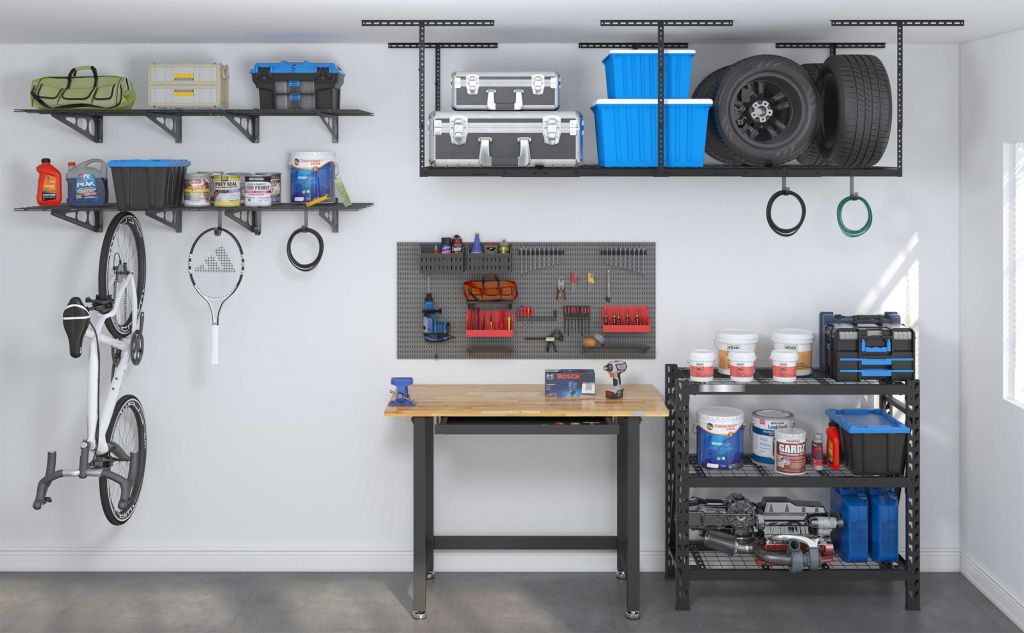 I have a bad habit of collecting beautiful things I don't use, which I will admit. I always make a detour to the bookshops when grocery shopping to pick up books, but I won't start reading them until I've finished all the stacks of books waiting to be read.
If I'm feeling down, I would also go to the arts and crafts aisle to pick up some paints, pencils, markers, craft sheets, canvases, and other supplies. Or I would even explore online shops and look at stuff like the bags and outfits I would not even get to use or wear because I opt to stay indoors anyway now that the global health crisis is rising again. But as you are aware, I won't even attempt to work with it because I only create art when there is nothing to watch on Netflix.
In addition, I still have everything my friends and family have given me over the years as presents, including sentimental items from my youth that I found challenging to part with. In other words, I am a qualified emotional maximalist.
I'll be the first to confess that it will take me some time to break my pattern of gathering and hoarding things, but as I've said before, ordered chaos is a real thing. Of course, I made something up to make my hoarding acceptable. However, let me also add that installing dependable garage storage is the most incredible method for maintaining my garage tidy and organized despite the large amount of material that tends to accumulate there. My go-to garage supplies have been them.
The issue has been resolved! I no longer have to be concerned about my belongings being mixed up with my other items. I organize them into categories, pack them into specialized boxes, mark them appropriately, and set them on wall shelves and overhead storage.
So, I'll share my not-so-little secret with you. Here is a list of my go-to storage options.
This heavy-duty, dependable overhead storage system has passed tests. As it offers essential support, you don't need to be concerned about the security of your possessions. This is a result of the welded-together integrated wire grid design and frame, increasing the stability and sturdiness of the equipment. Due to its heavy-gauge cold-rolled steel structure, it has a weight capacity of up to 600 lbs. Additionally, the screws on the Fleximount storage rack are thicker than those on other items.
You may keep your belongings in a handy and secure location thanks to the rack's height adjustment, which ranges from 22" to 40". Given that the rack is waterproof, it is unlikely that water will damage your belongings. In addition to these incredible features, the integrated grid design simplifies installation, so one need not be knowledgeable in building or mechanics. The storage rack is simple to comprehend and put together, even for those without mechanical skills.
By making the most of the corner wall, this wall shelf helps to conserve more ceiling space. The fact that you can use it as a 2-pack wall shelf or a corner shelf makes it even better.
Its one-piece integrated grid design makes assembly simpler and renders it more stable than designs that need many pieces. Furthermore, it comes with all the necessary hardware and can be installed by one person. Additionally, an installation template is included, which aids in mounting holes and includes a bubble level for precise horizontal positioning.
The Velcro buckle design adds stability and durability by preventing the brackets from bending or dropping. The heavy-gauge steel design allows for total safety loading of 440 lbs. Because of this, you may use it to secure either wall studs or full concrete walls.
As the reinforced hanging garage storage wire deck design ensures a high loading capacity of up to 800 lbs, this overhead storage rack is constructed with heavy-duty in mind. However, you don't need to be concerned since this rack's high-quality structure guarantees a safe and robust loading capacity for increased stability and safety. The wide vertical space may support more extended ceiling brackets and larger contact surfaces. In addition, the rack is water-resistant, guarding the objects placed there from being harmed by leaks of liquid or water in your garage.
The garage ceiling storage racks for the GR48M may essentially be mounted almost anywhere, allowing for flexible installation. You may mount the rack in concrete or wood at any angle, even perpendicular and parallel to sloped ceilings, thanks to Fleximount's innovative joist arrangement. All you need to do is make sure the vertical posts are separated by 48 inches. If the ceiling is covered with drywall, identify the joists using a stud finder.
Furthermore, the garage rack is easily expandable with hooks and clamps to accommodate additional items like bikes, tools, wires, and more.
This wall-mounted shelf is a fantastic addition to your walls for storing goods you use every day. Aside from the fact that it is built of powder-coated steel, which guarantees its durability, the heavy-gauge steel structure also enables safe loading of up to 100 lbs per shelf. Additionally, compared to similar wall-mounted shelves on the market, it includes larger screws.
Depending on the height of your wall, this shelf may be adjusted to suit your demands. Also, you can easily construct and remove the shelves thanks to its patented tool-free adjustment design.
This leads to the following point: you alone can install this wall shelf since the offered installation template makes it easy to mount holes. The included bubble level makes it simple to determine their exact horizontal placement. Since this wall shelf is suitable for any type of wall, you don't need to worry if your wall is constructed of concrete or wood. It is also appropriate for anchoring strong concrete ceilings or ceiling studs.