O

rganization is one skill that comes in handy when you want a clean and tidy space. However, it is a skill that not many have learned to acquire. And so, many suffer from the chaos that is the result of that. Many would also ask, how and where to start. Read on to learn useful and functional garage organization ideas that you can fully utilize.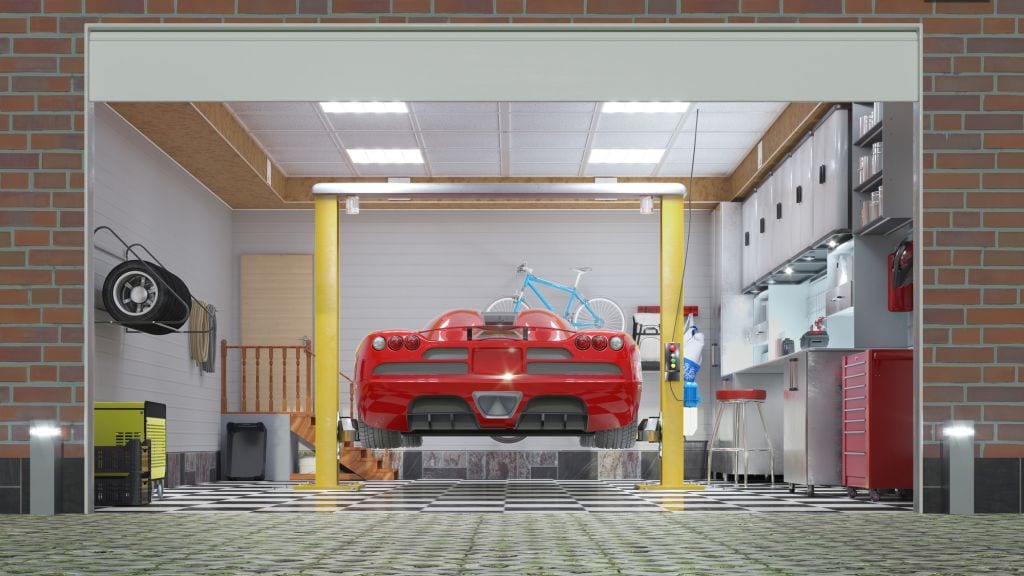 Maximize garage space by utilizing the walls and ceiling for seasonal and bulky items
Neat and organized garage space is on everyone's dream list. But it is hard to do that if you have limited space where you can store your items. Best tip for you is to look around your garage and take a mental note of the areas that remain free. And most likely, you will notice that the walls and ceiling are underutilized.
Maximizing the ceiling space will free up floor space for the needed activities done in the garage and storing more oversized items such as your vehicles or workbenches. And the best way to achieve this is by installing overhead storage. We cannot emphasize enough how overhead garage storage racks can add value to your garage space by keeping your seasonal items, workshop stuff, and other things that don't belong anywhere else in the house.
The Fleximounts GR Series Classic Overhead Garage Storage Rack employs a ceiling-type installation with safe and high loading capacity due to its high-quality construction. The sturdy and stable design is made possible as the grid design and frame are welded together, and the material used is heavy-cold rolled steel. It can carry a weight of up to 400-600 lbs. Moreover, Fleximounts provides thicker screws compared to other brands that also offer overhead garage storage. Furthermore, the Fleximounts screws go through strict tests.
This garage storage is height adjustable from 22" to 40" ceiling drop-down. It is perfect for customizing the height fit perfectly for you and your garage space, and it is also suitable for securing either ceiling studs or solid concrete ceilings.
The integrated grid design is made for easier assembly. Optimizing overhead garage storage is advantageous in avoiding flood damage by storing your things off the garage floor, protecting your items. It will also make your garage look neat and get away from insects and rodents.
Everything you need is neatly tucked in one box: all the necessary hardware and instructions are included. An installation template is also included to help you devise a plan to store your stuff in the most efficient manner possible. Indeed, this will give you the tips and know-how in organizing your garage without a sweat.
Inside the single box, you will find the following: the shelves, rack installation manual, three bags of screws–wood screws, installation screws and bolts, and cement installation.
The tools you will be using to assemble and install the Fleximounts GR Series Classic Overhead Garage Storage Rack are simple, and they are all the first tools you will need to buy when you are first building your toolbox.
Creative way to store vehicles is by using a car lift
Yes, we understand that the prime use of a garage is as a vehicular parking space. But times have changed, and the needs have expanded. Alongside your cars, there are still other items that need to be stored in the garage. This problem often leads to a cluttered space especially if you are not that keen on organization. More often, the car gives way for the stored stuff that you opt to park the car outside.
Leaving your cars parked on the driveway or, worse, the streets, will pose risks. For one, it is less secured as it is open to car theft. And two, your vehicle is more exposed to elements that may cause deterioration quickly such as snow, heat, rain, tree sap, animal excretion, and the like.
Well, one organization idea that you may use is getting a car lift. It is cheaper than having to expand your garage. A car lift enables your garage to be more spacious than it is as you can make a 1-car garage into a 2-car garage; two lifts will make your 2-car garage into a 4-car garage. The car lift creates more usable floor area by maximizing the vertical space.
Store and display your tools, hoses and cords on wall storage systems
If you are keeping an inventory of all your tools that you have bought and collected over the years, you may be overwhelmed at the quantity. And you may have purchased double or triple of the same kind because at some point you have misplaced it, that the next natural step is to just buy a new one instead of wasting your time and effort to look for that specific tool. If you had a good organization, this would not have been a problem in the first place.
Storing your tools on a slatwall storage or on hooks will come in handy. They are easy to find, and it would put a pressure on you to keep them organized because they are the first things that you will see when you step foot in the garage.
For larger tools, it is recommended to put them in a labeled clear storage box on wall shelves for easier access. This way, you are still able to keep your garage organized despite having large tools.
We would also suggest utilizing the slatwall and other wall shelves with hooks for your garden hoses and electrical cords. Having to scour through piles of boxes for your machine cords will take time so suspending them on walls would make the process easier and shorter. Just make sure to store them properly and untangled to prevent mishaps and injuries from happening in the garage.
Store your sports equipment off the floor
Many of the sports equipment are tripping hazards. So, to minimize the risk, better store these items above the ground by using hooks, wall-mounted shelves or even on overhead garage storage racks. There are a lot of specialized storage racks for sports equipment like hanging accessories, bike mounts and even deep mesh baskets.