L

ooking for the perfect site to shop for Father's Day gifts?
Look no further because you have landed on the right space on the Internet. We have almost everything your dad wants and needs for his garage to be more functional, and should we say, a lot more handsome.
Dads aren't really the most organized bunch so they would surely appreciate storage solutions to make their living in the garage a lot better than it is now. There will also be more space for them to roam around. If there is more space, they can finally have their own workshop at the garage, a home gym, a place to gather friends, and for the garage to serve its primary purpose, storage space for the car.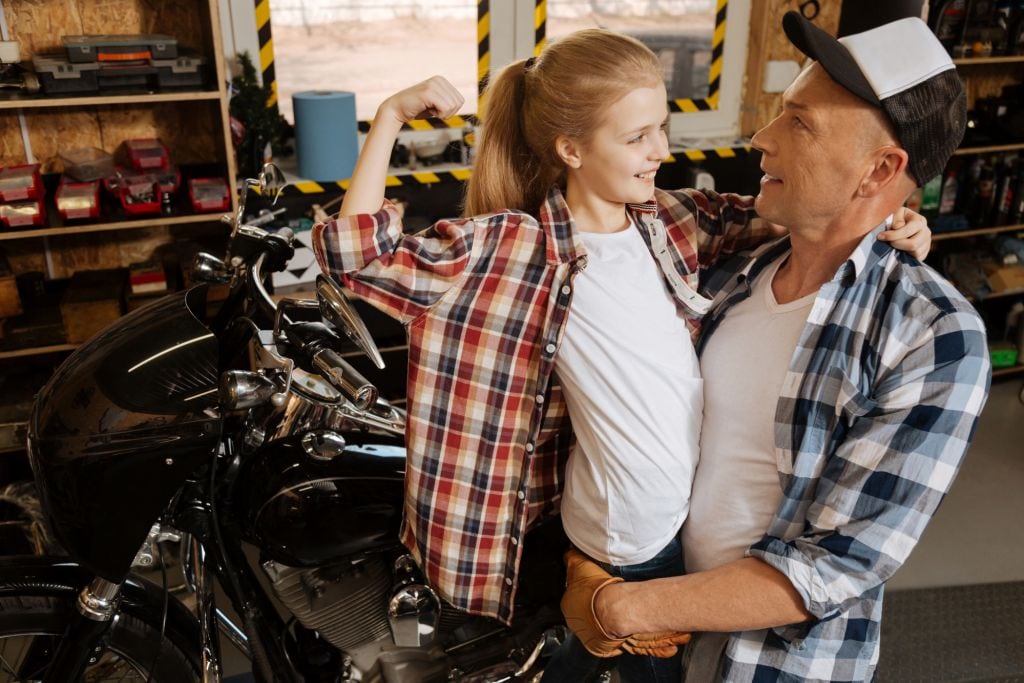 Your dad, if he's a builder, would also love to have a spacious workbench that also provides additional storage for his nifty tools. Working at the garage would be a lot more convenient for him and he would look more forward to the days when he can go to his garage and create a masterpiece.
We've listed down seven products from FlexiMounts' current catalog that we're hoping to see in your dad's garage after Father's Day.
1.
CUSTOMIZABLE WORKBENCH SHELVING FRAME WB107
Your dad will absolutely love this wonder of a workbench. This workbench is made of heavy-duty steel and has a weight capacity of 1000 pounds. It has a maximum dimension of 96″ in length, and 48″ in width, and adjustable in height. It uses top-quality stainless steel screws; lumber color and finish can be customized, and storage capacity can be expanded.
Designed with high-quality craftsmanship, this durable frame can hold up to 3000 pounds. It is made of cold-roll steel, and its thick solid surface is made of 100% rubberwood. This solid surface is 1" thick wood sealed with varnish as protection against chips and scratches. It has a built-in pull-out drawer that serves as an integrated storage space for your utility tools and supplies. Its adjustable leveling feet will ensure the stability of the bench in areas with uneven floors.
FlexiMounts has wall shelving options that feature three levels of storage. The company boasts a patent design in a structure where you don't need any tools to adjust the product. The weight capacity of this wall shelf is 300 to 450 pounds in total. You may adjust the height of each level according to your actual needs. It comes in two sizes that you can choose from: 1'x3' and 1'x4.' It is made of powder-coated steel that is guaranteed to be of high quality. Like the other products, even though this is on three shelves, it can also be easily installed by one person. It is also compatible with use in wood studs or a concrete wall.
This wall shelving will make use of corner space that can guarantee to optimize your garage space. It can be used as a corner shelf or a 2-pack shelf. Like the other wall shelves and overhead storage racks from FlexiMounts, this item also features an integrated grid design. It's easy to install by one person because the package comes with all the necessary hardware. An installation template will also help locate where to mount the holes. Dad may install it in wood studs or a concrete wall. For additional storage, this is compatible with FlexiMounts GRH2/GRH2B and hooks GRH1/GRH1B.
Give your dad a workstation with a single product. The workbench maximum load capacity is 500 pounds and could carry anything he might need to complete his projects. It's spacious with 47.2" x 23.6" x 1" dimensions, just about right to make a table. The height can be adjusted from 29.5" to 44.1". With a wide range, this multipurpose desk lets anyone sit or stand comfortably yet efficiently in order to finish a task or a project. It makes use of a crank handle to manually adjust the height, the crank being extra-large to offer a smooth operation compared to standard cranks. This allows for easier lifting of desks, even though the load is heavy and full.
The material is made of solid rubberwood surface and a steel frame which is one inch thick. The steel frame makes sure it is sturdy, even at its highest point. Moreover, this product also has adjustable feet. And aside from being able to use it in the garage as a workbench, it could also be transferred to the main house and be used as a height adjustable standing desk. Your mom, siblings, or yourself could also use it as a sewing and crafting table.
If the family loves to bike with Dad, this is the perfect accessory for your garage to rack your bikes in style. It's made of cold-roll steel and has a weight capacity of 165 pounds. Its arms can be folded when not in use and don't worry, they won't get in the way even if you install them in your vehicle. It has adjustable and flexible straps that could hold up to four bikes of different frame sizes. Its tiltable mainmast can lift bikes easily, swinging them up, down, forward, and backward. These movements make it easier to lift the bikes. Then, the rack can just return to its original position, thanks to the anti-wobble knob. Its maximum weight capacity is 165 pounds and its steel structure is durable, of high quality, and protected with a powder paint finish. With this accessory, you wouldn't have to worry if your rack is firmly secured in its position.
There are a lot more garage products on the FlexiMounts website that you can choose from to give to your dad. We hope this short guide helps you choose what your dad will fancy the most this coming Father's Day!