W

hen sorting garbage produced at home, you would have probably noticed that the plastic wastes dill the trash bins faster than any other wastes. And you then have observed that when grocery shopping, most essentials are packaged in plastic, which is the greatest contributor to plastic consumption at home. Plastics are categorized as reusable when we sort them before handing them over to the garbage collectors that drive by our houses once a week. So, instead of just throwing them away and having the plastics fill the wasteland, why not reuse them instead?
There are one million plastic bottles purchased every minute around the world, according to the United Nations Environment Programme. And on top of that, five trillion single-use plastic bags are used worldwide every year. These whopping numbers are exponentially increasing over the decades. And while these are products of irresponsible consumerism by big corporations, we can at least on our part do something about the plastic waste problem. And this could be a fun family activity! Kids will inculcate in their minds how to be mindful of consuming and buying plastic-packaged goods, and further develop environmental stewardship.
Here are a few DIY projects you can do in your home garage: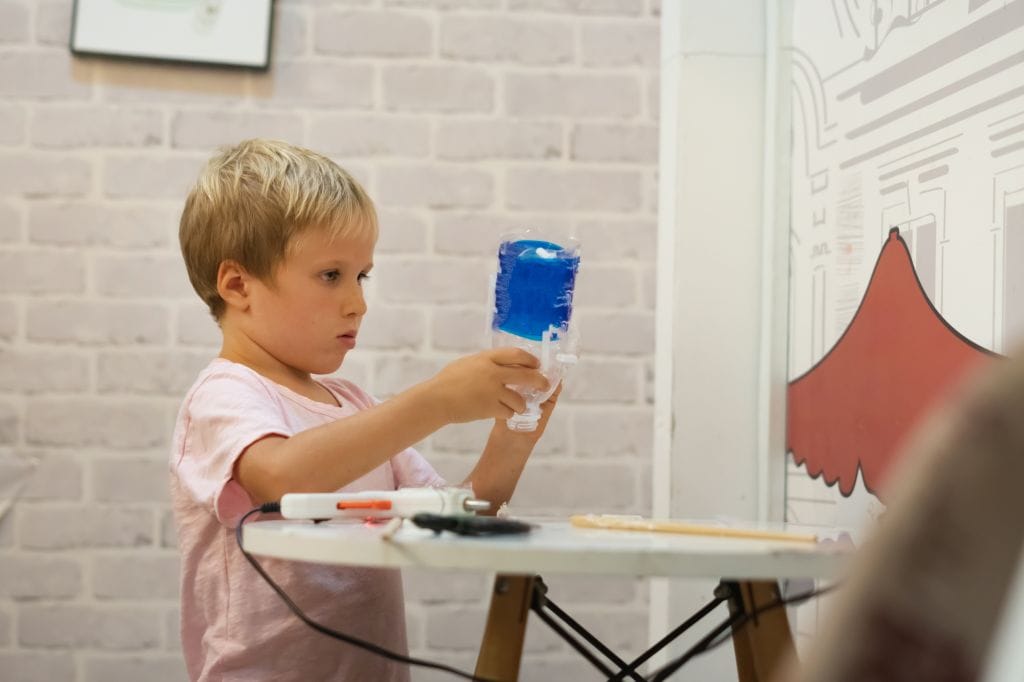 Quirky pen holder
Another idea to upcycle empty plastic bottles is to turn them into quirky pen holders or even vases. Again, minimal materials are needed for this cute project. You only need acrylic paint, marker, and cutter.
You can first search for outlines that you want to design your bottle with, then print them. Using a pencil, mark the outline into the bottle so it will be easier to cut them. With a thin brush, start decorating the plastic bottles according to your taste. You can also finish it off by attaching fairy lights.
DIY pencil case with zipper
Every start of the school year, you and your kid would shop for new school supplies. But what better way to prepare for the incoming school year than to create your own. And promise this won't take a lot of effort and time. You only need empty soda bottles of the same size, zippers, and glue.
Start by cutting one soda bottle leaving around 3 inches in height from the bottom, and the other one double the size of the first one--keep the bottom parts of the bottle. Then glue the zipper into the mouth of the bottles. And voila---you already have your very own pencil case.
Cute piggy bank
Creating your DIY piggy bank will teach your child to save money and at the same time save the environment. Getting crafty can save you money, quite literally.
To make the piggy banks, you only need plastic bottles, craft papers, glue (or glue gun), and scissors. You can also use googly eyes, beads, and other craft materials.
To make the opening of the piggy bank, where you can insert the money, cut out a slit of about two inches long and ½ inch wide. Make sure that the long side is parallel to the length of the bottle. Then cover the body of the piggy bank with colored papers. Cut out pieces for the pig's ears. Then at the opposite side of the slit, glue beads that will serve as the feet of the piggy bank, which will hold it in a stationary position. Cut out a circle from the excess papers to make a pig snout, which you will glue on the plastic cap. Then draw two small circles for the nose. You can finish it off by gluing two googly eyes.
DIY ottoman furniture
Before you throw your plastic bottles away, collect them so you can recycle them into a custom-made ottoman. The number of plastic bottles depends on the size of the ottoman you would like to achieve.
Cut the bottle just above the label of the soda. Then insert the top part into the bottom face down, in which the bottle cap is facing downwards. Do this for all the bottles. Then partner them up by inserting each bottle into the partner bottle. Group the plastic bottles by tying them together or binding them using packaging tape. Then you place foam and board on top. Cover them with a decorative cloth or faux leather. These ottomans make great partners for your coffee tables.
DIY planters from plastic bottles
Instead of buying pots or vases that may cost a fortune, why not upcycle the plastic soda bottles into cute planters. This DIY idea will not only help reduce plastic wastes but also create a unique decoration for your home.
You only need scissors or pliers, paints and markers. There are tons of unique designs you can come up with. You can cut out into animal shapes, or simply write inspirational quotes into the design.
Create a vertical garden
A simple and low-budget idea to beautify your yard or empty wall is by creating a vertical garden. You can even grow herbs and other small vegetables here. This can also teach your child simple gardening and cultivate his green thumb.
You only need 2-liter plastic bottles, scissors, clothesline rope or wire, seedlings, and soil. Start by cutting open a side of the bottle where your plant will freely grow. Then make two holes at the bottom of the cylinder and two at the top of the bottle. These holes are where the rope or wire will pass through to be able to hang them vertically.
Poke small holes at the bottom for the water to drain. Then fill the bottle with soil and plant the seedlings. Attach the wires or rope to the handle on the wall to hang the planters vertically. Now, not only do you transform your empty wall into something useful, but upcycled the empty plastic bottles.