M

any of us have our family pets roam our homes freely. Thus, we may be unable to monitor them every second of the day. A slight opening to the garage is an invitation for them to enter. However, our garages usually contain hazardous and toxic materials used for car maintenance, home cleaning, and other dirty works (categorically). So before anything terrible happens, make our garages a haven for our pets. We may not have total control of the environment, but at least we took the necessary measures to prevent any mishaps. After all, our pets are considered members of our family.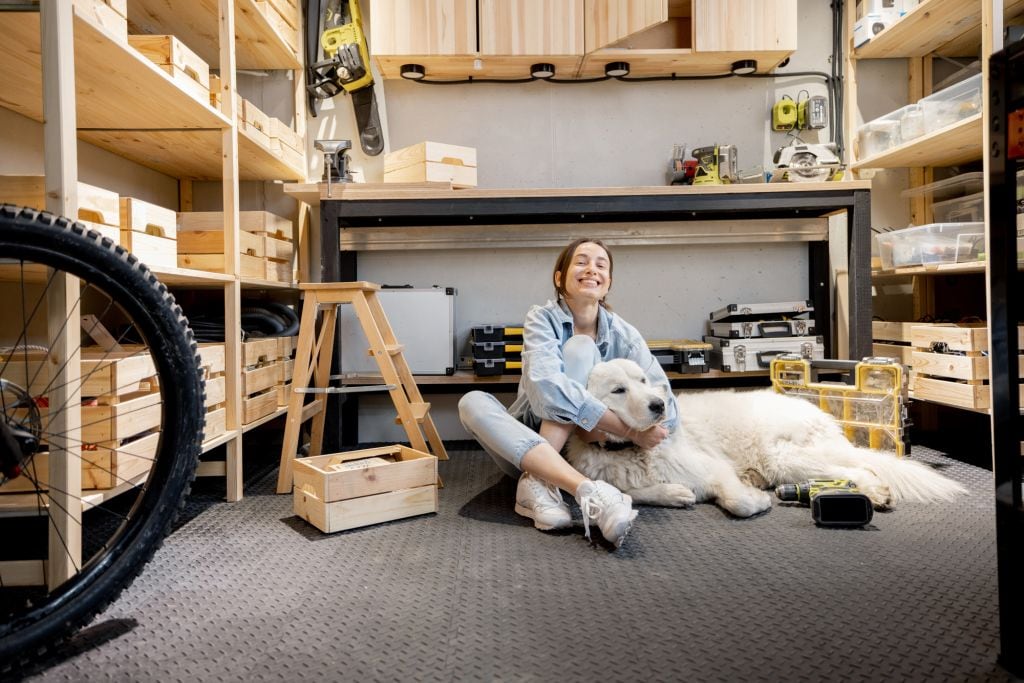 What are the common hazards present in the garage?
The garage is often a repository of toxic and flammable materials like cleaning products, car fluids, oil, coolant, insecticides, pesticides, alcohol, paint supplies, and other chemical wastes. Remove these toxic threats for the safety of your pets and the hoomans.
Make it a habit to always check for liquid leaks from the stored supplies or vehicle. Clean them right away if there are any. If you cannot keep them elsewhere, and the garage is the only area that can accommodate them, put them on sturdy wall-mounted shelves or overhead garage storage racks. Place them far from your pet's reach, so there won't be any chances of them accidentally knocking over the substances. If you have cabinets as storage, make sure to lock them. By utilizing proper shelving, you can keep your garage clutter-free and accident-free. Your storage should not easily be toppled, especially when your pet starts to run around hastily in the garage.
You should be wary of harmful liquids and inspect hazards that can cause entanglements like cables, wires, and ropes. Set aside sharp objects such as knives, nails, screws, loose hinges and knobs, and long things like mops, ladders, and other materials your pet may accidentally knock over.
Maintain a pest-free garage if you will store your pets' food and water. Storing food in the garage is a magnet for insects and intruders, so it would be better to store them elsewhere. Once contaminants and pests find their way into the garage, other items stored inside will also be breeding grounds for them.
Aside from properly storing hazardous materials, a good practice is to inventory all the materials, tools, and other items. In this manner, you will have an organized way of storing your stuff while maintaining a clean, livable space.
For a pet-friendly garage space, use eco-friendly products that are good for your four-legged family members. Stay away from materials and products that contain hazardous materials. One example is using toxic-free wall paint. Our pets tend to lick surfaces, so they might taste the toxic residues from most paint products, detergents, and cleaning substances.
Where to store your stuff
You have to decide what kind of storage organization will fit perfectly for your garage. Keep in mind the room's height and how wide you can use the walls to install this storage. Also, note that when installing either overhead garage storage or wall shelf, ensure that the doors or windows are out of the way and, of course, your vehicles if you intend to use the garage as a parking space.
For your everyday items, the Fleximounts WS SERIES Adjustable 3-Tier Wall Shelving is the perfect additional storage space for your walls. Its powder-coated steel assures sturdiness. Likewise, the heavy-gauge construction provides safety loading of up to 100 lbs per shelf.
The screws provided are thicker in size compared to other shelves in the market. An excellent feature this wall-mounted shelf offers is that it is flexible enough to be adjusted depending on the height of your wall and according to your needs.
The WS Series allows you to assemble and disassemble it conveniently because of the patent tool-free adjustment design. The installation template that helps mount holes and the bubble level that helps get perfect horizontal location is already provided. Another selling point of this shelf is that installation can be a one-person activity.
The wall shelving is compatible with either concrete or wood walls as well, as it is suitable for securing solid concrete ceilings or ceiling studs.
Control the temperature in the garage
Now is the time to install proper ventilation in the garage. Not only for your pets but you and your family as well. Garages can get cold or humid, depending on the season. Install insulation to help maintain the heat when cool months arrive. Put a ceiling fan as a secondary source of cooling air, and install a screen door for added ventilation. Add windows to have better airflow and for sunlight to peek inside. These additions will not only help the ventilation but also can give your pets a better view of the outside.
Create a comfortable space
Our pets tend to curl up in the corner of the room. It's inevitable, and it's their nature. Create a spacious and comfortable pen. You can also put them in a soft bed to lie down and rest. Throw in some pillows, cushions, and blankets for a more homey feel. Bring in some toys to keep them preoccupied with themselves. It substantially helps make them busy when entertaining guests, working from home or attending to some errands. Always have their water container filled, especially during hot weather.
For cat moms and dads, do not forget to put a litter box. And for dog parents, place a wee wee pad. Train your fur babies to use these. It is beneficial when no one is home who will follow them around and clean their wastes.
Pets need their own space and can be very territorial. So give them their area. When you give them pointers and practice their restrictive limits, they will understand their limits and boundaries.
Install a surveillance camera
When you install CCTV, you can always check the condition of your pet and the garage. You can access it through your phone, whether in your room, stuck in traffic on the way home from the office, or outside doing errands.
Identify exit points for your pets
There is a high chance that your pets could get stuck inside the garage, especially if you weren't aware that your fur babies managed to sneak in while entering or leaving the garage. It could be a big problem if the only passage is a big, heavy door with door knobs, which could be difficult for your pets. Always think ahead. Create pet doors that they can quickly push. Add entry and exit points to and from various rooms in the house. But remember to always check that the doors outside the home are securely locked. Your fur baby might zoom past and roam the streets unattended.
In Summary
As we all treat and love our fur babies as part of our family, it pays to take into careful thought and consider the spaces that we give them. After all, garages can be a storage of all the stuff that we don't use every day, but this does not mean that the space can be left dirty and dark. Always keep it clean and pet-proof.