The garage is always the space that has seen the most clutter than any part of the house. Why? Here, not only does it serve as a vehicle parking space, but it is also where most hazardous materials and things untouched for years are stored. And if we are not careful and organized, this can spell disaster to the garage space.
Good for you if you have a spacious garage that can hold your vehicle, boxes, and boxes of stored stuff, without sacrificing the floor space where you can freely walk and not trip any minute you stay in the garage. If you have a small space that is built to house one car, and yet you still have tons of things waiting to be stored in the garage, then it is time to install overhead storage.
Overhead garage storage is smart saving storage that will reclaim your garage floor space. You are now able to utilize the free space for your car needs and more walk space that you do not need to tiptoe nor go through the maze of your boxes. Additionally, overhead garage storage can protect your stuff from water damage as the garage is a place where liquids are often used to wash and fix the car or store chemicals used in cleaning, accidental leakages can't affect your other stuff. This brings us to the next point that the overhead garage storage helps in decluttering and grouping your stuff for easy access. Just by labeling each storage, you do not have to go over all the boxes in your garage, and the liquid chemicals can stay on the floor untouched.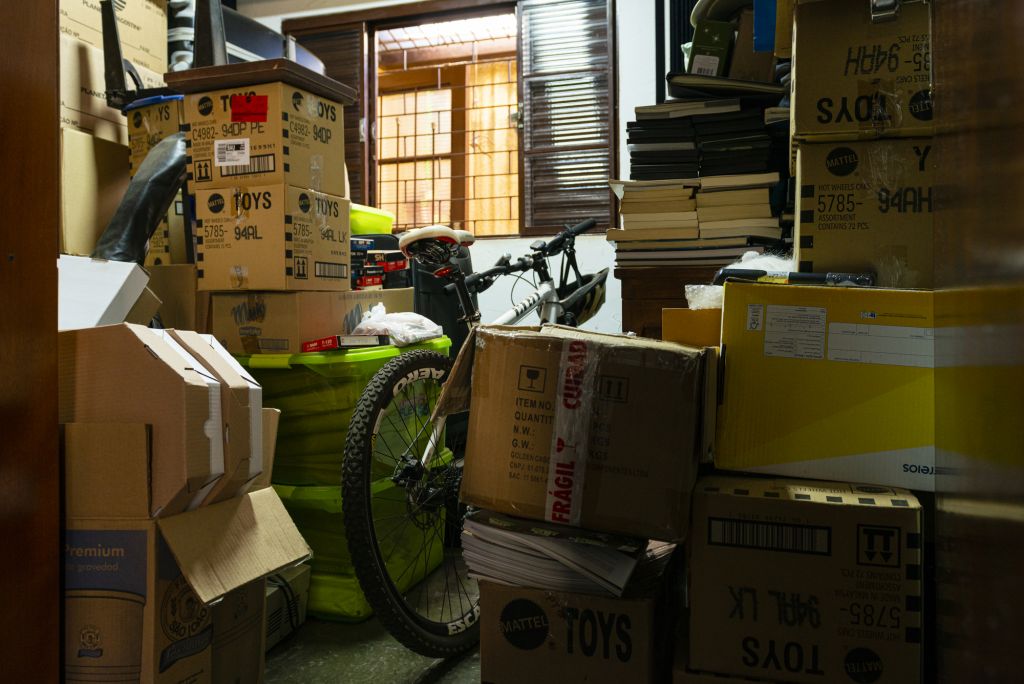 Fleximounts 4'x8' Overhead Garage Storage Rack (With Hooks) GR48-H
First on the list is overhead garage racks. Admittedly, lots of stuff is taking up too much space in the garage area so parking my car can be a little troublesome. There is the fear of accidentally knocking over a box of tools lying around on the floor. So, the overhead garage racks are a simple solution to that problem. By installing these, more floor space is freed up for my car.
This durable and heavy-duty overhead storage system provides a safe place to organize your stuff. The integrated wire grid design and frame are welded together, making the unit more sturdy and stable. Its heavy-gauge cold-rolled steel construction provides safety loading up to 600 lbs. The Fleximount storage rack has thicker screws compared to other products. The height of the rack can be adjusted from 22" to 40", providing a convenient and safe place to store your stuff. It is also waterproof, so you need not worry about water damage that may happen in your storage rack. Aside from that, its integrated grid design is made easier for assembly. Even non-mechanical people can easily understand and assemble the storage rack.
Fleximounts 4'x4' Overhead Garage Storage Rack GL44B
This ceiling storage lift can be raised and lowered by crank or power drill, which can let you access with ease all the materials that are stored high above the garage floor without using a ladder. Having this mechanism allows you to protect yourself from potential accidents brought about by climbing a ladder or heavy lifting. You need not worry about the storage lift loosening when not in use because it has a specially designed safety lock that prevents any movement. And it is so simple to use. Just use the winding pole to pull out the safety lock on the gearbox, then push back in to lock after use. Also, its construction is built to last with heavy gauge steel, premium hardware, and top-quality parts, and can carry up to 300lbs. Moreover, it is compatible with different ceiling joists of both wood and concrete ceilings and has adjustable length steel cable which allows it to be installed on angled ceilings.
Fleximounts 4'x8' Overhead Garage Storage Rack GR48F
This overhead storage rack is a good use of ceiling space to store seasonal and unused items. The height-adjustable 22" to 40" ceiling dropdown provides up to 105 cu. ft. of storage that has a dimension of 96x48x22-40 inches. And has the capacity to lift a maximum of 600 lbs.
The wire grids can be used as the base, but you can also customize the color of your wooden decks or recycle old wooden boards to fit the theme of your garage or just simply put to good use scrap woods that have been lying around the garage, excesses of your past home renovation. Its strong base provides safe loading with ⅜" plywood or thicker.
The frame of the rack is made of cold-roll steel. The installation of the racks can be both practicable for parallel or perpendicular. In either case, the vertical posts should be 48" apart. Use a stud finder to locate ceiling joists if your ceiling is finished with drywall. The four-corner triangle and two-frame reinforcement bars are specially designed vertical post embedded deck mounting. The multiple mounting points for attaching the deck and frame are built with tapping screws for more firmness.
Fleximounts Pro 4'x8' Overhead Garage Storage Rack GR48M
This overhead storage rack is built with heavy-duty in mind, as the reinforced hanging garage storage wire deck design guarantees a high loading capacity of up to 800 lbs. But you need not worry because the quality construction of this rack assures safe and high loading capacity. For added stability and safety. The ample vertical supports longer ceiling brackets and a larger contact surface. Moreover, the rack is also waterproof, which protects the stored items from getting damaged due to water or liquid leakage in your garage.
The GR48M offers flexible installation as you can practically mount the garage ceiling storage racks nearly anywhere. With Fleximounts smart joist configuration, you can mount the rack in both wood and concrete at any position--perpendicular, parallel, and even on slanted ceilings. Just make sure that you maintain 48-in. Distance in between the vertical posts. Use a stud finder to locate the joists if the ceiling is finished with drywall.
What's more is that the garage rack can easily be expanded with hooks and clamps to store more items like bikes, tools, cables, and more.