B

ecause of the COVID-19 pandemic, the world took a turn for the worst when borders shut down and at home, families weren't allowed to go outside. Well, people were allowed to do so to replenish their most basic needs. But if it was for leisure purposes, people couldn't go out.
You can imagine, well you know since you've gone through it to, how bored people got inside their homes. This is probably the reason why so many started their fitness journeys during the pandemic. They began by watching YouTube fitness videos to follow at-home exercises and when that got boring to do by themselves, they started to think of ways on how to exercise with their friends at the same time without leaving the house but all of them seeing one another.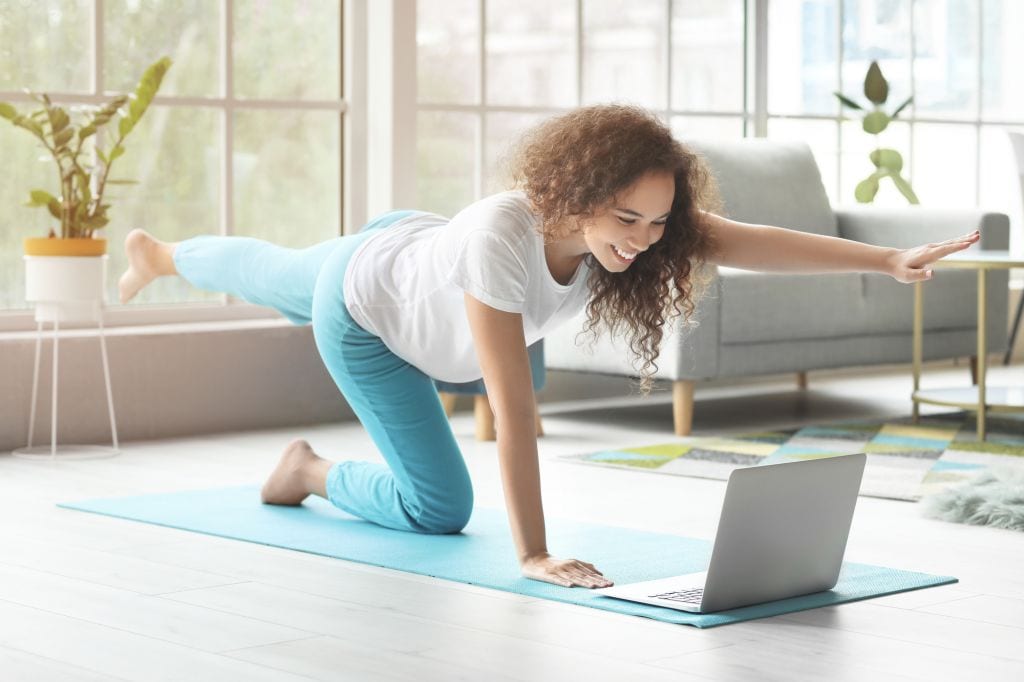 It's not rocket science to know what the solution they came up with. They wanted to build a community of people who are into fitness and to strengthen that community through weekly group workouts. How was it done? Of course, with the help of modern technology.
Even with the pandemic already treated as a common flu in almost more than half of the world, having online group exercises was a habit that stuck. Gyms are already there but there are still people who prefer to workout at the comfort of their homes so they can't be bothered to go to the gym just to exercise with friends.
Here are steps to do if you are in a similar pickle and want to start having online exercise sessions.
Select a video conferencing app to use for the group exercise.
Everyone used internet video conference tools to maintain operations as offices and schools were closed at the height of the pandemic. Zoom and Google Meet emerged as the leaders, with Zoom enabling a free 40-minute session and Google Meet not imposing any time restrictions on free users. Pro and Premium accounts start at differing amounts, depending on how large the group is or if there were recording requests made.
On your phones and laptops, you and your pals are free to download or set up the app of your choosing. You can always use social media messaging services like Messenger or Viber, which support both video group calls and the two aforementioned apps. You'll get together when everyone is available for the workout, preferably at the optimal moment. This could be a hassle, especially if everyone has various work schedules, but once the date and time are chosen, all that is left to do is to schedule the meeting and give out the link to everyone. The meeting is now in session!
Choose a Workout of the Day that will be well-liked by all.
It's best to choose an exercise before the call, but if you don't have the time anymore, there are a ton of workouts for you and your pals to follow on YouTube. Each group member must be aware of their current level of fitness in order to adjust their own behavior.
Both the body area that you and your pals want to work on and the exercise style you will do for the day can be taken into consideration when choosing a workout. You can choose to do HIIT, a yoga strengthening session, a leg day, or an abs and arms day. Zumba or an impromptu spinning session are some options.
Prepare your workout using a setup at home.
Even when you're at home, your urge to keep active and move about is greatly influenced by the environment. Your entire body must have enough room to stretch without tipping over any furniture, and there must be enough room for your yoga mat to fit. Put your water bottle, towel, and dumbbells close at hand for your convenience. Simply rotate the body to the desired weight to convert from one weight to another.
Naturally, you must also locate a space for your phone, tablet, or laptop, which you will require for the video chat.
People also opt to use the garage when they're working out at home. It's spacious and you can roll up the garage door to let sunlight in. Just make sure the garage is clean by installing smart storage solutions such as overhead storage racks and wall shelves so that the floor space would be free to use.
To each of your buddies, assign a role.
It is ideal if your group of friends allocates roles to one another in order to prevent delays or conflict on the call. One person will be in charge of setting up the meeting; another will play the exercise and watch when someone asks for a break; and one will monitor everyone's vital signs to assess everyone's development by the end of the exercise regimen. One person should be designated as the leader if you're not following a workout from the Internet so that everyone can follow the same movements.
Change It Up
After the video conference, you can still support one another in achieving your individual fitness objectives. By assisting the group members with their nutrition and progress monitoring, you may still act as each other's supporters and workout partners.
Start daily or weekly challenges with the whole group to add some fun and interest.
Everyone enjoys a nice, healthy rivalry to boost motivation. By setting a daily or weekly challenge, you may make your training program fun for everyone, whether you're competing against you, a sibling, or your friends. Say it may be to do Pamela Reif's 15-minute ab workout without stopping, run 100 miles, perform a handstand after a week, or something similar.
You and your friends can decide whether to treat yourselves after finishing a task or just go on to the next one.
Be each other's accountability partners while eating healthy food.
The 80/20 guideline has traditionally been used to describe nutrition and exercise. Watch what you consume. Increase your protein intake to gain lean muscle; decrease your carbohydrate intake to shed fat. Make sure you consume the recommended daily intake of protein, carbs, and healthy fats. For increased energy throughout the day, consume foods high in fiber, such as oats and bananas. Additionally, consume a lot of water—roughly 15.5 cups for men and 11.5 cups for women each day.
It might be challenging to keep track of your macros, especially when you're feeling lethargic. For this reason, having an accountability buddy among your friends can be helpful. Together, you might prepare meals and share recipes