Oftentimes, whenever we search for a new house, we hunt for one with a garage. This is because you desire additional room and protection for your automobiles, appliances, bicycles, as well as other personal things. Unfortunately, there still are occasions when previous home occupants abandon the garage in such a condition of disarray that cleaning it appears excessively labor and time-consuming for you. Does any of this describe you? FlexiMounts understands how easy it is to slip into the garage chaos and rut. If you discover yourselves in that same scenario and want a tidy and orderly garage, you've reached the optimal site. We're heading to go over some procedures that new homeowners will have to complete to manage the garage and all that is in securely and efficiently in this post. [caption id="attachment_212064" align="aligncenter" width="1024"]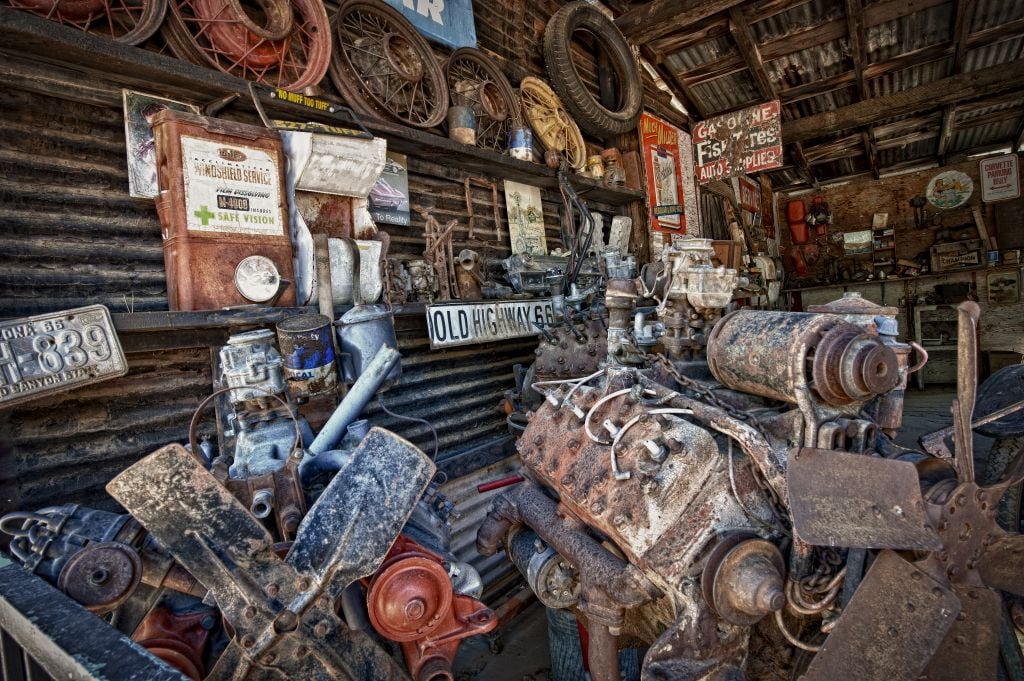 Interior of a abandoned car garage over Route 66, in Arizona.[/caption]
Do You Really Need To Clean That Abandoned Garage?
Yes, you do! Numerous factors exist for why cleaning the abandoned garage ought to be a primary concern. As previously stated, dealing with useless crap in the unorganized garage may be quite frustrating. Finding out that you are unable to locate whatever you need is infuriating as well as, on occasions, plain depressing! Apart from that, having an unkempt garage may be quite risky. The majority of items we stow within the garage are still there due to their size, heft, or risk. The final action you wish to do is attempt to access your vehicle or bicycle by leaping past jagged equipment and filthy floors. Therefore, it is time to transform the abandoned garage area into a nice, orderly, structured, sanitary, and protected place.
Remove Anything That Is Not Yours Inside This Abandoned Space.
This step seems to be difficult for many individuals, although it is necessary. It's necessary to be tough with the stuff that has gathered inside their abandoned garage over the seasons. Removing the stuff inside the garage that is not yours will also save you from acquiring anything that is not supposed to be inside. Would you actually want that worn-out bolt screw kit that you found inside this place? Are all three of their outdated motorcycles truly necessary? What about all the other dirty covers that the former tenants haven't cleaned in months? Go over the abandoned garage with a meticulous eye and discard everything that seems permanently filthy, broken, and unnecessary that you are unlikely to utilize. Afterward, and only after that, may the arranging steps begin!
Purchase FlexiMounts Garage Storage Solutions
Among the most common problems individuals have is keeping equipment, chemicals, as well as other household goods properly. The best companion in this situation is accessible storage. Sturdy shelf units could be mounted to the sides and therefore span the entire height of the room. Additionally, Fleximounts shelves are preferable to cabinets since they allow for easy accessibility and reorganization as required. Additionally, you'll constantly be capable to check what is inside, which guarantees you won't purchase a second container of new nails unintentionally! This is among the most significant issues that unorganized garage homeowners confront - being unable to view or locate stuff, which forces consumers to acquire additional goods! Therefore, acquire a sturdy FlexiMounts rack and shelves and begin categorizing your possessions. Here are some of our FlexiMounts recommendations for the new garage owner
GL44B 4′ X 4′ OVERHEAD GARAGE STORAGE LIFT
The GL44B 4′ X 4′ OVERHEAD GARAGE STORAGE LIFT is perfect for households that value the safety of each family member. To reach the belongings they need, all they have to do is to use the hand crank with the help of a power drill. This makes it easier for everyone because there is no need to lift heavy ladders from one place to another. Anything can also be placed on the GL44B 4′ X 4′ OVERHEAD GARAGE STORAGE LIFT. From kayak to bike parts and car hoods, this storage solution can carry it all for you.
WRC24B 2-PACK 2′ X 4′ CORNER WALL MOUNTED SHELVING
Utilize every corner of your garage with the WRC24B 2-PACK 2′ X 4′ CORNER WALL MOUNTED SHELVING The grid design is well-constructed to make it easier for users to assemble. These can also be installed any way you like if you are not feeling the corners of your place.
Purchase a Bench Workstation from FlexiMounts.
The majority of individuals store their items in their garages. Even though many people utilize their equipment infrequently, others do so on a daily basis. In any scenario, a well-designed workspace is a necessary component of any garage. Whatever type of woodworking, automobile maintenance, item chopping, or other jobs may be accomplished on or even with the assistance of a good workspace. With the absence of one, we frequently resort to utilizing the yard barrier or pavement as a chopping site, endangering both us and the surroundings. Therefore, designate a suitable place inside your carport for a workspace.
Improve your storing space.
Certain items will not be suitable for placement on upper racks. While we encourage displaying as many items as practical within the garage, certain items necessitate specialized safekeeping. Tiny bolts, cutting tools, as well as other smaller equipment, for instance, will degrade rapidly if kept outside of racks. Choose a system of do-it-yourself shelves for these types of goods. Such compact cabinets with dozens of transparent acrylic compartments keep it simple to locate tiny objects fast. Add a portable trunk or even some huge, crates for additional cumbersome goods. These are capable of being wheeled around from beneath your desk or workstations. Improved for your storage.
Things inside the abandoned garage should be disinfected.
We may never enjoy it, but the garage, like any house, requires cleaning. For instance, the household will almost certainly utilize the space as frequently as you would, and we don't need it to be cluttered with filth and steel shavings. After organizing the abandoned garage, be certain to clean the ground and dust or mop the entire area completely. Additionally, wipe the shelves, desk, as well as other areas. Consequently, users can maximize room utilization while also being confident that each gets home and would be handled well. Additionally, routine upkeep and sanitation are recommended.
Verify That All Is Secured.
At the conclusion of each day, the most critical question to ask is: Are your personal belongings secure? That is, both on the exterior and within the area. You must ensure that your doors and windows are locked to prevent anybody from trespassing and stealing anything from the freshly remodeled garage. Additionally, you must ensure that any hazardous devices and objects are securely kept. It's for the safety and the protection of anybody who visits the garage, particularly household members or youngsters. There must be no unsecured equipment, dangerous items, or dangling objects that might injure someone.
Final Thoughts
After completing the aforementioned steps, you will have a wonderfully arranged and unexpectedly roomy carport. Whenever you need it for working, storing, or accessibility, you can be certain that it is sanitary and secure for the whole household. It may appear to be a tremendous effort, but we can assure you that it will be completely worthwhile.