T

hese are the moments when going to the movies, experiencing drive-in cinema for the first time, or enjoying a movie with a picnic on the lawn sound even more exciting. Without a doubt, we missed waiting in line for our tickets or for popcorn shortly before the movie started. We missed going out with pals and watching the most recent Marvel film in a theater. With an audience of strangers, we share laughter and tears, judge rowdy moviegoers with judgmental eyes, and protect our ears from spoiler junkies who won't stop talking while the movie is playing.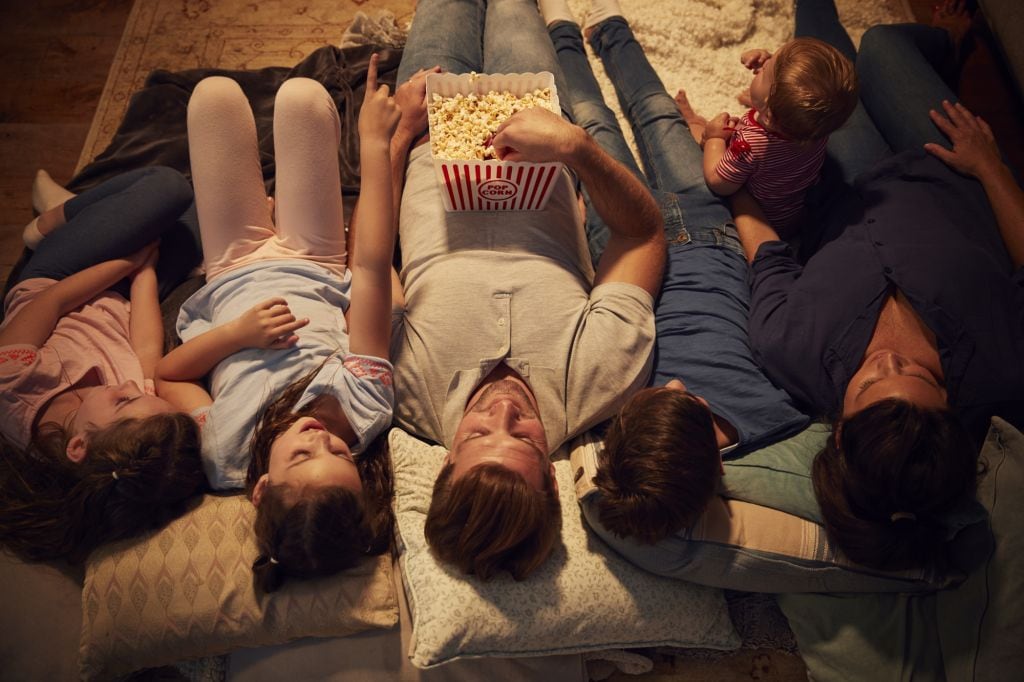 While going to the movies is back, some people have thoroughly enjoyed watching movies at home. Additionally, watching at home has advantages as well: we can pause and resume the film anytime we choose, offer our boisterous comments (albeit obnoxious), and curl up on the couch—occasionally even dozing off during the most crucial of sequences that they, we could easily go back to. The fact that we've spent so many nights at home during the pandemic may make the same old scenery dull, but that doesn't mean we can't alter things up.
Simply adding a little more ingenuity will allow us to enjoy outdoor activities indoors. Additionally, the fact that we are with the individuals we cherish the most doesn't hurt! Ten essentials are listed below for the ideal family movie night.
Copy of the film in high definition
Choose a movie at least one night before the intended viewing date to avoid conflict. You'll be able to do this in order to find the best copy of the movie you wish to view. We guarantee that the quality of your copy will completely alter how you view the film, so be sure to obtain a high-resolution copy of your preferred film lawfully.
Maybe making movie night decisions easier for you and your family will be establishing a weekly theme. Alternately, you may decide who gets to choose the movie each week so that you can all alternate. No one would experience a lack of respect for their decisions in this way.
Desktop or laptop
Prepare the equipment you'll use to watch your movie. Make sure your laptop is fully charged or that your Smart TV has a USB port and can be connected to the Internet. A properly charged device would preserve your alertness on a specific movie night.
Speakers
Prepare the best external speakers and attach them to the laptop for the best sound quality. Better avoid using Bluetooth headphones since they can lose connection throughout the movie.
LCD Projector
If you don't already have an LCD projector at home, borrow one from a friend or rent one. Connect it to your laptop, desktop, or smart TV with an HDMI connection. You could simulate watching a movie on the big screen by projecting the movie on a wall that isn't already painted.
Pizza, Popcorn, and Drinks
Without food, movie night wouldn't be the same! Popcorn should be made, soda should be purchased, and pizza should be ordered or made from scratch, as desired. Prior to ordering, find out the group's preferences for pizza toppings and popcorn flavors. The goal of movie night should be to enjoy yourself, not to keep track of how much weight you'll gain from all the carbs. So make sure everyone breaks their diets.
Chair
The chair is one of the most crucial components of a movie viewing setup. However, there is a chance that you might nod off when lying on a sofa bed or with your chest flat on a mattress. An ergonomic gaming chair is the closest thing you might have at home to what the theater has to offer. You might have two or three that you could arrange in a row by placing them next to one another.
Dark-colored drapes
Use blackout curtains in your movie room to create the feeling of being in a movie theater. Only your laptop, projector, and the following number on this list should provide light, and the room must be completely dark.
Stars that Glow in the Dark
Glow-in-the-dark stars on the ceiling above your head can mimic the night sky. It would be similar to lying on the grass and watching a movie at an outdoor theater.
Pillows
Make sure cushions are nearby if there is no one to cuddle with in the family. Hug your pillow if you're feeling terrified or depressed. More tightly hug it if you're joyful. At the cinema, you're not allowed to bring pillows, but at home, you're free to do so!
Company
The most crucial component of the ideal family movie night is your family, of course. The most important thing is that you all like the film, debate it afterward, and perhaps even have the stamina to watch another before the evening is out.
Suggestion:
Why not consider holding your movie night in your garage? It's spacious enough for the whole family to be close together while watching the movie and private that you won't have to entertain distractions when the movie is playing.
But of course, before you can have a movie night at the garage, you need to make sure that you declutter the space. There should be smart storage solutions in place so that the floor is free for the family to use and be able to move around. There should be ample space for the family, chairs, LED, television screen, and snack area. Again, this can only be possible if the garage is neat and tidy. You would have one unconventional fun movie night that might even become a family tradition. If you are open to the idea, you can even make the party bigger by inviting other relatives or friends to come over. They can bring food so that you'll have a big carb feast while watching the movie. You might even watch more than one and have a debriefing after the movie/s that you just watched.
We're almost 100% sure it'll be a lot of fun!