T

rying new things is good for us, physically and mentally. We all start somewhere. And that would mean making mistakes. But who doesn't? As beginner cyclists, there are things that we overlook or simply do not have a knowledge of. And it is ok. It is part of the learning process. Rest assured, it gets better from here. We laughed at ourselves looking back, but these mistakes make us for what we are today. As we have been there, done that, we want to pay it forward by pointing out the rookie mistakes that we have made so the other beginners will learn from them as well. And as we love to say, "Keep riding!"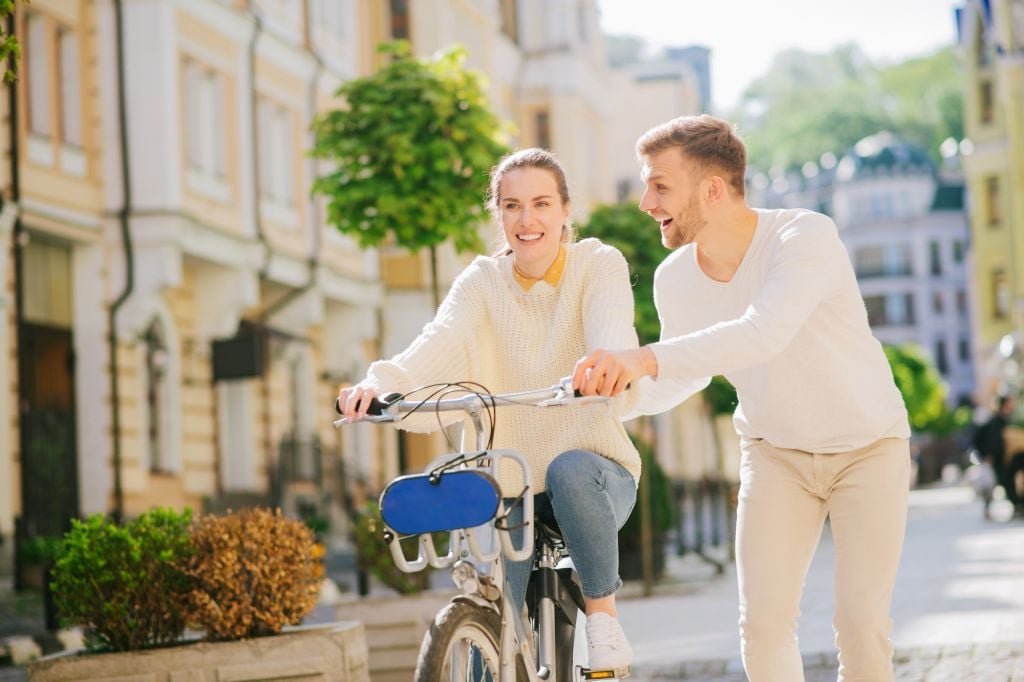 Wrong Saddle Height
Ever wondered why you feel knee pains during and after every ride? It must probably be the wrong saddle height. If your saddle is too low, you tend to under-extend your pedal stroke. Meanwhile, if the saddle is too high, there is a high chance that you are over-extending. In both instances, you are not delivering the power that needs to be released from the legs properly.
What you should do is fine-tune to the right height. Ride with your heel on the pedal. Once your foot hits the very bottom of the pedal stroke, your leg should be almost in a straight position. Here, the height of the saddle is quite right. Another test is to check if you can still touch the ground with your toes while sitting in the saddle when you slightly lean on one side. Fine-tune if needed. Do not be afraid to adjust the height of the saddle to a little lower or higher.
Not Eating Enough
Cycling is an activity known to use your overall body muscles. And this would require enough energy for you to conduct this physical activity. Sure, you ate your fill before a ride, but soon you will realize midway that it is not enough to fuel your remaining cycle. When heading out, it is always a must to bring more food than you actually think you need. And of course, a bottle or two of water. Riding can wear you out physically. It would be such a hassle to look where to buy food in the middle of the ride. Then it really becomes a problem when your destination does not have a restaurant or store nearby. So, always, always stock on food to energize you all throughout the ride.
No Tools and Spares
Just like you need food and water to energize you throughout the whole ride, so does your bicycle unit. Taking with you tools to help you with sudden problems and simple repairs is the right thing to do. In a saddlebag, prepare basic tools such as patches, mini pump, multi-tool, tire levers, inner tubes, and the like.
Not Storing Your Bike Properly
We are always on the lookout for how else can we beautify and upgrade the bicycle units that we often overlook the need for proper storage. More often, the scratches and damages that occur on our units are from the way we store them when not in use.
There are things to consider when storing bikes. One of which is the temperature of the room. It needs to be consistent with the outside temperature to avoid moisture building. Another thing to avoid is not to have the bike's tires rest flat on a bare concrete floor for a long time. The bike's tires will dry-rot and age prematurely because of the moisture that the concrete floor will draw out from the tires' rubber. The solution for that if standing upright on the garage floor is the only way you can store your bike is to put wood, carpet, rug, or rubber mat.
Generally speaking, bikes stacked horizontally on the floor is not a really good way to store them. That is especially concerning if you have more than one bike in your arsenal, as the needed floor space is more significant than expected. They will most likely lean on another bike as most of the hoops only support the front tire, which can scratch your bikes in this position. Pulling out a unit among the bikes stacked together when you need to use one would be more challenging as you will also be lifting the others.
A good suggestion or alternative to these storage woes would be to mount them to the wall or ceiling. It is much cheaper to buy the proper bike rack than to spend on bike repairs. But a word of caution for the renters, better inform or ask permission from the landlord if you can drill halls on the walls or ceilings.
Optimize the garage storage by utilizing the Fleximounts BR1 Wall Mount Bike Rack. Storing your bikes in a vertical position frees up valuable floor space, which you can practically use for your cars or other storage needs. Aside from that, it also provides easy access to mount and dismount each bike. Thus, you can save your energy for the cycling activity of the day!
The wall mount bike rack uses only high-quality materials–powder-coated, cold-rolled steel–to ensure durability, rust resistance, chipping and cracking. The rack has options to carry one bike, four bikes, or six bikes. The six-bike stand can hold up to 300 lbs or 136 kg. They are heavy-duty and long-lasting that can withstand years, and are dependable for load-bearing performance. It is perfect for cyclists who will take this lifestyle for a very long time. And of course, as you venture into cycling, a high chance would be to buy more bicycles that fit a particular activity. So this could mean the need for more storage space and durable storage racks.
The J-shaped hooks are easy to use as they fit perfectly to the curvature of your bike hubs, thus, providing a firm grip to secure the bicycles in their proper position. You need not worry about the hooks coming off the hanging bikes because each hook is mounted securely. And the good thing also is that the premium bike hooks are wrapped with thick sponge foam tubing, which prevents aging and cracking, and offers better protection for your bike's wheels, hubs, and spokes.
The hooks can easily be re-positioned anywhere on the rack to suit different bicycle sizes as storage needs change. The bike wall mount hanger fits most bicycles (within 2.56-in range in diameter), including mountain bikes, road bikes, and kids bikes. But this excludes wide-tire bikes.