I

s your home all dolled up with flickering lights, winter greens, and shiny things to set the festive celebration? As you deck the halls this Christmas Season, one thing that you should keep in mind is to fire-safe your home or your garage. No one wants merry-making laughter to turn into sirens because your home caught fire due to the decorations adorned in your home.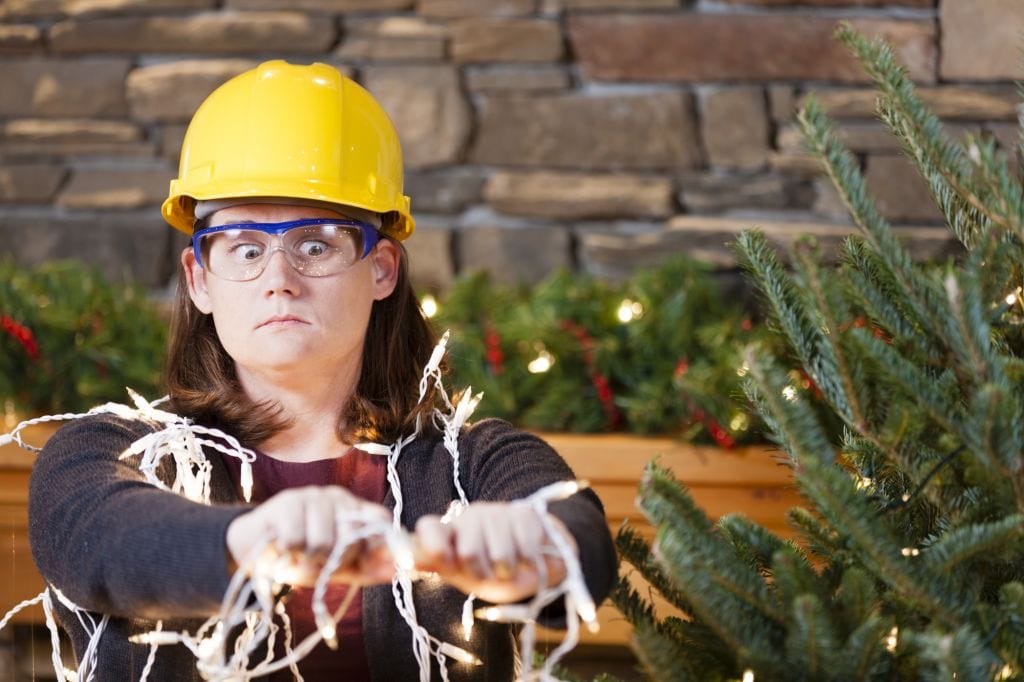 Fast Facts
Winter holiday fires are a common occurrence. And the sources of the fire are the ordinary decorations that you put to light up the season.
-More than one-third of home decoration fires are started by candles.
-Half of the home decoration fires in December are started by candles.
-Christmas is the peak day of candle fires.
-More than 1 in every 5 Christmas tree fires were caused by a heat source too close to the tree.
-Almost one-third of home Christmas tree fires are caused by electrical problems.
-A dry Christmas tree can burn very hot and fast.
-Although Christmas tree fires are not common when they do occur, they are more likely to be serious.
Take these Necessary Steps to Fireproof your Christmas Home and Garage
1. Handling Candles and Christmas Tree
The US Fire Administration notes that you should keep the candles at least 12 inches away from anything that burns.
When picking a tree, choose one with fresh, green needles that do not fall off when touched. Cut two inches from the base of the trunk before placing the tree in the stand. Make sure that your Christmas tree is at least three feet away from heat sources like fireplaces, radiators, space heaters, lights, candles, or heat vents. Also, ensure that your tree does not block exit points. Add water to the tree stand daily. If the tree goes dry, it is time to get rid of it.
Decorating the tree with Christmas lights almost goes hand in hand, so make sure to read the manufacturer's instructions for the number of light strands to connect. Use lights that are listed by a qualified testing laboratory, as some lights are classified for indoor or outdoor use only. Replace any string of lights with worn, loose bulb connections, or broken cords.
And as a word of warning, never use a candle to decorate the tree. And always turn off the Christmas lights before going to bed or leaving home.
Disposing Christmas trees after the holiday celebrations must also be taken into consideration. Dried-out trees are a fire danger. They should not be left in the home or garage or placed outside against the wall of the house. Recycling programs in the community may help with the procedure, so make sure to check with your local organizations or authorities.
Lastly, bring outdoor electrical lights inside after the holidays to prevent hazards and make them last longer. Proper storage should be in order. Safely tuck them away in a box, and neatly store them on overhead storage systems or wall shelves. If you are still looking for trusted storage, then look no further as Fleximounts have a wide array of selections for your needs.
2. Choosing Holiday Decorations and Preparing your Space
When buying holiday decorations, look for products that are flame resistant or flame retardant. Read the labels and warning notes on the products for you to have an informed choice. When hanging the lights, use clips, not nails, so the cords do not get damaged. Place the decorations away from windows and doors, in case they catch the wind and block these entry and exit points in the room.
And if you have kids living at home or visiting your home for the season, keep your place child-friendly. Keep the candles away from their reach. Matches and lighters should also be neatly and safely kept in a locked cabinet. Children tend to stay curious and play with anything they find interesting; matches or lighters can be that interesting object.
Christmas time is always the season to welcome guests into your home or repurposed garage space. And it is inevitable that some of your guests are smokers as well, especially with the cold season, smokers will most likely light a stick or two during their stay in your lovely home. So, always think three steps ahead of the situation as a precautionary measure. Give a fair warning to smokers to smoke outside the living space, and keep their smoking materials with them so the kids in the crowd will not be able to touch them. In the smoking area, provide large, deep ashtrays. Before discarding the cigarette butts, wet them as a fire preventive measure. And most importantly, check your smoke alarms in the house. Make sure that they are working properly. Also, inform your guests about the home fire escape plan just in case. While we do not wish anything untoward will happen, nothing beats a prepared guest during the emergency.
3. Installing Fireproof Features in Your Home or Garage
Most homes have already installed fireproof features and have been checked by local authorities. But what worries most of us is the home garage. As this is a place that is usually used as parking space, however, when festive seasons come, the garage space is used as a room for gatherings. Thus, it is important to have safety measures installed as well.
Most garage floors use carpet and interlocking tiles, which are prone to collect all kinds of debris, dirt, and chemicals, and tend to deteriorate faster when exposed to serious fire hazards like automotive fluids. While there are already fire-resistant synthetic fiber carpets, these do not still give the protection and peace of mind that we are looking for. A better alternative for the flooring is to use a garage floor epoxy. It resists the chemical absorption of substances like oil or grease. Epoxy is also scratch-resistant, which makes a highly-durable surface for your concrete floor. Plus, it is waterproof, non-slip, and fire-retardant.
Aside from the garage floor, one must also take into consideration the garage walls and doors. The wall separating the living quarters of the home and the garage must be fire-rated. Use a type X gypsum board or equivalent that is not less than ⅝ inch. If the garage is three feet away from the main house, the gypsum board or equivalent material should be at least ½-inch to the interior side of the exterior walls.
Installing fire-rated garage doors is also a must as these prevent the spreading of fire from reaching the house for at least 20 minutes. It gives the residents ample time to evacuate as the fire-rated door reduces and slows the fire down. A good fire-rated door should be any of the following: solid or honeycomb core steel doors not less than 1 ⅜-inch, 20-minute fire-rated doors equipped with a self-closing device, or a solid wood door not less than 1 ⅜-inch thickness. And do not install a door that has direct access to any of the bedrooms in the main house.