H

ave you ever tried scuba diving?
For those who have a big fear of deep waters, you might be wary of trying the extreme sport. But if you've seen photos of the underwater world online or wherever, you might change your mind in an instant.
I, for one, have experienced scuba diving when I was invited by my friend to try it out during a beach trip months ago. I grew up having recurring dreams of being swept by waterfalls and drowning somewhere in the middle of the ocean so if you told my 12-year-old self that I'll be going scuba diving when I turn 27, she will for sure not believe you. This is the same girl who faked she had a period so that she won't take a graded swim run through the pool. This is the same girl who would rather get a zero in her swim test rather than go in the pool that's over six feet and she wouldn't be able to touch the floor. This is the same girl who'd panic while snorkeling even though she was wearing a life vest.
Needless to say, I am scared of deep waters so I'd challenge myself to conquer that fear every time I get the chance. Back in 2018, I tried freediving but shortly lost interest to continue because I didn't have the money to sustain the hobby. Last 2021 was my first time to go scuba diving and the experience was entirely different from skin diving. It's fun to free dive in a different way but scuba diving for the first time opened me to a whole new world. I felt like Ariel in the Little Mermaid, although with reverse destinations. We stayed for about 45 minutes underwater and saw many colorful corals and fishes while we were at it. It was an experience of a lifetime and something I'd want everyone to experience.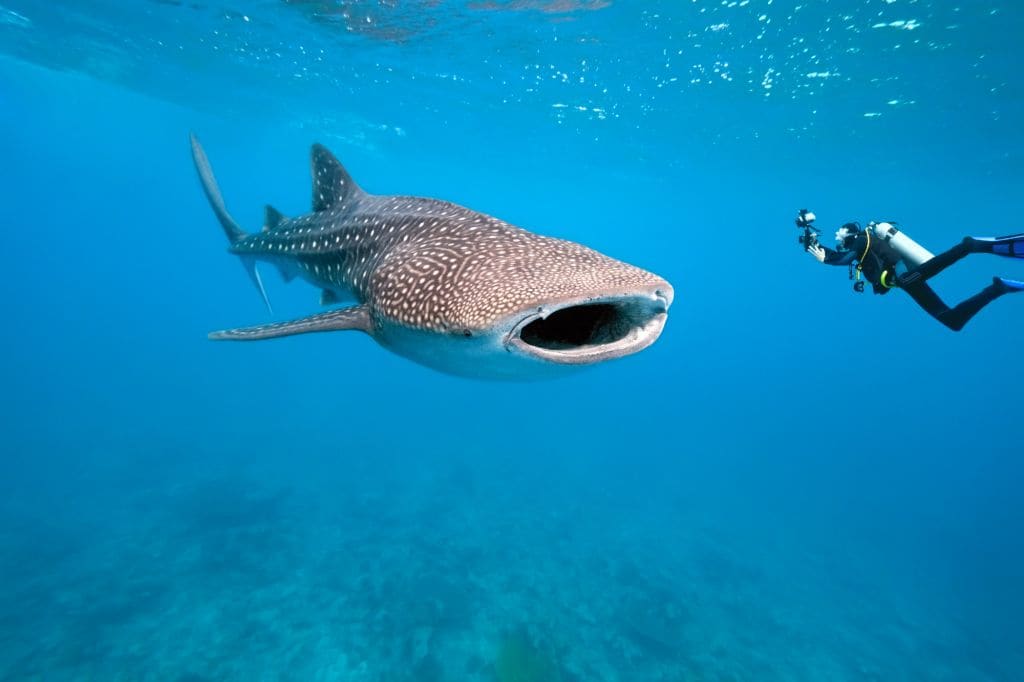 If you're scared but thrilled to go on an adventure, I challenge you to conquer your fear and discover the world underwater.
You don't even have to fly far away from the US to go scuba diving. We listed below the top six scuba diving destinations to go in North America.
In the United States
1. Keahole Point
Hawaii is known for its jaw-dropping landscapes, mountains to hike and waters to explore. People go here for surfing, food, and just the overall laid back vibe and energy the state gives. One of its gems is the Keahole Point where you can go diving with manta rays. It is located on the Big Island of Hawaii where people usually go for night dives. You 'd see the biggest mantas glide through dark waters.
2. Point Lobos
Many people get their scuba diving certifications in Monterey. Some of them don't know that just 15 minutes away is the breathtaking Point Lobos National Park. This Northern California gem is popular among divers but to preserve the place, the national park only allows 15 scuba divers at a time so that the reef structures in the area won't be destroyed. You'll see a lot of kelp forests and small creatures, and if you're lucky, you'll even get to spot a harbor seal.
3. Florida Keys
Fancy seeing shipwrecks underwater? While it was a tragedy why these ships sank, they actually became home to many sea creatures over time. Divers primarily visit Florida Keys in Florida to explore these shipwrecks. There are even times that divers look for gold or treasures in the ships while some come to know more about what happened in the past. Almost all divers who go here make it a point to see the USS Vandenberg, a ship that spans 523 feet in length.
In Other Countries Near the United States
4. Isla Mujeres in Cancun, Mexico
You might be on the hunt to see a whale shark and go diving with them. You just need to book a flight to Mexico and visit the famous tourist destination, Cancun. Isla Mujeres is off its coast, and although the place is pretty laid back, many people come to visit. The perfect time to go is between June to September where the gentle giants could be spotted in the waters of the area. It's completely safe to dive with these whale sharks, considering how gentle they are even if they are huge.
5. Ray of Hope, Bahamas
Next on the list is the famous Bahamas. In 2003, a ship named Ray of Hope sank in its waters and was since then named after it. Many sea creatures have been roaming around the waters since the ship sank including, yes, sharks of different varieties. Contrary to what the media says, sharks are not as deadly as you think. It's double the thrill when you get to dive with them. The shipwreck itself has become home to many gray reef sharks. In the Bahamas, you can also come visit the Tiger Beach where you'll be able to see a lot of striped tiger sharks.
6. Cocos Island, Costa Rica
Must you be warned, it's already an adventure to get here as it is highly protected by the government of Costa Rica. Who can blame them when the beauty of this island is unmatched? People usually go for diving trips that don't last for less than 10 days. The area is rich in dolphins, mantas, rays, sharks, eels, octopuses, and so much more. Just know that it takes about 36 hours by boat to get to this island if you're hailing from mainland Costa Rica. The visitors are limited so you really have to plan ahead so you can make the necessary arrangements. Divers could attest to how beautiful the reef systems are underwater here.
Once you have decided to take scuba diving as a hobby, you will have your own equipment. You can protect and make sure it's safely kept in the garage if your space is organized. Use smart storage solutions from FlexiMounts such as overhead storage racks and wall shelves so that there is enough space in your garage for your athletic gear, now including your scuba diving equipment.
Happy and safe diving!