I

f you and your child are groaning over another snowstorm (read: stuck and bored at home), then it is time to spice up an otherwise melancholic weather. Turn the blues and the whites into fun, energetic days and nights. Whoever says winter can only be enjoyed through skiing and snowboarding, snowball fights, or building a snowman has never done exciting activities that can be enjoyed inside the home or in the garage.
All you have to do is get a little creative. Unleash the inner kid and you. For sure, your kids will have this memory for a very long time, and even write it down in their school essay. Shared experiences with your kids will throw off the lingering feeling of loneliness that a winter snowstorm brings. So, what are you waiting for? It is time to turn your garage into your very own winter wonderland.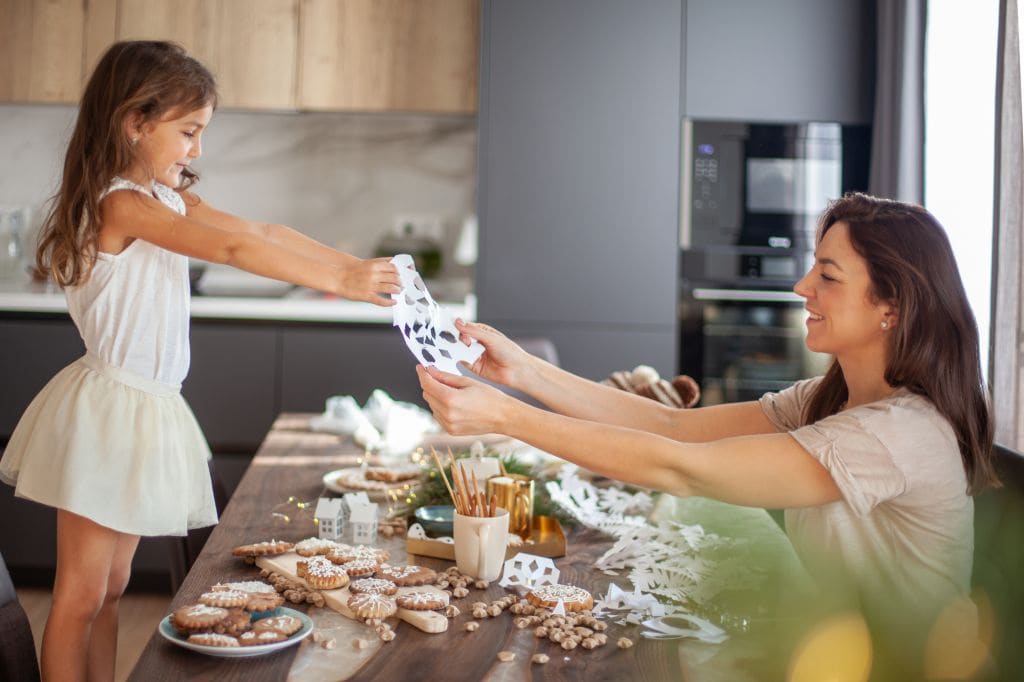 DIY Paper Snowflakes
Remember the time that you were so amazed at the fact that no two snowflakes have the same pattern? Then, pass on that cool information to your kids. If you can get a few samples outside your home and let them see through a microscope, that would be better. So here is a fun idea to do with your kids: make your own snowflakes. All you need to prepare is a bunch of colored paper, a pencil and a pair of scissors. Now, you can teach your kid to draw a pattern that they like, or better is to fold the paper into four, then freehand cut the paper to form the designs.
Delicious Snowman Pancakes
Before you do all the activities you have prepared, snack up on some pancakes first. Pancakes are the foolproof way to get your kids to eat and to save up some energy–because you and your kids need a lot of it. Have your child pour the pancake batter into a mixing bowl. Then, you will be in charge of creating a snowman by shaping two or three circles into the pan. Have fun decorating the snowman by using fixings such as chocolate chips for the eyes, candied carrots for the nose, bacon or sour rainbow rips for the scarf, and shaved coconut or powdered sugar for the snowflakes.
Cool Snow Globe
If you can't enjoy the snow outside, then make one that your kid can enjoy and display on his bedside table. It is easy to make one. Shake up some snow magic with your kids with three easy steps. First, fill a mason jar (could be your empty mayonnaise jar) with water and corn syrup. Make sure that they are of equal volume. Then, add in as much glitter as your kids like. Second, prepare small figurines to decorate the snow globe. Then using a hot glue gun, stick them on the inside of the mason jar lid. This step should be an adults-only activity. Then lastly, place the lid on the jar. Secure it tightly. Then give it a shake and swirl to create the magical snowstorm.
Edible Snow
What a better way to end a series of activities than having your fill of cold treats. Eating something cold during a very cold day is always a good idea. Before you raise your eyebrows, there is some science behind this. When the surroundings outside of the body are at low temperatures, our body feels colder because we maintain a higher temperature inside. To get the body temperatures in sync with your surroundings, one option is to indulge in cold drinks or cold treats. So, why not make a snow ice cream. Shave the ice from the freezer and put it on a tall glass. Then prepare sweetened, colored liquids to taste. You may also add a pinch of sea salt and ½ cup of cream. Enjoy every bit of this dessert while making your kid tell you what he enjoyed best during the activities. In this way, you will get to learn your kid better and the next time you will be doing activities together, you will be able to tailor-fit them according to the likes and dislikes of your child.
Pop the Frozen Bubbles
Is there a kid who does not love playing with bubbles? I doubt it. So, let your kids blow the bubbles until they tire out with your homemade bubble solution. All you need are three materials: water, corn syrup, and clear dishwashing soap. Gently stir the water and corn syrup in a large bowl. Avoid creating bubbles when stirring. Then, add the soap and mix well. Now, in a small and shallow dish, pour some of the bubble solutions. Then give your kid a straw and let him blow a bubble. Watch how the bubble is slowly formed and freeze. Then, here comes the best part. Pop the bubble and let it vanish into the thin air.
For other fun activities you may think of, we recommend using a Fleximounts WB102 Manual Height Adjustable Workbench.
When doing all the activities, it is important to use a solid worktop and a surface that is scratch-free. Remember that kids can get clumsy and mishandle the sharp edges of say, a pair of scissors and accidentally scratch the table.
It is also good to choose a workbench that can be adjusted according to the height of the user, and in this case, your child and you. With a flexible feature like this, it can accommodate the needs of both you and your kid and the wide gap height difference.
Height-adjustable workbenches are heaven-sent. There are tons of work and activities that rely on a stable worktop. If you add flexible height to the features, this product is a winner. The user can manually adjust the level of the frame to match the desired size. So, whether you like doing activities either standing or sitting, you can count on this workbench. And this feature is really helpful for kids whose heights are still growing.
The Fleximounts WB102 Manual Height Adjustable Workbench lets the user confidently handle any sitting or standing work with maximum efficiency. It enables you to elevate your workstation to its ideal height, with a height adjustment range of 29.5 inches to 44.1 inches. The extra-large crank handle offers smoother operation than standard cranks, so you can easily lift the desk, even with heavy loads, such as items like the computer set, toolboxes, car cleaning machine, paints, and many more. And best of all, you would never need tools to adjust the height of the table legs as is necessary for other workbenches without a crank handle.
The WB102 has a solid construction, is made of a 1.5 mm cold-roll steel frame, and holds up to 500 lbs. Its worktop table uses solid rubberwood as a surface and has desktop dimensions of 47.2 inches x 23.6 inches x 1 inch, which offers plenty of space to work on.
You can also use it as a garage workbench, home office desktop, or even sewing and crafting table.