N

ow that outdoor entertaining is possible again, you might want to jump into the game before you receive invitations to any. It's not a competition but at least if you are the first among your friends, there's no other party your guests will be able to compare yours with. Everything will be a breath of fresh air for them and they have you to thank for finally getting some social time after being stuck at home for so long.
Even though there's less pressure, you of course want to leave a good impression on your friends. Or you're probably known as the consummate host in your social circle that you want to hold onto the title and not disappoint anybody.
It also gives you the opportunity to finally tick off yard cleaning in your to-do-list. You've put it off for a long time already so now that you're having guests over, there's no choice but for you to finally get around finishing the overwhelming chore.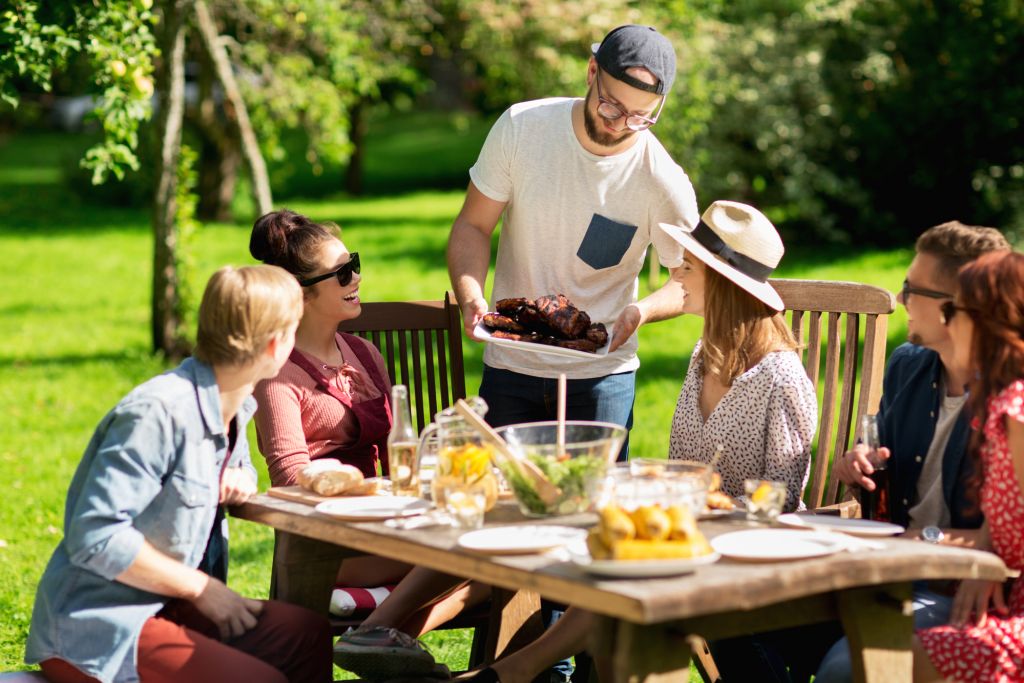 After you're all set and your guests come over to a well-kept backyard and home, you'd feel the most fulfilled and would want to do it all over again. Hosting is addicting to the most organized people who love to meet up, socialize with friends, and make fond memories. We listed down some steps you need to do to make sure the backyard is more than ready when the guests are about to come.
1.Make sure the backyard is neat and tidy.
Since people would be coming over, you must make sure that the space where you're entertaining them is nice and neat. Since you are planning an outdoor party, then it's the backyard that must look like it has been trimmed and maintained for the whole year. Don't go cleaning your backyard in a rush because you are more likely to miss something when you do so. Make sure you clear out all garbage in your shed and garage. You also have to dust off your patio and deck areas. Check the grass area and take out all the garbage you can see in it. You should keep away or store anything that you don't want your guests to see. If any of your tools are dangerous, make sure these are also tucked away and out of reach by your guests, especially if there will be children and pets in your party. But if you want to sit back and chill, then you may want to book a professional backyard cleaner to get rid of every junk in your space. All you have to do is to check the work afterwards.
Making sure the backyard is clean includes trimming your plants–they should all be at the right length. Since plants grow in your garden, you must double check if any of them are already growing too long. You need to do much needed pruning before the party starts. You also don't want any of your guests to get hurt by any unruly plants; for instance, some branches of trees may fall onto one of your guests and cause a ruckus. Your party will surely be the talk of the town if any of these happens. Trees and large bushes that are not pruned regularly are more likely to have branches fall down onto the ground. Protect your guests and make your garden aesthetically pleasing by pruning your plants. Another thing you can do is to mow your lawn, guaranteeing that your garden is at its best condition for the party you're hosting.
2. Craft a menu.
It's a no-brainer and a given that you should feed your guests when they come over. It's natural for anyone to offer food to any visitor. So if you are expecting a large group, you should know by now that cooking for them will be different from cooking for yourself or your family. You should make a menu with quick-to-prepare meals and food that everyone can enjoy munching on. For outdoor parties, people always love grilling food because they can make conversations while preparing the food. They can even ask the guests to help out if they want to. Aside from the red meat, you may also opt to grill seafood and vegetables for your guests.
After the food, you must think about the drinks as well. Is it going to be a cocktail party? Are your friends the beer type of people? Are you asking them to bring their own beverages? Whatever it is, just please make sure that you are ready with coolers, ice, or an accessible freezer.
3. Make sure your furniture is set.
It's not only the garden that you should prepare; the furniture must also be available. How many guests are coming? Make sure you have seats for everyone. Can they all fit in the tables you will set up? What about the table for the food and drinks? Are there different areas where your guests can roam around and eventually settle down? If the party is intimate, prepare some lounge chairs. Consider how the furniture will be far apart from one another. Maybe you can also use the garage to house the food that you will serve. This means smart storage solutions such as overhead storage racks and wall shelves from FlexiMounts must be set up to make sure that the garage space is one, maximized and two, neat and tidy when people enter. If you wish to buy new furniture for your party, don't hesitate to buy those that you could use multiple times.
4. Be ready for any weather that day.
You are unable to control the weather conditions of an outdoor party. This means if you are hosting one, you should be prepared for any kind of weather that day. You may look at weather forecasts days before your party and have your guests bring the necessary weather gear for the forecast that day. Of course, as the host, you must be able to provide shade for those who do not like extreme sunlight and/or especially if it rains that day. Renting a party tent is always a reliable weather measure.
If for instance it's going to be cold according to the forecast, you may arrange for a fire pit to be put up at the center of your backyard. This will warm up your guests and make them feel comfortable even if it's colder than what they expected. You can offer blankets too for the guests to feel extra warm. If it's the opposite and it's too hot, make sure you are loaded with refreshments that will make your guests hydrated throughout the party.