T

ake these necessary steps to avoid fire accidents
They say, unpreparedness is one's greatest enemy and negligence is the cause of failure. And when it comes to our safety at our very own homes, "unpreparedness and negligence" should not be in our vocabulary. Our homes are our safest haven, and we should take the necessary steps to fireproof at all costs.
A residential garage is a roofed structure that is mostly attached to the main house. Although, there have been a growing number of houses that are designed to keep the garage detached, and this is recommended more for fire safety. A car at minimum sits securely inside the garage. However, in recent years, many have converted the garage space as multi-use. It is now a place for woodworking, painting, storage, entertainment, or even starting a multi-million dollar company (think Apple, Microsoft, Disney, Amazon).
But for many of us, while waiting for the multi-billion dollar idea, our garage has been a home to flammable and hazardous materials. We often cannot control the fire once it has already started to raze, especially when you live in California, where forest fires have been rampant lately. But what you can control is to fireproof your place as to buy time to limit, extinguish the fire, or evacuate and keep yourselves and loved ones safe.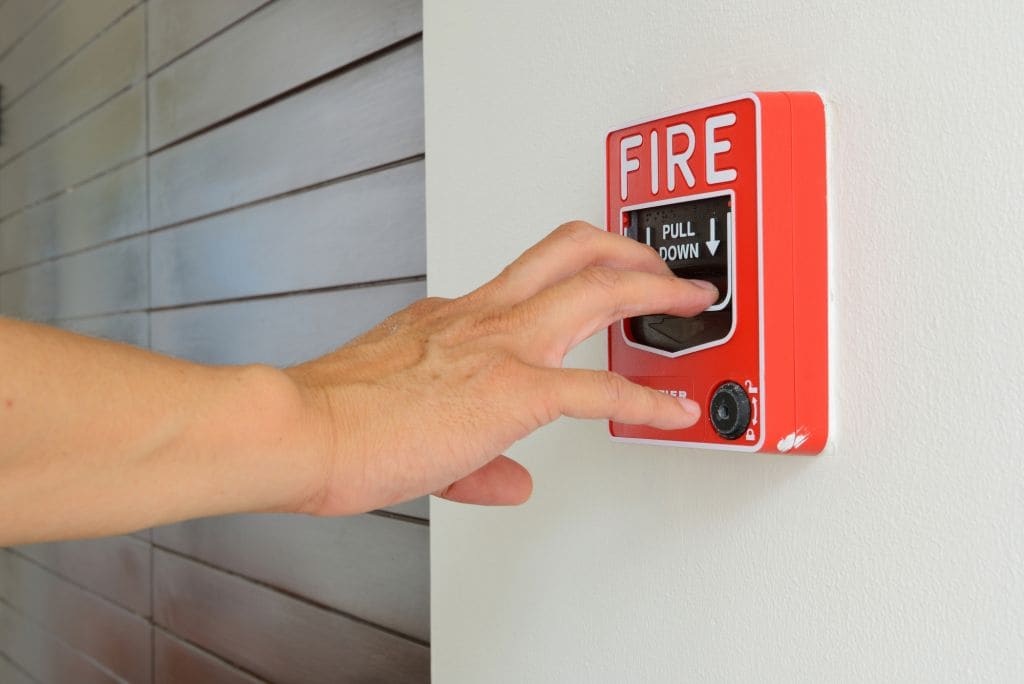 Install fireproof features
The entryway from the garage to the main house should be fire-rated. Fire-rated garage doors prevent the spreading of fire and reaching the house for at least 20 minutes. It reduces the fire and slows it down to give ample time for residents to evacuate. And no door should be direct access to any of the bedrooms of the main house. There are three options that makes a good fire-rated door: A solid wood door not less than 1 ⅜-inch thickness, solid or honeycomb-core steel doors not less than 1 ⅜-inch, or 20-minute fire-rated doors equipped with a self-closing device.
A major part of the garage that needs to be fireproof is the garage flooring. Many have opted to use garage floor carpeting and interlocking tiles. But we don't recommend those because they are prone to collect all kinds of dirt, chemicals, debris, and faster to deteriorate when exposed to automotive fluids and other serious fire hazards. Although there have been some fire-resistant options like synthetic fiber carpets, they still don't give you the much needed protection and peace of mind. So that leaves us with the option--a far better one, which is using garage floor epoxy.
Epoxy resists absorption of chemical substances such as grease or oil, and makes a highly durable surface for your concrete floor that is scratch-resistant. What's more is that epoxy is waterproof and non-slip, and more importantly, it acts as fire retardant.
The wall separating the garage from the living space should be a fire-resistant-rated wall. This may be popularly known as a firewall, but experts say that firewalls are mostly for industrial spaces. As for residential ones, the more appropriate term would be a fire-rated wall.
For garages that are three feet away from the living house and on the same lot, the wall should be made of gypsum board or equivalent material that is at least half an inch to the interior side of exterior walls that are within this area.
For garages that have liveable rooms located above them, the material to be used should be a type X gypsum board or equivalent that is not less than ⅝-inch.
Safe handling of wires
Wires, cables, pipes, vents and ducts can be a free passage of flame. To secure the openings, seal them with approved materials that resist the passage of flame and products of combustion.
Keep the garage clean, especially the work area where there are more activities. Free the space of tripping hazards such as extension cords, long wires and the likes. It is advisable to add more outlets in the garage, rather than just buying and using extension cords and outlet adapters. And remember to limit the usage per outlet to one charging appliance. Always check if there are items charging on an extension cord or outlet. Never leave them unattended. If the appliances or any devices that have cords are unused, make sure to keep them safe in one place and avoid leaving them on the floor. You can bundle the cords and hang them in a garage hook. Fleximounts have a good range of hooks that will surely make you feel at ease when you use them.
When working in the garage, always use appropriate safety equipment especially when working with anything that can produce sparks. A pair of fire-retardant gloves and a welding mask or equivalent safety equipment will always come in handy.
Storing of flammable liquids
Ideally, flammable liquids should not be placed within the liveable area of the house. And that includes your garage especially if it is attached to the main house. However, due to space restrictions, many have no other choice but to store them in the garage. With that, it is important to create a storage space that will secure the flammable liquids.
Do not put them in storage boxes that could easily catch fire like cardboard boxes. Install a cabinet that has fire-rated materials such as gypsum and coated with epoxy. Separate the flammable liquids from other materials that are often used in the garage. This is to prevent accidental knocking of the containers. Distance them from outlets, power tools, electronics, parked cars, or anything that could produce electrical sparks. Position the containers in an upright manner to avoid accidental spillage of the liquids.
If possible, and is highly recommended, that materials used in the garage have fire-resistant core, heat-resistant materials and with protective resin coating.
Do install a fire alarm and fire sprinkler in your garage. These will be your first line of defense when fire starts to break loose. Place a fire extinguisher in a place where you can easily access and find. Mount it at three to five feet above the ground.
Final Thoughts
These three ways are the most basic to secure your garage and your home from getting ravaged from fire. Always remember that these accidents can be prevented or can only cause small damage if the precautionary safety measures are practiced.