T

hinking of new hobbies to start this year? Or maybe this hobby can turn into a money-making biz to add to your monthly income. If you've got talent working with your hands, then doing crafts can be your best bet.
But let me tell you that you do not need to be pressured to turn your hobby into something that will bring you money. Feel free to just purely enjoy your newfound hobby as a fun activity to keep you away from stress and problems that you encounter daily at work or even at home. Oh, and what's great about these crafts is that even kids at home can dabble into them. So, it's time to release your creativity and get going on some of the latest craft crazes this 2022.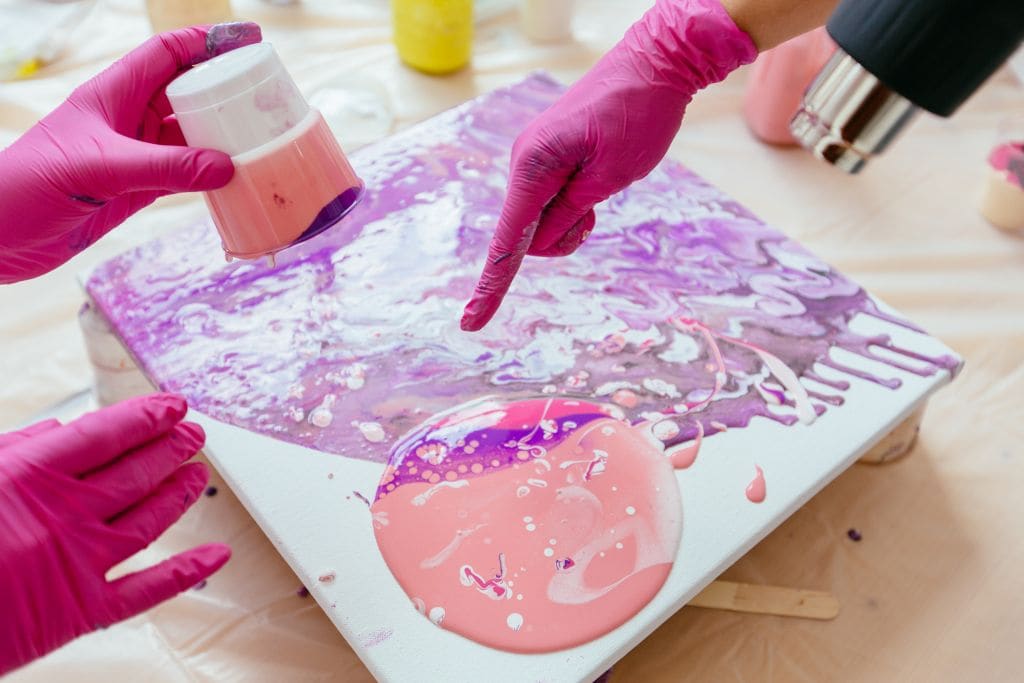 Going Abstract
Are you not much of a painter? Do not worry! This craft does not require years of experience in painting. All you need to do is trust your guts when pouring the paint and mixing different colors onto paper, wood, canvas, glass, tile, stones or it can be as mundane as a cellphone case or blank hand fan. The acrylic paint that you will use depends on your mood and style. You can include bottles of pastels, neons, metallics, and even primary colors. All you need to do is to drop the paint into a cup or directly onto the surface of your choice. What's good about this craft is that there will be no two artworks that will yield the same look and results. All crafts will be unique and that would be your selling point.
The Comeback of Macramé Movement
2022 house trends are tuning to the maximalist and boho-chic styles. And the macramé crafts fit the bill. Fringes are dominating the interiors of trendy homes as weave styles offer some cool factors and versatility into your decors. All you need to prepare is a cotton cord approximately 35 meters (color will depend on your style) and a wooden dowel. There are tons of tutorial videos you can find on Youtube. And you will be surprised at how easy it is to make one macramé wall hanging decor.
Mixing Art and Sentimentality
Scrapbooking isn't entirely new. But when was the last time you made one? Probably in middle school for an art project. Because of the pandemic, wherein we have to spend more time indoors, we kind of feel sentimental looking back at our lives traveling with family and friends. And what better way to reminisce than to actually make a craft out of this feeling. Print out your photos of your travels or special occasions. It always feels surreal that these events happened before this global pandemic hit us. And it offers a different feeling when you can actually hold onto your mementos as opposed to staring at your photos on your monitor.
It's easy to make a scrapbook. Actually, you do not need to buy new materials for this craft. You can make use of the many stickers, stationery, papers, newspapers, magazines, colored pens, and other chic embellishments that you can find in the corners of your homes. It is the perfect time to unleash your creativity to assemble this memento.
The Workspace
The first thing that you should invest in when you want to delve into crafting is a good and reliable workbench. One such workbench is the Fleximounts WB102 Manual Height Adjustable Workbench.
Height-adjustable workbenches are heaven-sent. There are tons of work and activities that rely on a stable worktop. If you add flexible height to the features, then this is a winner. The user can manually adjust the level of the frame to match the desired size. So, whether you like working either standing or sitting, you can count on this workbench.
The Fleximounts WB102 Manual Height Adjustable Workbench lets the user confidently handle any sitting or standing work with maximum efficiency. It enables you to elevate your workstation to its ideal height, with a height adjustment range of 29.5 inches to 44.1 inches. The extra-large crank handle offers smoother operation than standard cranks, so you can easily lift the desk, even with heavy loads, such as items like the computer set, toolboxes, car cleaning machine, paints, and many more. And best of all, you would never need tools to adjust the height of the table legs as is necessary for other workbenches without a crank handle.
The WB102 has a solid construction, is made of a 1.5 mm cold-roll steel frame, and holds up to 500 lbs. Its worktop table uses solid rubberwood as a surface and has desktop dimensions of 47.2 inches x 23.6 inches x 1 inch, which offers plenty of space to work on.
You can also use it as a garage workbench, workshop table, or even sewing and crafting table.
For your written memos, reminders, order forms, and other stuff that you need to write or stick to your whiteboards and cork boards, you can use a Fleximounts GRH1
4Pcs Flat Hooks For Overhead Racks And Wall Shelving for hanging the boards. You can also use these hooks to hang your masterpieces to serve as decors or inspiration to create more crafts.
For organizing your supplies and finished products, a sturdy wall shelf comes in handy. The Fleximounts WR Series Classic 2-Pack Wall Shelving is good storage to utilize. Using wall shelf storage racks for your everyday items is advantageous for you as it is easy to reach. Also, it keeps things neat and organized. The wall shelf is proven to be secure due to its buckle design with velcros that prevents the brackets from bending or falling, so you need not worry about the stability and safety of the items placed on the shelf. Moreover, all hardware has gone through strict tests. The WR Series is suitable for wood studs and concrete walls, which offers paramount compatibility.
Included in the box are installation templates and all hardware that you need in installing the wall shelf. Installing the shelf is pretty easy with the step-by-step guide provided and can be done by anyone.
The installation template provided aids in determining where to drill holes. In contrast, the bubble level guarantees that the shelf is installed in its perfect horizontal location.