L

ooking for a hobby this 2022? Well, if you are nifty with tools or simply want a hobby that is fulfilling and could reap you rewards that could last a lifetime, then you might want to consider woodworking.
Now, you might be thinking that this will involve a lot of measuring, sawing, hammering, and sanding. It probably will but like everything you try for the first time, you won't be at your optimum level. It might be overwhelming at the start but you may begin with simple projects until you get the hang of it and eventually master the practice. Once you get the ball rolling and create more and more, you'll be surprised that your house is slowly being filled with woodwork that will mostly be passed on from one generation to the next. Yes, it will even surpass your life!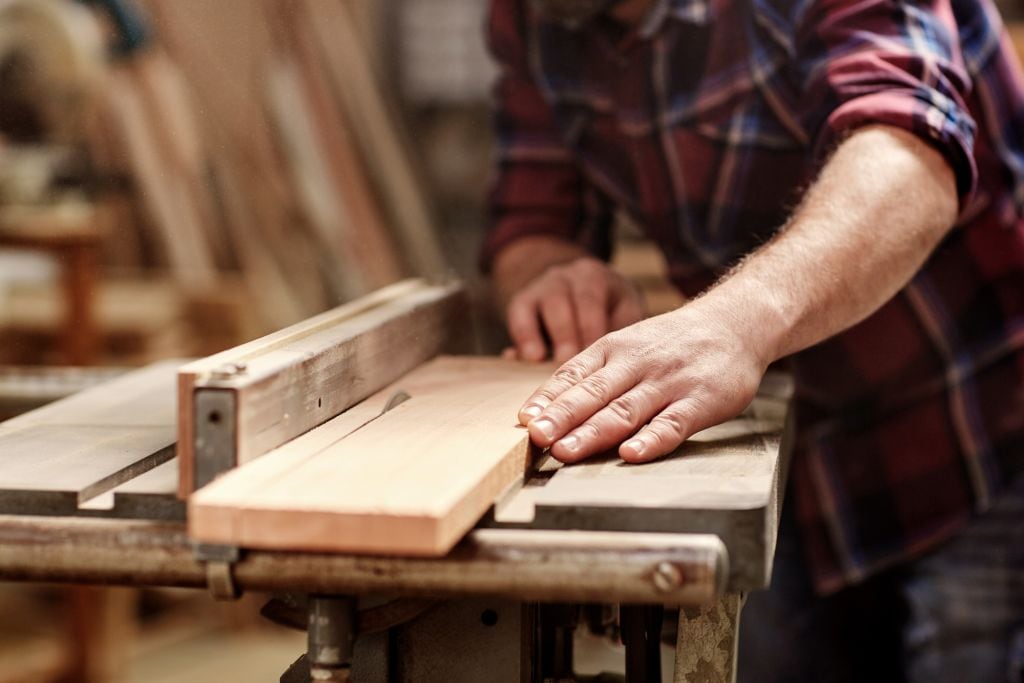 You could even ask for help from some of your family members also interested in taking up woodworking as a hobby. It will be a great bonding time for the family and also something that they could be reminded of you.
What you will need is the willingness to learn and acquire new skills, hand tools, free time, inspiration, and project plans. Here's a list of woodwork projects that you could take on.
1. Box
Let's start with probably one of the simplest woodwork projects: a box. Making a box is one of the first lessons you should know and will be helpful as you upgrade from one skill to another. A box can be used for storage, for additional seats, as a platform, decor, and more. You could make one with three different joints: rabbet, spline, and box.
2. Cutting Board
Once you start woodworking, you won't need to buy basic kitchen tools because you could make them in your garage. A good cutting board doesn't even need to have an elaborate design, you just have to employ simple woodworking and voila you have a cut board for cutting fruits, vegetables, fish, and meat.
3. Tray
Give breakfast meals in bed with your own wooden tray. You just need to have handles on both ends or somewhere that the hands could hold while delivering the meal to someone sick or curing a hangover at the bed.
4. Frame
Make a wooden frame that you could either use as an accessories holder (meaning you'd have to put in fabric or wire in the middle where the jewelry could be hung) or as a picture frame for your family or solo photos.
5. Floating Shelves
If you have a small space at home and need additional storage, making use of a vacant wall is a brilliant idea. You may take advantage of a wall and install floating shelves. Do the right measurements so that you could maximize that wall space. You may also attach hooks to the floating shelves for more storage capacity.
6. Planter Box
Want to upgrade the look of your home? Why not use planter boxes that could easily make your house look more expensive. Redwood is a great choice for the material because of its natural elegance as well as its durability. It is insect and decay-resistant which could help protect your plants as well.
7. Magazine Rack
You will probably only need two to three sessions to finish this piece of furniture. The magazines may already be scattered in your living room or you can't even see your coffee table anymore because of all the magazines on it. Take this project on and you'll have an instant organizer. Make three identical frames and a self-locking half lap.
8. Table
Next on the list is a table. Start with making the simplest one you could do with a desktop and four legs. It's functional and could give you an additional piece of furniture to eat on, put some kitchen supplies, serve as a display where you could put frames or vases on top of it, or somewhere where you could do some work. There are many considerations to think about but let your primary purpose be function and align accordingly.
9. Beer Caddy or Wine Rack
If you like to drink with friends, family, or by yourself, a wooden beer caddy or wine rack would come in handy. You could also make one to give as a gift for your friend or a visiting family member.
10. Pet Bed
Give your fur baby the comfort he or she deserves by making him or her a customized wooden bed. You could add a soft pillow and a small blanket to make it cozy for your pet.
To start all these woodwork projects, you need to have the tools at home. If you're really keen on taking it as a habit, why not make a pegboard where you could hang your tools and make reaching out for them more accessible. More importantly, you should have a reliable, durable, and sturdy workbench available at your garage. FlexiMounts may have the perfect option for you:
This new work bench offer is height adjustable and all-purpose. The workbench is made of solid rubberwood surface and a steel frame with a maximum load capacity of 500 pounds, comfortably carrying your sewing machine, laptop, and other business essentials. It's spacious with 47.2" x 23.6" x 1" dimensions while the height can be adjusted from 29.5" to 44.1". With a wide range, this multipurpose desk lets you sit or stand comfortably while planning for your next woodwork project.
It makes use of a crank handle to manually adjust the height that allows for easier lifting of the desk, even when the load is heavy and full. It also means you won't need extra tools or an electrical outlet just to adjust the height of the table.
Final Thoughts
Woodworking may take a lot of time and effort but so is every rewarding activity. Enjoy the process and the products themselves. You'll see how happy the household would be to use items that you personally made to make their life convenient.