A

t the moment, you might be dealing with a lot of stress mentally. But you are trying to be strong and doing your very best to maintain your overall well-being and good mental health.
Throughout recent weeks, you might have been building a strong morning routine, exercising regularly, drinking lots of water, and cutting down on sugar. You also make sure to have enough sleep every day and you have made a conscious effort to lessen your screen time by reading. You also signed up for activities to reduce your anxiety and have a more positive mindset wherein you find yourself excited to wake up everyday.
It sounds like an easy job but we know how tough of an undertaking it is when you are going through extreme bouts of depression and anxiety. But know that it's not impossible to learn how to manage these episodes in order for you to live a happier and fulfilled life.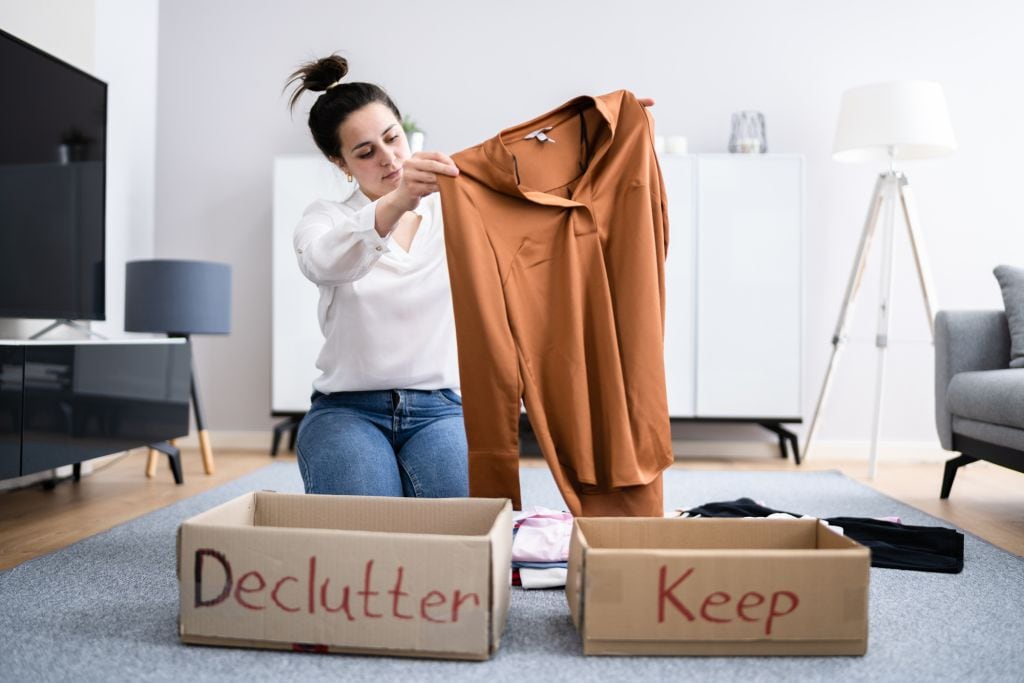 One way that you can start as well in your road to "healing" your wounds is by decluttering your space. You will feel that you are more in control of your life when you can remove stuff that no longer serves you in any way. You feel that sense of calm, happiness, and relaxation when your space is tidy and neat.
According to WebMD, a study has proven that people who move around messy spaces are more stressed than those who have a better, cleaner environment. While a little mess can improve your creativity, being clean still helps you clear up your headspace and assists you in dealing with the demons in your head.
You will find yourself more focused when you start to declutter. You will be veering away from distractions. You are also able to build your self-confidence more because you feel that you are in control, capable, and proud of your environment. You will notice that you have a better mood all throughout the day which greatly improves your relationships with other people living under the same roof. You are also more comfortable to invite friends over when your space is neat. You avoid conflicts about clutter with your housemates or family members.
Your health is also taken cared of by lowering your risk to develop asthma and manage your allergies. When there is little to no clutter, you won't get overwhelmed to clean your space on a daily basis which eliminates dust, dirt, grime, and pests.
You can always start small if you have already acquired so much garbage at home and you find it overwhelming. One thing you can do is to prepare a storage area for the items that you will be keeping but don't really use on a regular basis. The garage can serve as this area to keep these belongings. Make sure to declutter your garage first and install smart storage solutions which will help you organize your items inside of it as well.
We listed down below storage units from FlexiMounts that can help make sure you have a tidy and neat garage.
You will need ample vertical support and longer ceiling brackets that this product can provide. It will prevent the shelf from falling from the ceiling because it is secured on the wall. Its weight capacity is 400 to 600 pounds and the height can be adjusted from 22 to 40 inches. It is made of cold-roll steel that is guaranteed to be of high quality after undergoing rigid tests. This is also a waterproof product that could avoid getting your products damaged from water. It could store seasonal items such as athletic gear you only use for winter or for summer. This comes with an integrated grid design that makes it stand out from others available in the market. This comes in black and white and you may choose from different storage spaces: 4' x 8', 4' x 6', 3' x 8', 3' x 6', and 2' x 8'.
If one of your worries is installation, don't worry because this can be easily installed by following the step-by-step manual and installation template that comes with the product.
GR48F BASIC 4′ X 8′ OVERHEAD GARAGE STORAGE RACK
The weight capacity of this basic ceiling-mounted storage unit is 600 pounds and it is 4' x 8' in size. The height can be adjusted from 22 to 40 inches. It is made of cold-roll steel and is guaranteed to be strong and sturdy where you could load 3/8" plywood or even thicker. You may customize the color of your wooden desks or even use old wooden boards.
This product has multiple dedicated embedded mounting points that will ensure the security of your products. Like other items in this list, it makes use of ceiling space which is a perfect storage solution for seasonal and unused items that are kept in your garage.
WRC24B CORNER 2-PACK 2′ X 4′ WALL SHELVING
If you have a small garage, you can always make use of corner wall shelves. This wall shelving will do just that to guarantee that all the vacant spaces in your garage are optimized. It can be used as a corner shelf or a 2-pack shelf. Like the other wall shelves and overhead storage racks from FlexiMounts, this item also features an integrated grid design. It's easy to install by one person because the package comes with all the necessary hardware. An installation template will also help locate where to mount the holes. You may install it in wood studs or a concrete wall. For additional storage, this is compatible with FlexiMounts GRH2/GRH2B and hooks GRH1/GRH1B.
BR24 GENERAL 2-PACK 2′ X 4′ WALL SHELVING
Another option if you don't have much space in your garage is this BR24 general 2-pack wall shelving. It is 2'x4' in size and could carry 440 pounds in total, 220 pounds per tier. It is made of powder coated steel that is of high quality and has passed through rigid quality tests. It can easily be installed by one person because it arrives in one box that has all the hardware you would need. You may choose to install it in a parallel or vertical manner. Like our other products, this also features an integrated grid design that makes it stand out from others in the market, makes it easier to assemble, and gives it more stability compared to other storage solutions that have a multi-piece assembly. You may opt to add flat hooks from FlexiMounts so that you could hang your bikes. It comes in black and white.