H

ave you ever passed by a perfume store and the smell reminds you of someone from the past? Or drop by a pastry shop and it reminded you of your childhood days when your grandmother bakes the meanest cupcakes in town? The sense of smell plays a vital role in inducing memories, and, interestingly, identifying dangers.
While the sense of sight is the main danger identifier during the day, the sense of smell, however, works double-time at night. The scent of the wind sends signals to our brain that will also alert different senses. Moreover, the loss of smell can also indicate a sign of illness. While it occurs naturally with age, it can alert you if you have a disease like Alzheimer's or Parkinson's.
Another interesting fact is that no two people smell odors the same way. And our senses heighten as the day progresses, with the evening as the peak or strongest sense of smell. The scent cells renew every one to two months and are actually the only sense nerve cells that can regenerate, which are responsible for triggering memories from the scent because they connect directly to the brain where all the memories are kept.
Taking foods rich in Vitamin A helps in regenerating our smell scent cells. And as we savor the new scents throughout the day, it is only fitting to recognize the importance of taking care of our bodies. And on the last Saturday of April, we celebrate the Sense of Smell Day. While it may seem trivial to celebrate the special day, our kids can learn more about their senses through this.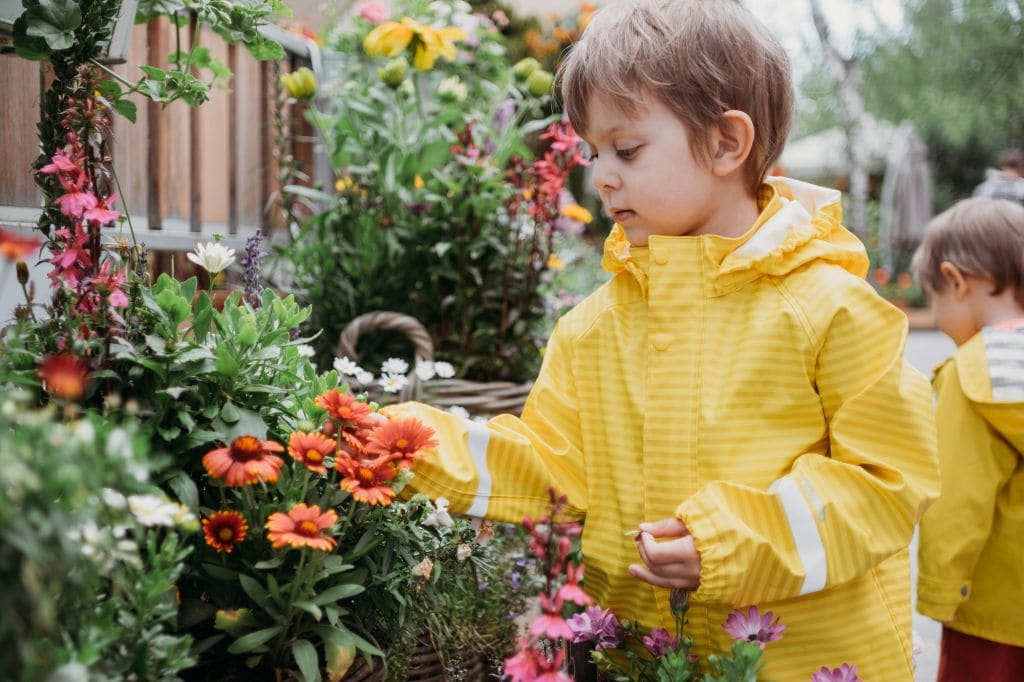 And here are some of the activities you can do together over the weekend:
Play with pineapple-scented slime
Playing with slime knows no season. Add in the pineapples, you and your kids will be transported to summer in advance. Summer reminds me of vacation, and the weekend is the perfect day to feel summery in spring.
What you need:
1 tbsp pineapple Jell-o powder

½ cup water

½ cup clear craft glue

½ to ¾ liquid starch

Optional: yellow food coloring and gold glitter
Here's how:
Add the water and Jell-o to a bowl. Dissolve by stirring slightly.

Stir in the clear craft glue.

To enhance the already yellow-colored mixture, add in a few drops of yellow food color. For more extra-ness, pour in a few amounts of gold glitter.

Slowly add spoonfuls of liquid starch until you get the consistency of the slime that you want.

Then, dig in by kneading the slime mixture.

The scent of pineapple intensifies over the next 24 hours.
Spring garden time!
What is springtime without flowers? You and your kids would love to take a stroll in the garden for this fun activity. Not only is it a feast on the eyes, but it will also teach your kids about the flowers.
What you need:
Flowers of your choice

Colored papers or craft papers

Markers
Here's how:
Gather the flowers and place them in mason jars or any container.

Place the flowers on the table with a designated name on each.

Then, let the kids smell each flower, and take notes of the smell and what memory does it reminds them of. Ask them which smell is the most fragrant for them, and which one they do not like. You can also prepare some trivia about each kind of flower, as it would be easier for them to retain the information because they are experiencing it firsthand. If you also can, prepare the seeds for each flower and you can plant them in the backyard afterward.
For the activities that you will be doing with your kids, it is good to be armed with a sturdy and height-adjustable table. Kids can get a little clumsy, so a table that does not wobble easily is one that you should use. Moreover, as there is a stark difference in height between the parent and the kids, a height-adjustable workbench can let both users fix it to their preferred height to be able to work comfortably.
Another advantage of using the workbench is that it can be utilized not only for your weekend activities with kids but also in your other projects that may require more hard work and longer durations. Workbenches are a must-have for any garage workshop, whether making repairs, finishing DIY projects, or building anything from scratch. A decent work surface may be good for now, but if we are thinking long term, then you must pick a workbench that is scratch-free and can handle the weight and work that you will do. Plus, it should be a safe workspace that allows electrical, mechanical, and other tasks. A portable yet durable one takes the cake as your workspace can be moved depending on your needs and the space available in the garage.
Utilizing a sturdy workbench not only makes your job easier but it also offers to maintain an organized workstation. We could not stress enough the importance of having a neat workspace. It aids in the faster completion of projects, and most of all, it secures your safety, especially when working with tools that can cause injuries when mishandled.
One such reliable workbench that you can maximize when working is the Fleximounts WB102 Manual Height Adjustable Workbench, which is currently priced at $398.99.
Height-adjustable workbenches are heaven-sent. There are tons of work and activities that rely on a stable worktop. If you add flexible height to the features, this product is a winner. The user can manually adjust the level of the frame to match the desired size. So, whether you like working either standing or sitting, you can count on this workbench.
The Fleximounts WB102 Manual Height Adjustable Workbench lets the user confidently handle any sitting or standing work with maximum efficiency. It enables you to elevate your workstation to its ideal height, with a height adjustment range of 29.5 inches to 44.1 inches. The extra-large crank handle offers smoother operation than standard cranks, so you can easily lift the desk, even with heavy loads, such as items like the computer set, toolboxes, car cleaning machine, paints, and many more. And best of all, you would never need tools to adjust the height of the table legs as is necessary for other workbenches without a crank handle.
The WB102 has a solid construction, is made of a 1.5 mm cold-roll steel frame, and holds up to 500 lbs. Its worktop table uses solid rubberwood as a surface and has desktop dimensions of 47.2 inches x 23.6 inches x 1 inch, which offers plenty of space to work on.
You can also use it as a garage workbench, home office desktop, or even sewing and crafting table.