I

t's the time of the year that we give extra love to our dear mothers. Yes, we spend and live each day showing them how much they mean to us, but Mother's Day calls for celebration and we strive to make it everything extra. If your kid wants to give his mom something special on this day, you can both make something out of his own hands and hard work. How touching is that?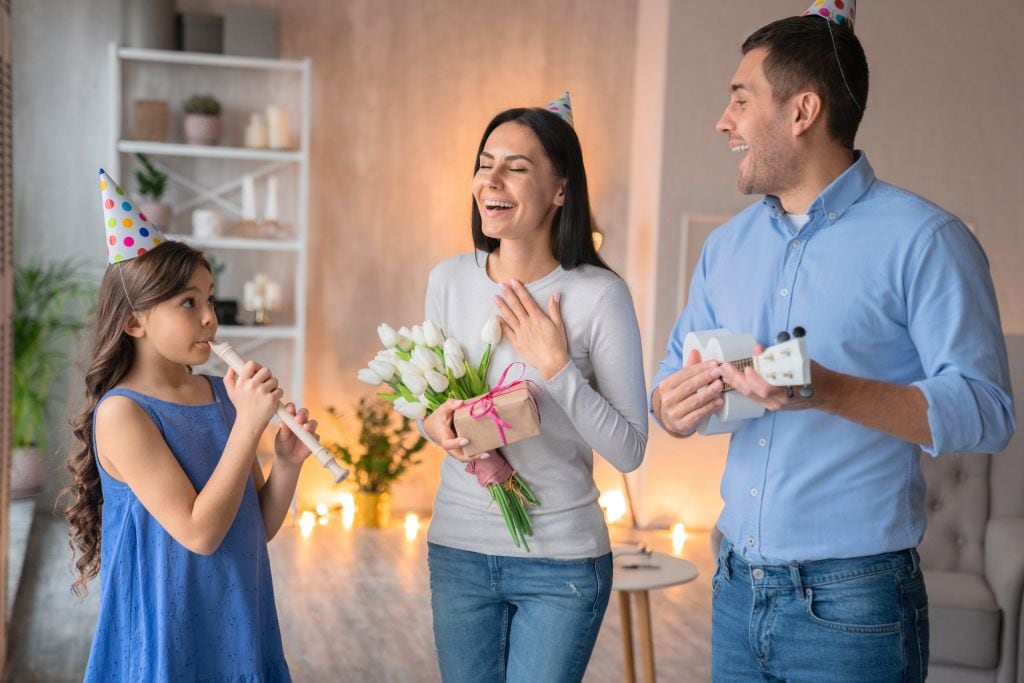 There are tons of arts and crafts that you can enjoy doing this weekend. Here are some of the cutest ones:
3D Spring-Inspired Coffee Mug
Is mom running on caffeine day after day? So, why not give her a mug that she can use to fuel her work. Nothing beats seeing your child's artwork and heart put into making it to inspire a mother to ace whatever tasks she has to face head-on for the day.
What you need:
Plain ceramic coffee mug (preferably white or light color)

Paper plate

Pouncer sponge

3D Gloss Enamel (for the 3D effect, but can be optional)
How to:
Wash and dry the ceramic mug. Make sure to only touch the handle or bottom of the mug so your fingerprints won't leave on the surface.

Squeeze some enamel paint of the color of your choice onto the paper plate. Since it's springtime, it is good to make a flower-themed design or anything that reminds you of spring.

Load up paint into the pouncer sponge in a swirling motion.

To apply paint onto the ceramic mug, use a swirling motion. If the paint forms bubbles, use the edge of the pouncer to gently brush across the bubbled area.

Now, here is something that will excite your kids. Using the 3D gloss enamel writer, draw dots or lines onto the mug.

Then, finally, place the mug in a safe space to dry for a good 48 hours. Afterwhich, bake it according to the directions stated in the 3D enamel writer. Alternatively, you can let it air cure for 21 days if you do not want to do the baking. However, as this would take more days, you can just belatedly gift it to the mother.
DIY Lemon Bath Salts
When they said, if life hands you lemons, make a lemonade, forget how satisfying it is to bathe in lemon bath salts.
What you need:
Mason jar (or any cute container)

Epsom salt

Essential oil, Lemon-flavored

Yellow cupcake liner

string
How to:
Pour epsom salt into the mason jar or container of your choice. Leave half an inch of room at the top with the lid on.

Pour 10-15 drops of essential oil into the jar. Put the lid on and shake well to mix.

Put the yellow cupcake liner under the lid before closing the jar.

Then, attach the string to the lid to add to the effect. Finally, stick a note or card onto the jar.
Colorful Candle Made of Crayons
Do your kids love to use crayons but abandon them once they reach half of the stick? Before you throw them out, a better way to utilize them is to repurpose them into a candle.
What you need:
Old crayons

Wicks

Container

Essential oil of your choice
How to:
Grate or chop the crayons into the smallest possible pieces to shorten the melting time.

Create a double boiler for melting the crayons using an empty coffee can or canned goods and a pot.

Fill the pot with around 1-2 inches of water. Bring to a slow simmer.

Add the grated crayons to the can and wait until they melt.

Using an old spatula, stir every now and then to help with the melting.

Turn the burner down to low heat once the wax is melted.

Twirl the wick on a stick laying rest on the mouth of the container.

Pour the wax into the container of your choice. Work with one color at a time.

Add any essential oils of your choice; 1 drop per layer.

Before adding another layer, let it cool completely, or set it in the fridge.

Repeat until you fill the container.
Word of caution: as you will be working with hot materials, make sure to let your kid assist you and not make him do this project on his own.
For the activities that you will be doing with your kids, it is good to be armed with a sturdy and height adjustable table. Kids can get a little clumsy, so a table that does not wobble easily is one that you should use. Moreover, as there is a stark difference in height between the parent and the kids, a height-adjustable workbench can let both users fix it to their preferred height to be able to work comfortably.
Another advantage of using the workbench is that it can be utilized not only for your weekend activities with kids but also in your other projects that may require more hard work and longer durations. Workbenches are a must-have for any garage workshop, whether making repairs, finishing DIY projects, or building anything from scratch. A decent work surface may be good for now, but if we are thinking long term, then you must pick a workbench that is scratch-free and can handle the weight and work that you will do. Plus, it should be a safe workspace that allows electrical, mechanical, and other tasks. A portable yet durable one takes the cake as your workspace can be moved depending on your needs and the space available in the garage.
Utilizing a sturdy workbench not only makes your job easier but it also offers to maintain an organized workstation. We could not stress enough the importance of having a neat workspace. It aids in the faster completion of projects, and most of all, it secures your safety, especially when working with tools that can cause injuries when mishandled.
One such reliable workbench that you can maximize when working is the Fleximounts WB102 Manual Height Adjustable Workbench, which is currently priced at $398.99.
Height-adjustable workbenches are heaven-sent. There are tons of work and activities that rely on a stable worktop. If you add flexible height to the features, this product is a winner. The user can manually adjust the level of the frame to match the desired size. So, whether you like working either standing or sitting, you can count on this workbench.
The Fleximounts WB102 Manual Height Adjustable Workbench lets the user confidently handle any sitting or standing work with maximum efficiency. It enables you to elevate your workstation to its ideal height, with a height adjustment range of 29.5 inches to 44.1 inches. The extra-large crank handle offers smoother operation than standard cranks, so you can easily lift the desk, even with heavy loads, such as items like the computer set, toolboxes, car cleaning machine, paints, and many more. And best of all, you would never need tools to adjust the height of the table legs as is necessary for other workbenches without a crank handle.
The WB102 has a solid construction, is made of a 1.5 mm cold-roll steel frame, and holds up to 500 lbs. Its worktop table uses solid rubberwood as a surface and has desktop dimensions of 47.2 inches x 23.6 inches x 1 inch, which offers plenty of space to work on.
You can also use it as a garage workbench, home office desktop, or even sewing and crafting table.