I

f you've had the urge to just send a surprise to anyone you love without thinking over it? It might be your own personal method of expressing your affection, or it may be that you have recognized that somebody dear to you would value your considerate gesture.
[caption id="attachment_212555" align="aligncenter" width="1024"]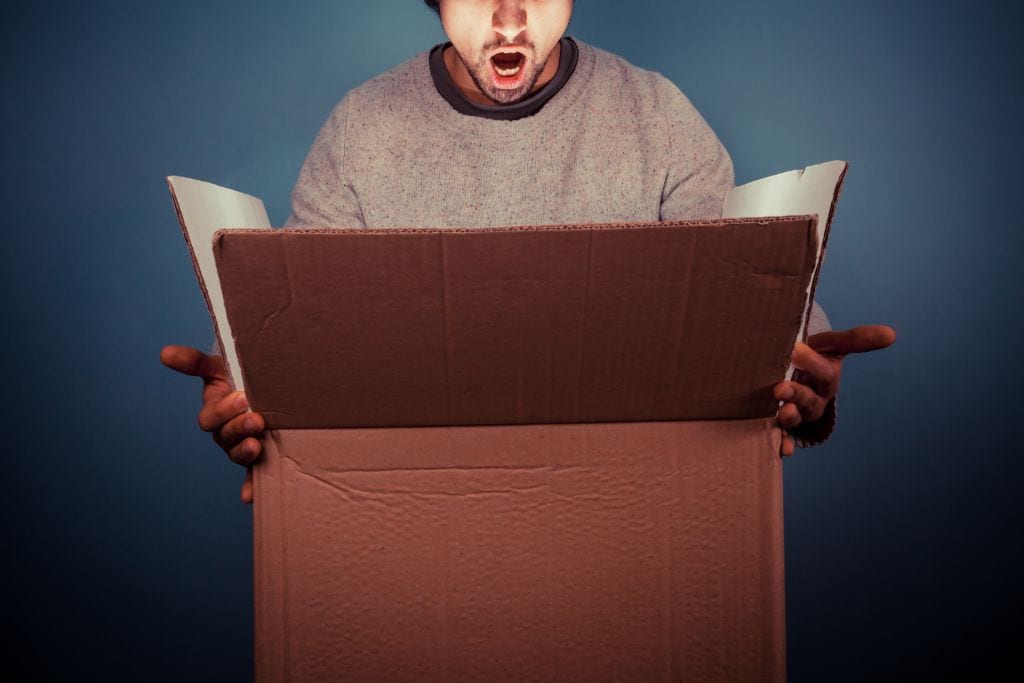 Surprised young man is opening a large cardboard box with something exciting inside it[/caption]
Let us focus on a particular type of friend or relative you may have which is the garage junkie. These people love using their time inside this particular space. What are they doing you may ask, well it is most relates to fixing and customizing their vehicles, woodwork, and just to enjoy the place.
So what are the best gifts for them? Here are a few of our FlexiMounts suggestions!
For the Handy and Picky Garage Junkie this CUSTOMIZABLE SHELVING FRAME for a brand new workbench is the best
The Customizable Workbench Shelving Frame's structure, shade, and width may all be customized. It may be personalized to suit their particular needs. The garage junkie can distress, polish, or clean up the timber as they desire. This includes pre-drilled connection points in the workbench supports, metal securing panels and caps, well-made components, and an incredibly simple user booklet.
Regularbenches lack the total space that the Workbench Shelving Frame possesses. The workstation supports are constructed of metal, and the bolts are formed with strong chrome metal. This proves to be perfect for any woodwork or even stylish storage for their shed. If they are feeling adventurous the WB107 CUSTOMIZABLE SHELVING FRAME FOR WORKBENCH can even be used as a household decoration.
For the Oh-So-Stylish Garage Junkie these Shelves are The Perfect Addition
Once you give this to your favorite garage junkie, they will have the best of both worlds! They can increase the amount of space as they keep their walls sleek, tidy, and stylish.
Each MOUNTED SHELF in BLACK will come complete with the necessary materials to get them ready for a simple setup without any help. Its configuration layout assists in identifying the location of drilled perforations, whereas the level indicator promotes an even alignment all throughout. The WR26 2-PACK 2′ X 6′ WALL MOUNTED SHELF BLACK are fixed in position to keep things in their proper place. This also avoids any potential damage from happening due to the Velcro attachment function.
This wall-mounted shelf will prove itself to be incredible! Once the garage junkie in your life experiences the ease and comfort this provides, having a single unit will never be enough. Before you know it, they will have an array of these FlexiMounts wall-mounted shelves lining up the whole garage in a very stylish manner.
The device's minimal mounting attachment is indeed an attractive attribute. Each family member would also find it easy to move around even if this is in place. Their garage space would never be compromised as they can still put other bins beneath this mounted shelf.
Another word of advice that many WR26 2-PACK 2′ X 6′ WALL MOUNTED SHELF BLACK users will give is to provide go slow and easy while positioning this item, particularly if the garage junkie opts to install this on a single continuous rack that is the usual setup. This could perhaps require effort and a great deal of precision along with patience to coordinate the racks perfectly. However, when these are finally up and running, they would be celebrating as they are absolutely thrilled by the new garage storage solution.
Even if this particular garage junkie does not have a lot of handyman experience, the WR26 2-PACK 2′ X 6′ WALL MOUNTED SHELF BLACK will still prove to be a piece of cake. As long as you take the time to explain that perusing the installation guideline will make everything easier, then they are on the right path of simplifying the process.
Nothing will be left on the ground with this present.
By simply cranking up the overhead garage storage rack with the included hand lever, the garage junkie could have no trouble storing heavy loads and seasonal decorations on the GL44B 4′ X 4′ OVERHEAD GARAGE STORAGE LIFT BLACK it without the help of any platform.
This item is perfectly suitable for anyone who is searching for a sturdy, tasteful, and incredibly basic alternative to placing their valuables overhead. Together with practicality, its sturdy iron rods, superb mechanism, and greater equipment have been painstakingly checked and confirmed to ensure its resilience as it also safeguards the whole family from accidents due to falling objects.
If the garage junkie is also an avid cyclist, this is the perfect gift for them.
FlexiMounts engineered these with superior reliability. Its J-shaped pegs are designed to precisely embrace the curve of any cycle tires as well as to deliver a consistent grasp to keep everything in its right orientation whenever they use the BBR1 WALL MOUNT BIKE RACK. Every peg is firmly mounted and therefore does not break loose while your possessions are getting stored.
If you have been failed by countless bike racks that failed on delivering a sturdy and reliable place to store bikes, FlexiMounts assures you that the BR1 WALL MOUNT BIKE RACK is different from the rest.
The substantial and durable construction carries up to five bicycles and 250 pounds! Intended for long-term endurance, this product is comprised of powder-coated metal which defies nature by avoiding corrosion, peeling, and shattering.
If you want to show your appreciation for the garage junkie in your life, then FlexiMounts garage storage solutions are the best way to do it. Not only would you spend your hard-earned money on substantial gifts but they would also wholeheartedly love and enjoy these.