W

ho says that the garage should just be a space that caters to your needs, design-wise is not important? Well, he must have forgotten that the garage is THE space that caters to one's needs and the design is as important as your living space's interiors. And not to mention if you own a classic car collection, it merits a gallery type garage. Do not be shy to show off.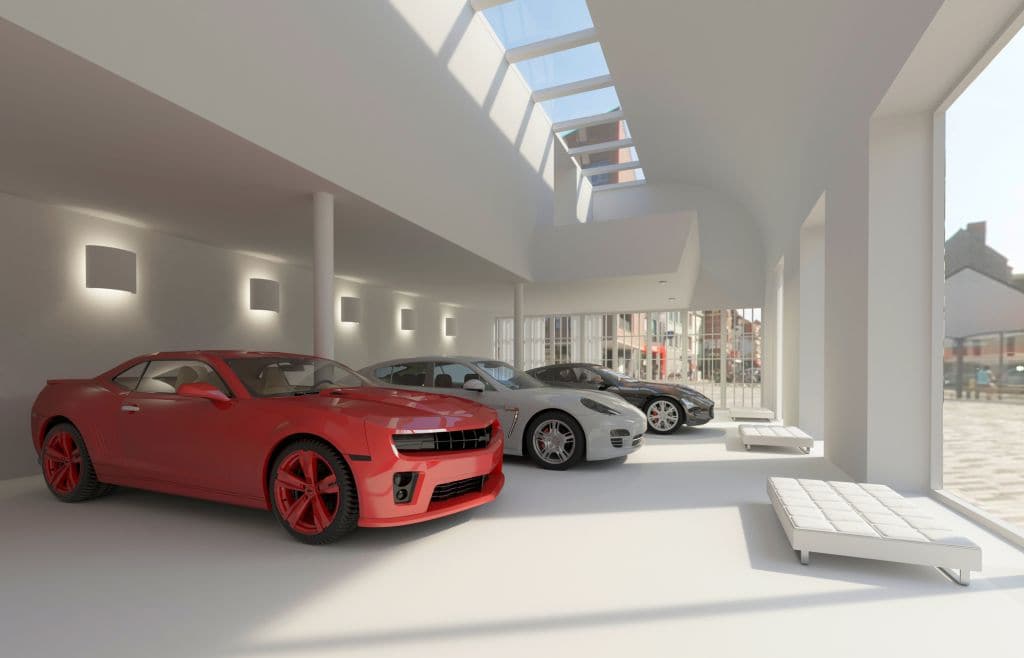 Modernized Design with Glass Garage Doors
If your home's overall look is leaning towards the modern design, then the glass doors on your garage are a great fit to have a flawless home design. Not only does it give a boost aesthetically, it is also energy efficient as you would be saving up on electricity during day time as the sunlight penetrates and illuminates the space. Aside from that, the glass doors are relatively lightweight so they operate quietly. Material options for glass doors are laminated, frosted, tempered, reflective, or colored glass framed in metal.
Rustic, Classic Design for Your Garage Doors
When trimming down design options, you can't just skip the classic European farmhouse style. The look is so timeless that it withstands trends that pop up every year, or even every season. So for your garage doors, install carriage-style doors that feature barn-like woodwork and intricate iron hinges. They open by swinging upwards. And did you know that this kind of doors were already famous even before the cars were invented? And to top the classical style, you can also add into the mix the arched entryway.
Add Warmth With Wood Accents
You can never go wrong with woods. It is like the cheat code into making the interiors a rustic and classic design. Add wooden beams, floors, or ceilings to recreate a barn-like atmosphere. If you want to spice it up and make it look modern, choose dark woods.
Polish With Custom Lighting
The lighting can make or break the overall design of a garage. Imagine housing luxury cars in that space, and yet the lighting is too dark, then it takes away the luxuriousness in the luxury cars. Add personality by installing LED lighting in the walls and garage ceiling. You can also get creative by experimenting with colored garage lighting and interesting light fixtures. You have seen car advertisements with superb and classy lighting, right? Well, it can very well be your reality in your garage.
Upgrade Your Garage Flooring
The garage flooring is one that can easily be noticed once you step foot in the area. Also, it is the most prone to the wear and tear of things. By adding an epoxy floor coating, not only does it give off shine and color to your flooring, it also protects your flooring from weather damage and scratches. There is a wide variety of designs available in the market. You can thoroughly choose different textures and colors to add visual interest in your garage.
Decorate with Garage Wall Art
More than a parking space, the garage can very well be the showroom or gallery of your dreams. Adding art is a great way to personalize your garage. Posters, graffiti, murals, art pieces or even fine art collections can define your space. You can also put up functional art pieces like neon art lighting. The amount of art and design possibilities are boundless. Though there are some restrictions when it comes to displaying art like moisture for oil paintings. You have to think carefully and go creative with the art pieces you will be putting in the garage so that you can also preserve the art as well.
Sleek Overhead Garage Storage Racks
Overhead garage storage racks are the most in-demand organization tools nowadays. Sharing your vehicle space with your things can be troublesome and chaotic. These will take up too much floor space, which should have been dedicated for your vehicles alone. Fret not because the overhead storage rack is an ideal choice to tuck away something you do not need to use regularly. Thus, leaving more space to park your cars.
Fleximounts have an offering of a variety of overhead garage storage racks. Among the bestsellers is the Fleximounts GR48-H Hooks 4′ X 8′ Overhead Garage Storage Rack. This durable and heavy-duty overhead storage system provides a safe place to organize your stuff. It also helps avoid flood damage by storing your things off the garage floor and protecting your treasured items. The overhead storage rack makes your garage look neat and get away from insects and rodents.
The rack is made of heavy gauge cold-rolled steel construction, which is responsible for the safety loading of up to 600 lbs. Its integrated wire grid design and frame are welded together, making the unit more sturdy and stable. Moreover, the wire grid underwent strict tests with triple load breaking strength. It is specially designed for easier assembly.
The height can be adjusted from 22" to 40", providing a convenient and safe place to store your stuff. The height-adjustable ceiling drop-down lets you customize to your preferred height.
The ceiling brackets are designed to be attached to two joists for more flexibility and security. The rack is suitable for securing to either ceiling studs or solid concrete ceiling. The screws provided are thicker than comparable products available in the market and have gone through strict tests to prove the top-quality make of the hardware.
All the necessary hardware and instructions are included in the package. An installation template is also provided to help you devise a plan to store your stuff in the most efficient manner possible. Also included are three bags of screws, namely, wood screws, installation screws and bolts, and cement installation.
In the box, accessories such as four pieces Flat Hooks (GRH1) and two pieces Utility Hooks (GHR3) also come with the racks.
When assembling and installing the Fleximounts GR48-H Hooks 4′ X 8′ Overhead Garage Storage Rack, you will be needing simple tools. These are the first tools that make up when building your first toolbox.