N

othing is more irritating than hearing the pounding, crackling, and popping of carpentry, masonry, or other mechanical activities that your neighbor decides to do on that day. Or even worse, for consecutive days.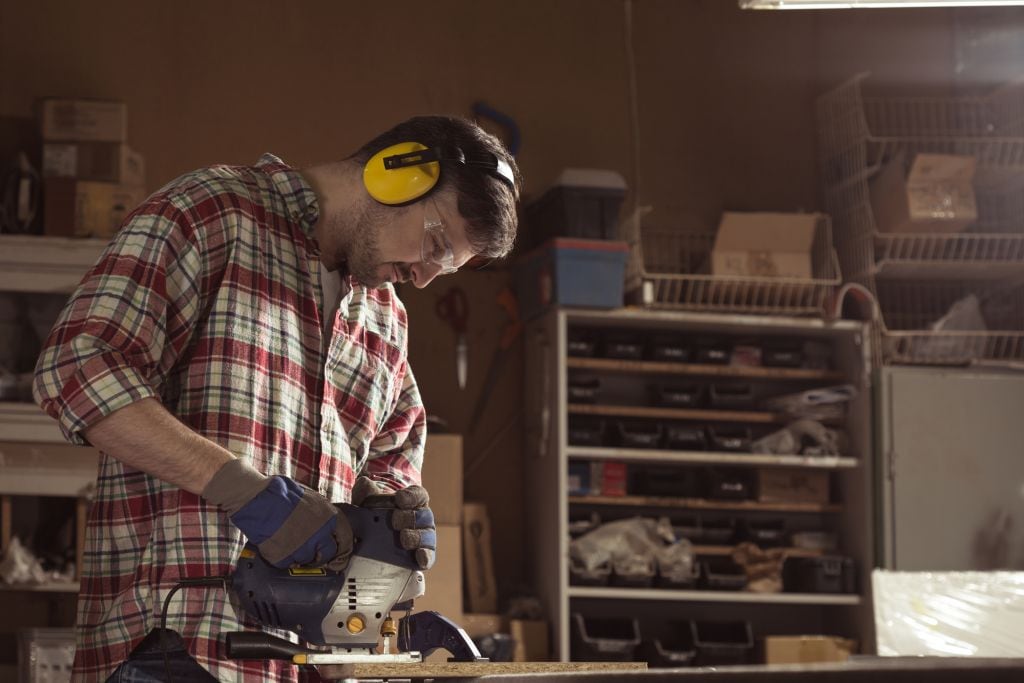 If you get annoyed at the thought of hearing the noise day in, day out, then you should not also be that kind of neighbor. You may want to continue working on your projects and hobbies without interruption by someone knocking on your doors, may it be your family, housemate, or neighbors. Soundproofing your garage is the key.
There are two kinds of soundproofing: sound reduction and sound absorption. Sound reduction stops the sound from entering the space, while sound absorption prevents the sound that has already entered the space from reverberating and echoing.
But before we delve deeper into soundproofing, let us first discuss the types of sound that are essential when choosing the type of soundproofing to install.
First is the airborne sound. This kind of sound travels through the air. Perfect examples of which are music blasted on speakers, TV, traffic, and voices. The sound bounces off hard surfaces, which then amplifies it. This is the reason why this type of sound is especially loud in closed areas such as the garage.
The other type is the structure-borne sound. The noise comes from the actual impact of an object on a building element like the floor, wall, or ceiling, and the vibration from the sound means that the noise is structure-borne. Examples of which are heavy footsteps, slamming of doors, falling of tools, and the like.
Why You Should Soundproof the Garage
There are many known benefits to soundproofing your garage. This is especially the case when you use your garage space as a workshop area regularly.
For one, you will be more productive as you would not be bothered by the noise your tools and kind of activity will be producing. Likewise, you will not be distracted from the noise outside while you are focused on the work at hand.
Second, you will be free to do whatever you want, and use whatever tools you need, notwithstanding if they make a lot of noise. You would not disturb your family or your neighbors.
Third, it gives you privacy.
And lastly, soundproofing enhances the sound quality in your garage.
Soundproofing the Garage
When soundproofing your garage space, you would want to start in the following areas: doors, windows, and walls. Then the ceiling and floors will follow.
Soundproofing doors. The first step to soundproofing the garage is to always begin with the doors. The door is the entry point and exit point in your space, which means that it lets out the most sound.
The first option for soundproof doors is installing an insulated type instead. But if you do not have the extra budget, you can start by sealing all the gaps. Or another way is to apply green glue adhesive to insulate your garage door with vinyl.
Soundproofing windows. Noise can travel through the small and thin gaps in your windows. There are materials you can choose to soundproof your windows: soundproofing curtains, window blankets, and weatherstripping tape. However, the downside is you will lose the natural light coming through the windows.
Soundproofing walls. Many garages have thin walls and lack insulation, so the noise can escape through the walls. To soundproof the walls, you may add a thicker layer of drywall, construct double walls, or add acoustic blankets or times onto the walls.
Soundproofing ceilings and floors. These two garage components may be the least priority when it comes to soundproofing the garage. But if you are onto the task to improve the sound quality in the garage, then go ahead.
Adding soundproofing ceiling tiles will dramatically make the sound better as the sound waves will be less likely to bounce off on smooth surfaces. This will reduce the echo in the garage.
For the garage floor, it is relatively easy to soundproof. Just add in mats or carpets. Make sure to lay down durable and thicker mats that are specifically made for soundproofing for better and longer use.
Investing In a Reliable Workbench
Workbenches are a must-have for any garage workshop, whether making repairs, finishing DIY projects, or building anything from scratch. A decent work surface may be good for now, but if we are thinking long term, then you must pick a workbench that is scratch-free and can handle the weight and work that you will do. Plus, it should be a safe workspace that allows electrical, mechanical, and other tasks. A portable yet durable one takes the cake as your workspace can be moved depending on your needs and the space available in the garage.
Utilizing a sturdy workbench not only makes your job easier but it also offers to maintain an organized workstation. We could not stress enough the importance of having a neat workspace. It aids in the faster completion of projects, and most of all, it secures your safety, especially when working with tools that can cause injuries when mishandled.
One such reliable workbench that you can maximize when working is the Fleximounts WB102 Manual Height Adjustable Workbench.
Height-adjustable workbenches are heaven-sent. There are tons of work and activities that rely on a stable worktop. If you add flexible height to the features, this product is a winner. The user can manually adjust the level of the frame to match the desired size. So, whether you like working either standing or sitting, you can count on this workbench.
The Fleximounts WB102 Manual Height Adjustable Workbench lets the user confidently handle any sitting or standing work with maximum efficiency. It enables you to elevate your workstation to its ideal height, with a height adjustment range of 29.5 inches to 44.1 inches. The extra-large crank handle offers smoother operation than standard cranks, so you can easily lift the desk, even with heavy loads, such as items like the computer set, toolboxes, car cleaning machine, paints, and many more. And best of all, you would never need tools to adjust the height of the table legs as is necessary for other workbenches without a crank handle.
The WB102 has a solid construction, is made of a 1.5 mm cold-roll steel frame, and holds up to 500 lbs. Its worktop table uses solid rubberwood as a surface and has desktop dimensions of 47.2 inches x 23.6 inches x 1 inch, which offers plenty of space to work on.
You can also use it as a garage workbench, home office desktop, or even sewing and crafting table.