W

e know what you are thinking, "Is it safe for my kid to ride a bike to school?" The concern is perfectly valid because we want to protect our children from any harm or danger, especially when they are out of our sight.
The times are changing. The global health crisis has paved the way to create safer roads for those who want to cycle their way to destinations. Cycling is seen as a viable solution to crowding in public transportations like trains and buses, where commuters need to keep a social distance. And the importance of taking care of one's health physically and mentally is being highlighted. Cycling is an activity that caters to that.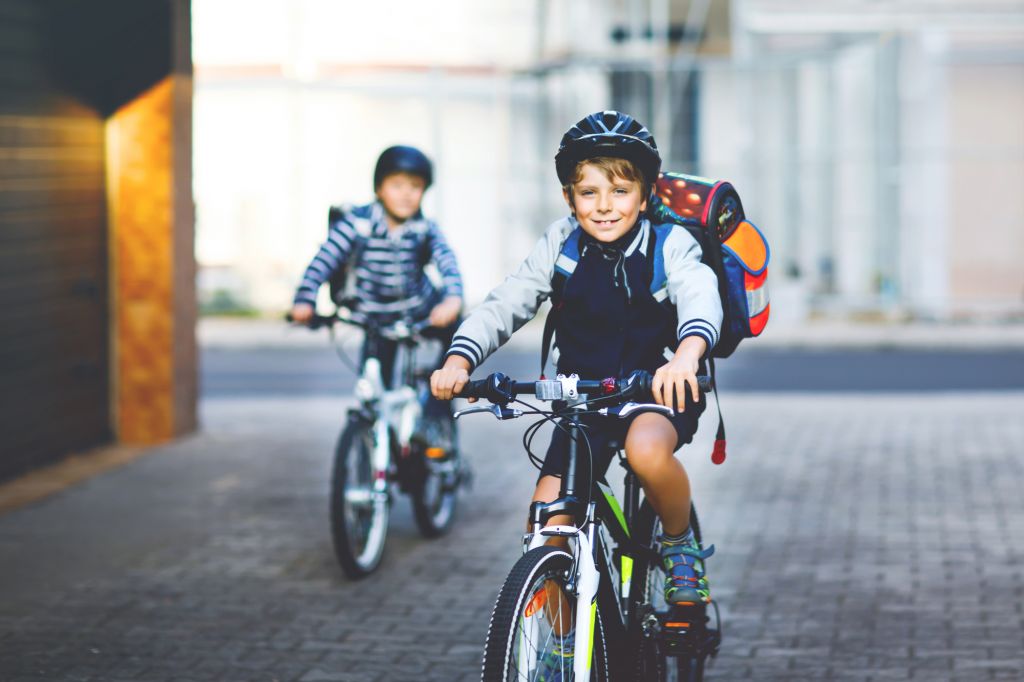 Schools and communities have initiated programs and materials to create a safe space for your children's cycling to school. In fact, May 4 this year is set to be the day of observance for the National Bike to School Day. This initiative is inspired by the National Walk to School Day which is celebrated in October each year. The celebration of biking to school forefronts an active and healthy lifestyle, safety, and strengthening community participation. It aims to raise awareness of traffic rules, neighborhood awareness to share the road with cyclists, and increase physical activity among the youth.
Just a little bit of history nuggets, the National Bike to School Day was first celebrated on May 9, 2012, in coordination with the League of American Bicyclists' National Bike Month. In 49 states and the District of Columbia, almost 1,000 local events joined in the fun. While more than 1,700 schools in all 50 states and the District of Columbia celebrated the event in 2013.
So, if you are looking for more reasons for your kids to bike to school, learn more about the benefits of cycling:
More active lifestyle
On a daily basis, many struggles to find time to do any physical activity as most tasks are done while sitting down. Again, the pandemic teaches us to get more physical and do some exercises. So, biking to school would mean more time to get the bodies at work.
Decrease the chances of getting diseases
As cycling is a physical activity that mobilizes almost every part of your body, it reduces the risk of a number of health issues. Regular exercise helps in avoiding certain health problems and chronic diseases like obesity, type 2 diabetes, osteoporosis, and heart disease.
Physical health benefits
For those who are already at risk for developing chronic diseases, or already have chronic health problems, adding cycling to one's daily routine will help improve overall health–muscle health, bone health, heart health, and lung health. In short, being physically active is a great way to stay healthy.
Care for mental health
Numerous studies have shown that physical activities like cycling improve your mental health, and reduce the risk of developing anxiety, depression, and other mental health issues.
Cuts traffic time
Every morning, the anxiety of getting late to school is giving you and your kids headaches as the morning rush gets crazier and crazier every day. With cycling, it reduces travel time significantly, which would mean getting to school earlier than having to ride the family car or public vehicles. The kids could also enjoy waking up and getting ready for school a little later than usual. They can definitely snooze the alarm for another 10 minutes!
Save money
With the gas prices getting more expensive with the global situation, you can save money by cycling to school. It may not seem like it costs much to drive if you live just a mile or two away from the school, but if you actually log in your gas or commuting fare expenses every day, you will definitely see how much money you are throwing away for these. Biking can save you a lot of money on gas and vehicle maintenance.
Environmental-friendly
One would say that we are just mere small players when talking about the impact of using gas-enabled vehicles on the environment. While that is true, we are still looking for ways to contribute to keeping the earth livable for generations to come. So, instead of driving to school, let your kids bike instead.
Don't Forget the Bike Storage
Optimize the garage storage by utilizing the Fleximounts BR1 Hanger Wall Mounted Bike Rack. Storing your bikes in a vertical position frees up valuable floor space, which you can practically use for your cars or other storage needs. Aside from that, it also provides easy access to mount and dismount each bike. Thus, you can save your energy for the cycling activity of the day!
The wall mount bike rack uses only high-quality materials–powder-coated, cold-rolled steel–to ensure durability, rust resistance, chipping and cracking. The rack has options to carry one bike, four bikes, or six bikes. The six-bike stand can hold up to 300 lbs or 136 kg. They are heavy-duty and long-lasting that can withstand years, and are dependable for load-bearing performance. It is perfect for cyclists who will take this lifestyle for a very long time. And of course, as you venture into cycling, a high chance would be to buy more bicycles that fit a particular activity. So this could mean the need for more storage space and durable storage racks.
The J-shaped hooks are easy to use as they fit perfectly to the curvature of your bike hubs, thus, providing a firm grip to secure the bicycles in their proper position. You need not worry about the hooks coming off the hanging bikes because each hook is mounted securely. And the good thing also is that the premium bike hooks are wrapped with thick sponge foam tubing, which prevents aging and cracking and offers better protection for your bike's wheels, hubs, and spokes.
The hooks can easily be re-positioned anywhere on the rack to suit different bicycle sizes as storage needs change. The bike wall mount hanger fits most bicycles (within the 2.56-in range in diameter), including mountain bikes, road bikes, and kids' bikes. But this excludes wide-tire bikes.