W

e know, that allowing our kids to bike to school is such an anxiety-inducing decision. But, sooner than you think, the time will come that this is a probable scenario. There are many benefits that students will gain and experience from riding to schools such as increasing their physical activity, getting and feeling of independence, practicing coordination and balance, learning to stay on a route, respecting road signs and safety rules, reducing traffic congestion and gas consumption, and a whole lot more. So, as a responsible parent that only wants his child to stay safe while enjoying the ride going to school, there are actually a lot of things that you can control and help prepare your kid through this life-changing decision.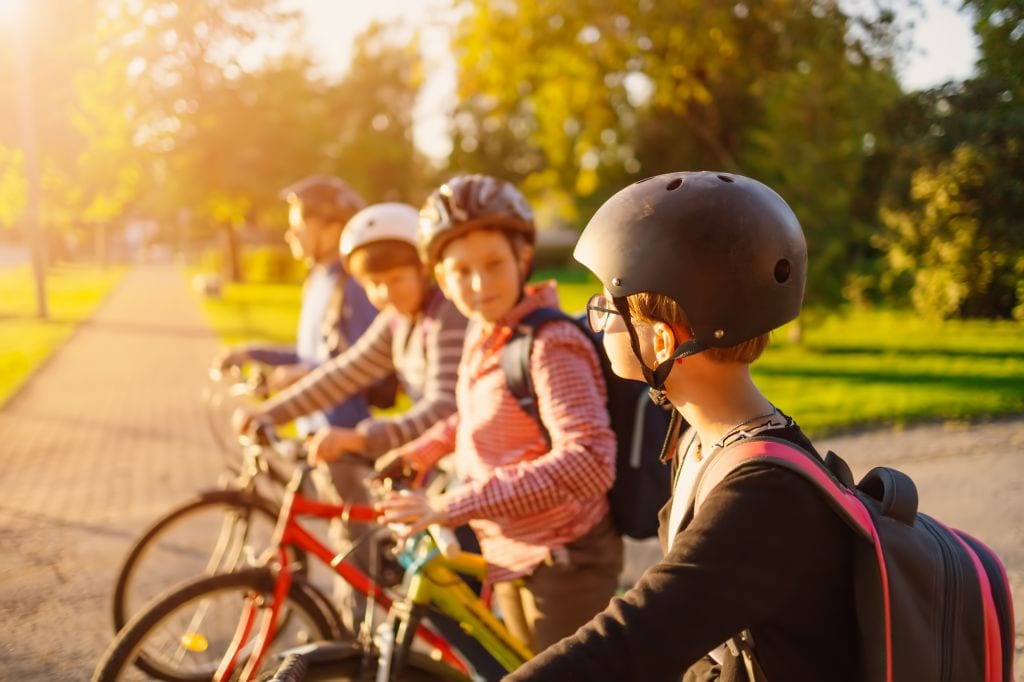 Test the Routes First
Before allowing your kid to navigate on his two wheels, be sure that the route your kid will follow is one that is safe and age-appropriate.
There are actually schools and communities that already mapped out the routes a kid can navigate going to the school. Moreover, as many parents also would allow their children to bike to school, the administration may have a list of the kids that your child can tag along with during the commute.
If the school nor the community have not yet planned a route, you yourself may map it out. There are considerations that you should look into when finding a good route: distance, traffic flow, terrain, travel time, and other safety precautions. Once you find a suitable route, navigate through it with your kid for a week so the both of you can assess very well if that route is good for your kid. If in case there is a need to change the mapped-out route, always remind your child to send you a message before navigating the new route. And if possible, have your child send you a link where you can monitor his way going to the school.
Look for Other Kids to Cycle With
While your kid may be excited to take on this journey, he may also feel anxious and less confident. Giving him independence this early on will build his character. But having companions of the same age can bring another level of excitement, and added relief on your part as well.
In coordination with other parents, you can form a bike train, which is similar to carpooling, except that it is a group of riders on two wheels. If the kids are in their elementary school, two parents should tag along, manning the first and end of the bike train. The parents should also be able to ride and adjust their speed to child-appropriate and have the skills to do basic road maintenance on bikes in case there will be mishaps while en route to school.
Prepare Safety Gear
The first thing that you should prepare is a well-functioning bike that has a size that fits their body and is comfortable to use. You would want the best riding experience for your kid, and purchasing a unit that is ill-fitting would only add to the anxiety and will eventually make him lose focus on the road.
Aside from the bicycle, you should also equip your kid with the right fitting helmet. How do you assess if it is the right fit? When worn, the helmet should not swing from side to side and only has space for two fingers in between the helmet strap and the face. Also, the helmet should not be too loose that it covers the eyes. Of course, make sure that it has a safety standards seal on the helmet. Other things that one should also keep on hand are the portable tire pump, tire levels, spare inner tube, and tire patch kit. You should also teach your kid how to use them in case they need for them arises.
Have the bikes installed with reflective stickers so that other motorists on the road will be extra cautioned around or when they pass by your kid? A horn or bell also comes in handy to let others know that they are getting ready to pass someone.
Biking to school not only teaches your kid to be confident and independent but also the value of taking care of one's possessions, including their own bicycle units. And part of the care is how to store them. In school, bike racks may be readily available in parking spaces for students who use their bikes. A good and handy lock may be needed to avoid bike theft.
At home, when they are done using the unit, the storage that they should utilize is one that is sturdy and gives them peace of mind. And one such bike rack is the Fleximounts BR1 Hanger Wall Mounted Bike Rack.
The wall mount bike rack uses only high-quality materials–powder-coated, cold-rolled steel–to ensure durability, rust resistance, chipping and cracking. The rack has options to carry one bike, four bikes, or six bikes. The six-bike stand can hold up to 300 lbs or 136 kg. They are heavy-duty and long-lasting that can withstand years, and are dependable for load-bearing performance. It is perfect for cyclists who will take this lifestyle for a very long time. And of course, as you venture into cycling, a high chance would be to buy more bicycles that fit a particular activity. So this could mean the need for more storage space and durable storage racks.
The J-shaped hooks are easy to use as they fit perfectly to the curvature of your bike hubs, thus, providing a firm grip to secure the bicycles in their proper position. You need not worry about the hooks coming off the hanging bikes because each hook is mounted securely. And the good thing also is that the premium bike hooks are wrapped with thick sponge foam tubing, which prevents aging and cracking and offers better protection for your bike's wheels, hubs, and spokes.
The hooks can easily be re-positioned anywhere on the rack to suit different bicycle sizes as storage needs change. The bike wall mount hanger fits most bicycles (within the 2.56-in range in diameter), including mountain bikes, road bikes, and kid's bikes. But this excludes wide-tire bikes.