B

ecause the weather is bright and warm, summer won't be complete without holding a backyard party. The summer season just reminds you of days where you want to chill, cool down and overall feel a laid back vibe. Backyard parties have just that and are a staple in an American summer. These outdoor gatherings don't come without preparation though. Just like in any other party, if you are the host, you want to make sure that everything goes smoothly and that your guests go home with fun stories and reviews of your backyard party.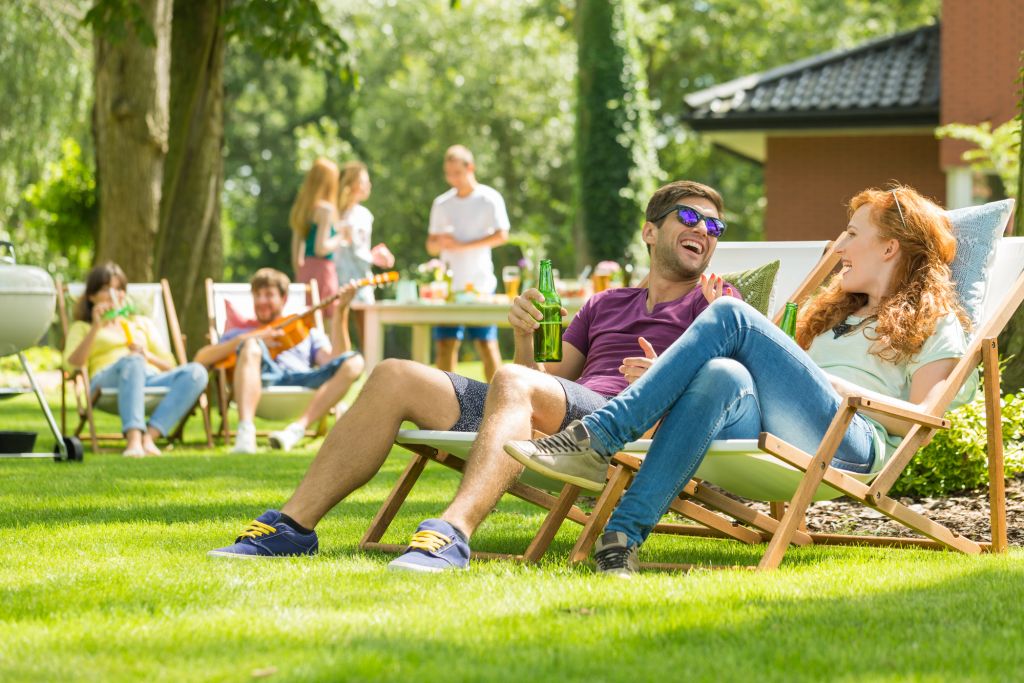 We listed down some ideas you might want to use for your next backyard party while the summer season still lasts.
1. Prepare to seat more than the number of people you invited.
In a typical party, not everyone will be sitting down at the same time. You can expect that in a backyard party, most people won't be sitting that much. You need to prepare though as many seats as you can so that anyone can sit anywhere they like. You can always experiment when it comes to this kind of chill party. You can pull out a bean bag or have stools in different areas. You can lay out a mat where people can sit on the grass or floor. You can have benches or even have hammocks set up. Mix and match any sitting option you have at home and make sure the setup will encourage people to interact with others.
2. Have a menu that people know beforehand and will cater to every diet of each guest.
Before the party, let your guests know what the menu of the backyard party would be. Request if anyone can bring a specific dish or ingredient that you need. And then, do not forget to ask if anyone has food restrictions. You want to make sure that there will be food and enough booze for everybody in your guest list. People have been trying so many diets now such as becoming a vegetarian or pescetarian so aside from serving meat, always have fish and vegetable options too.
3. Prepare a cooler.
You need to be ready for the heat so make sure that there are drinks available for everyone at any point of the party. You'd want a cooler to be ready so that you're sure that all refreshments stay cold. You can have frozen water balloons or bottled beverages inside the cooler. Make sure also to have bottle openers tied to the cooler so that it's easy for everyone to open their bottle of choice.
A cooler will also make sure that food is chilled such as ice cream, ice candies, etc.
4. Make sure to have buffet tables and more than enough utensils for all the guests.
You don't want a line to accumulate in one area, especially when everyone is already hungry. One way to solve this is to have more than one buffet table. Around your backyard, you can also have baskets filled with treats that your guests can grab anytime. And since they'll be using plates for different meals, make sure you take that into account when preparing how many utensils you need for your party. You want to make it convenient for everyone so have different areas where they can get napkins and bundled silverware. Make it easy to see what's being served by making little labels you can set beside each dish (bonus points for labeling whether something is gluten- or dairy-free!). And keep a small basket or box filled with bundled silverware and napkins so guests can grab, go and grub in a flash. Condiments should also be within reach and should not require them to still go to the kitchen.
5. Get rid of pests.
Since you will be having this backyard party in your backyard, you have to make sure that there won't be any uninvited guests. Get rid of pests and bugs beforehand. Make sure to check every nook and cranny of your backyard to know that there aren't any pests left. Lavender, mint, rue, and tansy plants can also serve as insect repellants. Plus, they smell great too! You can use sage as well to make sure pests don't come near your backyard.
6. Clean your garage.
Your garage leads to your backyard so it's the perfect spot to use for food, entertainment, utensils, music speakers, etc. You can only maximize the space of your garage if you have smart storage solutions installed. You can make use of overhead storage racks and wall shelves so that the floor is freed of any belonging.
Here are some storage units from FlexiMounts that you can have installed in your garage.
For items that you need to be accessible on a regular basis, it's best to store them in a wall shelf where it can easily be reached by hand. This wall-mounted storage solution from FlexiMounts comes with all the necessary hardware which makes it easier to install in a concrete wall or wall studs. It's 2x6 in size and could carry 400 pounds in total. It's made up of top of the line, powder-coated steel that has undergone quality tests. Its buckle design comes with velcros, a feature that prevents it from falling. Homeowners may play around with installment because of the product's flexible layout with various combinations and different stud spacing. This unit comes in either black or white. It is a certified classic FlexiMounts' product.
This product will provide ample wall shelving, preventing the shelf from falling from the ceiling because it is secured on the wall. Its weight capacity is 400 to 600 pounds and the height can be adjusted from 22 to 40 inches. It is made of cold-roll steel that is guaranteed to be of high quality after undergoing rigid tests. This is also a waterproof product that could avoid getting your products damaged from water. It could store seasonal items such as athletic gear you only use for winter or for summer. This comes with an integrated grid design that makes it stand out from others available in the market. This comes in black and white and you may choose from different storage spaces: 4' x 8', 4' x 6', 3' x 8', 3' x 6', and 2' x 8'.
If one of your worries is installation, don't worry because this can be easily installed by following the step-by-step manual and installation template that comes with the product.