W

hen summer hits, we expect the temperature to rise to a sweltering high level, even reaching 100° F. And in enclosed spaces such as the garage, it can easily reach higher temperatures because of its structure, especially if your location is facing west or does not have a cover like big trees planted on its surroundings.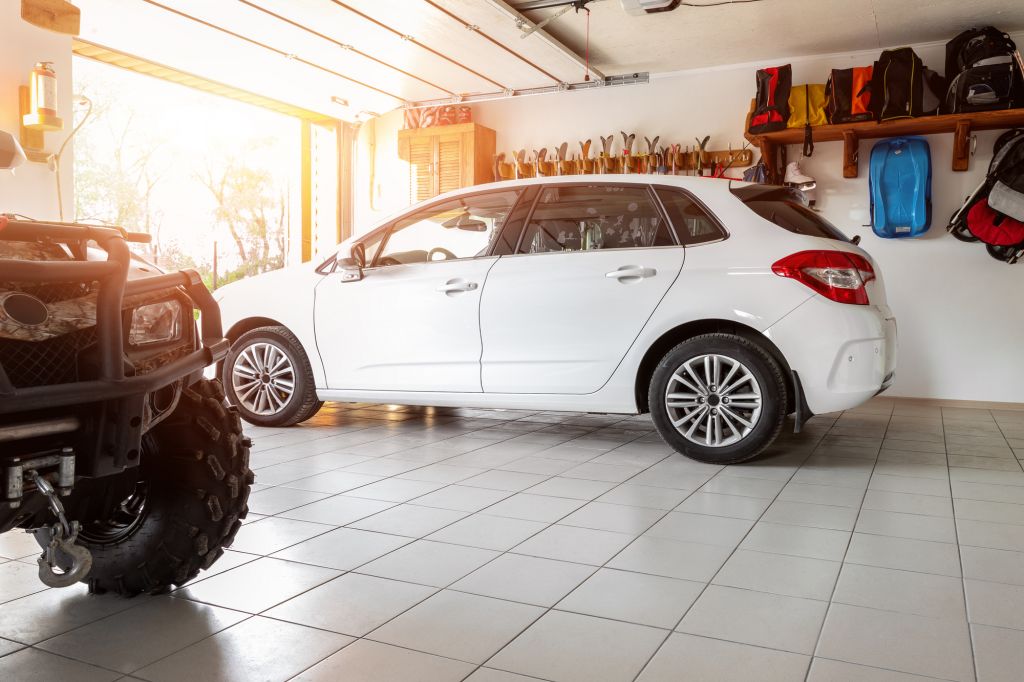 While some garages may be equipped with heat protection and climate control devices installed, however, some do not have the same design nor have the capacity and means as of the moment. So, this is for those who have not yet upgraded their spaces but want the protection they can get to safeguard the stored items in the garage. We all know how the high heat and humidity in the garage during summer can cause damage to the garage surfaces, items, and vehicles.
Before we delve into some of the tips on how to properly store your stuff, here are some of the things that you should note when maintaining the garage. When your garage is in line with the direct sunlight all throughout the day, the temperature rise may cause electric components to go haywire and can make some of your stuff too hot to touch, especially if made with metals like bikes, tools, and your car. Quick fixes to this are to keep them at a cooler temperature, where there is more shade and out of the direct line of the sun. And sometimes there may be electrical storms and power outages that may damage portions of your homes to full-on blackouts. It is good to have a single circuit surge protector.
Now that we got that in the way, let us now focus on the main topic, which is how to protect commonly stored items in the garage during summer.
Vehicle
First, if you used your car throughout the day, you would want to park it outside the garage first as there may still be the heat that will come off once the engine is shut. The heat will only contribute to the already high temperature in the garage. After it is cooled down, you may now transfer your car into the covered garage space. Make sure, though, to check the exterior of the car is clean and nothing would melt that will drip onto the garage floor. Also, see if there are potential fluid leaks that could damage your garage floor.
Fabrics
While fabric materials, linens, blankets, and clothing are best stored inside your home, however, if the garage is the only space left that accommodates them, store them in vacuum-sealed bags or covered plastic storage containers to keep them airtight. Cardboard boxes are not an option, though, as this type of storage easily attracts pests and gets moist. Fabrics should also be stored off the floor like on wall shelves and overhead garage storage.
Lawn Tools and Garden Equipment
Like the fabrics, the lawn tools and garden equipment should be stored off the floor to keep them secured and out of the way. While it is too tempting to just toss them in the nearest corner after a hard day's work, do not give in. As these materials are moisture sensitive and the garage floor attracts more moisture than any other parts in the area, they could easily absorb the unwanted moisture, which could lead to rusting. Tools such as shovels, rakes, and hoses are best stored hung up on slat walls, peg boards, special racks, or hooks attached on wall shelves or overhead garage storage. Likewise, any tools that have cords should be neatly coiled above the floor and on hooks or hanging racks. Other power equipments such as leaf blowers, hedge trimmers, and weed whackers are also best stored on off-the-floor storage systems or tool closets.
Key Tip: Organize, Organize and Organize
Cleaning up, decluttering, and storing as many items off the floor is the foolproof and most logical garage maintenance that you can rely on. Not only does this method work in extreme summer temperatures, but come other seasons, you would thank the garage gods for having thought and exercised this method as a way to safe keep your valuable stuff.
Utilize a functional and sturdy storage system. You can make use of an overhead storage rack or wall shelves. Storage systems that can be installed on the walls or ceilings are best to use because you will free much valuable floor space in the garage. And another thing is that it is easier to identify which items are stored on these storage systems because they are neatly kept that way.
You have to decide what kind of storage organization will fit perfectly for your garage. Keep in mind the height of the room and how wide the walls can be used to install this storage. Also note that when installing either overhead garage storage or wall shelf, make sure that the doors or windows are out of the way, and of course, your vehicles if you intend to use the garage as a parking space as well.
For your everyday items, the Fleximounts WS SERIES Adjustable 3-Tier Wall Shelving is the perfect additional storage space for your walls. Its powder-coated steel assures sturdiness. Likewise, the heavy-gauge construction provides safety loading of up to 100 lbs per shelf.
The screws provided are thicker in size compared to other shelves in the market. An excellent feature this wall-mounted shelf offers is that it is flexible enough to be adjusted depending on the height of your wall and according to your needs.
The WS Series allows you to assemble and disassemble it conveniently because of the patent tool-free adjustment design. Another selling point of this shelf is that installation can be a one-person activity. The installation template that helps mount holes and the bubble level that helps get perfect horizontal location is already provided.
The wall shelving is compatible with either concrete or wood walls as well as it is suitable for securing either solid concrete ceiling or ceiling studs.