I

t's 16 days before Christmas! Is your Christmas tree in the living room already up and ready to tuck in some gifts under it? Have you shopped for gifts to give to your loved ones, colleagues, and the person you picked for your office's Christmas party? If yes, have you already wrapped the gifts you bought?
If you haven't just yet, it's not too late to set up a gift wrapping station so that your wrapping will become faster, easier, hassle-free, and a lot more professional. If you don't have a space anywhere in your house for a gift wrapping station, fret not because you could easily transform an area in your garage to become one.
But first, make sure your garage is tidy and neat. To organize your stored items, use ceiling and wall-mounted storage solutions from FlexiMounts to keep items off the floor. You need floor space so that your garage could have multiple functions other than a storage area for your car and other belongings. FlexiMounts offer quality storage solutions that could carry loads reaching up to 800 pounds. They also offer multiple-tier ceiling and wall storage products that are perfect to organize all of your items. Make sure to categorize everything by season so that you could place those that you use more in a more accessible area. To avoid the hassle of looking for things once you already need them, don't forget to label everything.
After cleaning the area you chose, now it's time to create your very own DIY wrapping station.
It's actually hard to store your gift wrappers and tools but it's really worth investing your time, effort, and money to build a station for storage and working. You would be so glad to see how you leveled up your gift-wrapping game as you do it more often, and with more pleasure and ease because of your new station.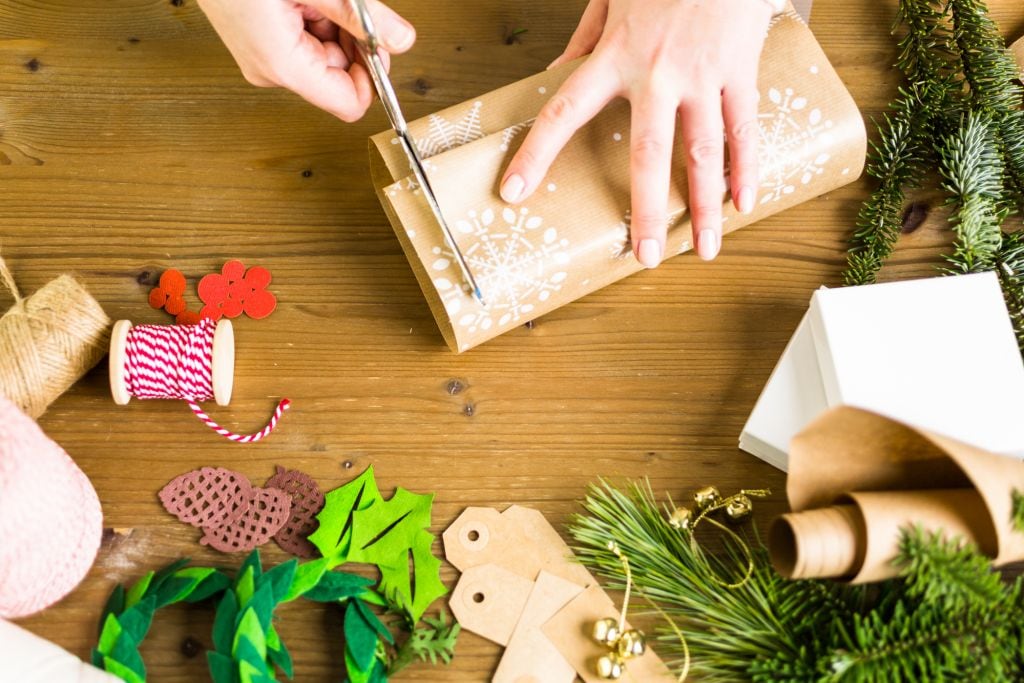 Here's how and where to start.
1. Record everything you have in stock.
Get your paper and pen because you might want to list these down. A perfect gift-wrapping station will have the following: bags (small, medium, large), rolls of wrapping paper, tape, scissors, tissue paper, ribbon, gift card, and pens. If you want to be a little bit more extra, you could also fill in your station with string, washi tape, embellishments, glitter, gift boxes, and more. It helps if you have basic colors that you could use for any occasion such as gold, silver, and brown. If you prefer to be more on a theme, then it's best to keep gift wrappers for every milestone or celebration in a human's life such as birthdays, weddings, and the Christmas season!
2. Opt for complementary items.
If you don't have a creative eye, you could always rely on the experts to make sure your gifts would look like they were wrapped professionally with someone of good taste. Usually, in one store, you could buy gift wrapping sets. It would be easy to coordinate all your gifts with complimenting color and patterns, creating a streamlined look. A problem it solves as well is having to deal with varying sizes of bags and different colors and materials that you got from too many different gift stores. Save yourself the hassle and just buy in one store so that everything would look coordinated.
3. Set up division boards that would be vertically placed on the wall.
You would be able to store your gift wrappers in an upright position. You could also make use of a pegboard as a tape dispenser or as a storage hanger for your decorative gift wrapping accessories.
4. Arrange items by size and color.
It's much easier to look for your dress, top, or bottoms when you store them by color. It's the same with gift wrappers. Make sure to have all shades of pink in one area alongside all shades of gold in another. This makes the whole process easier and faster. It also makes your workstation look even more appealing.
5. Have another table to place your gift wrapping needs.
The durable workbench with a built-in drawer could store your gift wrapping tools and equipment. Its weight capacity is about 3000 pounds so there is absolutely no way that it couldn't hold your wrappers and other tools. You may put your utility tools in the under-desk drawer and then you could also use the desk as your workstation where you would wrap all the gifts you bought one by one. Make sure you position both of these near your tools and equipment for gift wrapping.
6. Once all setup, have fun!
It may be the last step before you give your gift to someone you love, which is why most people take it for granted. It would be torn anyway. No one cares about the wrapper; what matters is what is inside. You don't have time or the skills to wrap. Okay, we hear you, and now clear your mind. There's no use in stressing about gift-wrapping when it can be a fun bonding moment with your family, especially the kids. None of you even has to be an expert gift-wrapper; what matters more is the effort that you put into it.
Make sure to grab your gift cards and write a special, personal message to the recipient. Please veer away from generic messages and write from the heart. Oh, and before we forget, when you're wrapping your gifts, make sure to have a smile on your face! Don't take it too seriously if you mess up. You just have to pick it up again and try some more until you've gotten the hang of it.
Final Thoughts
Garages are more functional if you keep them tidy all the time. Having your items organized in the garage and off the floor would mean more opportunities to use it as an events place, an intimate dinner location, or a workshop. This time around, you can make a gift-wrapping station if you free up space for it. You could not only use it for Christmas but for other occasions in your life.