C

rafts have always been Mia's thing. She grew up knitting beanies, cross-stitching flowers, taking film photographs, and arranging fresh flowers. Even with the advent of the digital age, she has never given up the habit of scrapbooking. Some of her pals who shared her interest in the hobby quit when everyone became increasingly reliant on their smartphones. But it was different for Mia. It's not because she's outdated or unwilling to embrace progress. She finds that organizing her favorite memories on a page is quite calming and helps her to relax.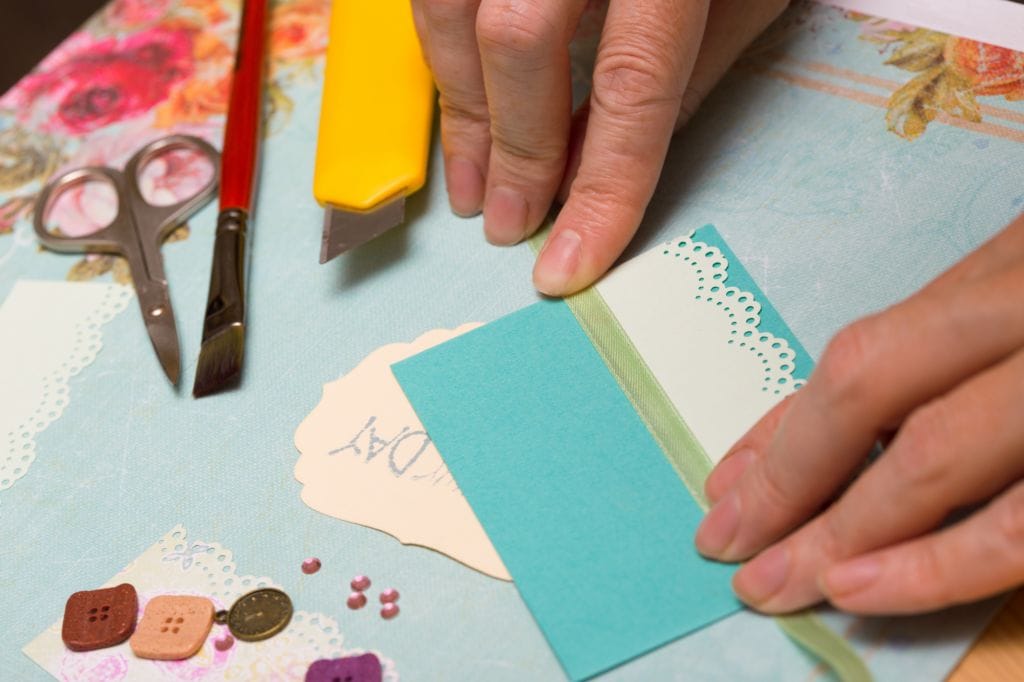 In England, the hobby—-or art if you want to call it—of scrapbooking dates back to the 15th century. At that time, friendship albums and something similar called commonplace books were popular. In commonplace books, people kept letters, poems, and quotes. The messages of friends with their signatures were abundant in friendship albums.
Later, in the 1800s, scrapbooking albums were developed to hold newspaper clippings and black-and-white images. These leather-bound books had pages for water coloring and painting as well as corner pockets with the primary purpose of holding the photos.
Scrapbooking gradually faded out during World War II, but in 1980, author Marielen Christensen created 50 volumes of their family history, bringing it back to life. Within a decade of opening her scrapbooking shop, she had contributed to the resurgence of the hobby.
Scrapbooking is still a viable activity that you can start at any time thanks to Mia and the few remaining scrapbookers in the world. Scrapbooking is beneficial for the heart, the mind, and the body in more ways than just decorative papers, embellishments, and glitter. We hope we make a convincing case on why you should make it a hobby now.
By creating a scrapbook, you can revisit happy childhood memories.
Even though the past wasn't all bright sun and clear blue skies, creating a scrapbook allows you to remember the best moments. You can reminisce about the first ever moment you won a gold medal on stage or received a charming lunchtime message from your mother. You may still picture the innocence of your first romance or the sneaky glances you believed your sweetheart was giving you. Even while you may recall the negative experiences, you also have the opportunity to consider how they shaped the person you are now.
According to studies, the brain develops new neural pathways when someone thinks back on the past. Because of the phenomenon known as neuroplasticity, organizing your previous ideas and memories can help you practice mental correctness, which will afterward give support to your cognitive abilities.
Scrapbooking is a meditation technique.
Scrapbooking is a focus and mindfulness-required pastime that might be compared to meditation. It enables you to clear your mind of any distractions so that you can concentrate on your current task. This entails focusing so intently on the task at hand that bothersome thoughts vanish.
Creating scrapbooks reduces cortisol levels.
Your body's main stress hormone is cortisol. Your glucose levels rise and your repair cells are in double-time work mode when it's at a high. In other words, it signifies that you need to release the steam since you are in a high-pressure environment. One hobby that has been shown to promote mental relaxation is scrapbooking. Breathe deeply, gather your scrapbooking supplies, and let your imagination run wild. According to studies, having a creative pastime lowers anxiety.
By creating scrapbooks, you may express yourself.
What you may not be able to explain verbally or in writing, you may express through art and design on a page. Your color preferences could reflect your attitude or the frame of mind you're aiming for. The bottom line is that you can instantly recognize a piece of a person when you look at a finished scrapbook page. It's really expressive of how you're feeling right now on the inside while also being intensely intimate.
You are welcomed into a close-knit group through scrapbooking.
When you are surrounded by a group of people who share your sentimental values and love to collect things in scrapbooks, you know you are on the correct path. You two might share scrapbooking ideas that you could employ on your upcoming page or book. Nothing compares to meeting like-minded individuals and experiencing the sensation of belonging you all share.
Along with your children, a special someone, siblings, or friends, you can also do it. By recalling shared experiences, inside jokes, and other such things, you become closer to one another as each page of the scrapbook is finished.
If you are not doing anything this coming weekend, this is a good weekend project for you and the family or something to do with your closest friends. If you've been feeling anxious or depressed the past few weeks or months, you can start your healing journey by going back to the past and remembering the highs it gave you.
Not a lot of people may realize that scrapbooking may consume space. You need an area to move around, a spot to put your art materials on, a corner to spread all the pictures and memorabilia that you will use, and the actual space where you will do your "scrapbooking." You also might want privacy when you're busy doing this "art project" so you'd want to do it somewhere quiet and private. If your house is not that big and you share a room with your sibling or a friend, then it might be better to take your work to the garage. The garage is very spacious, and you can even use a trusty workbench, for everything that you need to beautify the pages of your scrapbook. Of course, you have to make sure the garage is free from clutter and is organized with smart storage solutions such as overhead storage racks and wall shelves.
Here's a workbench you may use:
FlexiMounts has this workbench offer that is height adjustable and all-purpose. The workbench's maximum load capacity is 500 pounds and could carry anything that you can use for a chosen hobby or a project to make something for the house. It's spacious with 47.2" x 23.6" x 1" dimensions, just about right to make a table. The height can be adjusted from 29.5" to 44.1". With a wide range, this multipurpose desk lets anyone sit or stand comfortably yet efficiently in order to finish a task or a project. It makes use of a crank handle to manually adjust the height, the crank being extra-large to offer a smooth operation compared to standard cranks. This allows for easier lifting of desks, even though the load is heavy and full. You won't need extra tools or an electrical outlet just to be able to adjust the height of the table.
The material is made of a solid rubberwood surface and a steel frame that is one inch thick. The steel frame makes sure it is sturdy, even at its highest point. Moreover, this product also has adjustable feet.