I

s your garage a disaster? Backtrack as to how this happened. For sure, it is not an overnight thing. It is the culmination of months, even years of neglect on your part. You may have overlooked the maintenance and organization of the garage, which can be very embarrassing. In fact, you are not alone in this. A survey conducted by Impulse Research shows that 24% of homeowners get embarrassed to leave their garage doors open due to too much clutter and shabby appearance.
So, if you are one of the 24%, chances are the red flags have been waving but you ignored them ultimately and went on to day-to-day activities without making an effort to tidy your space.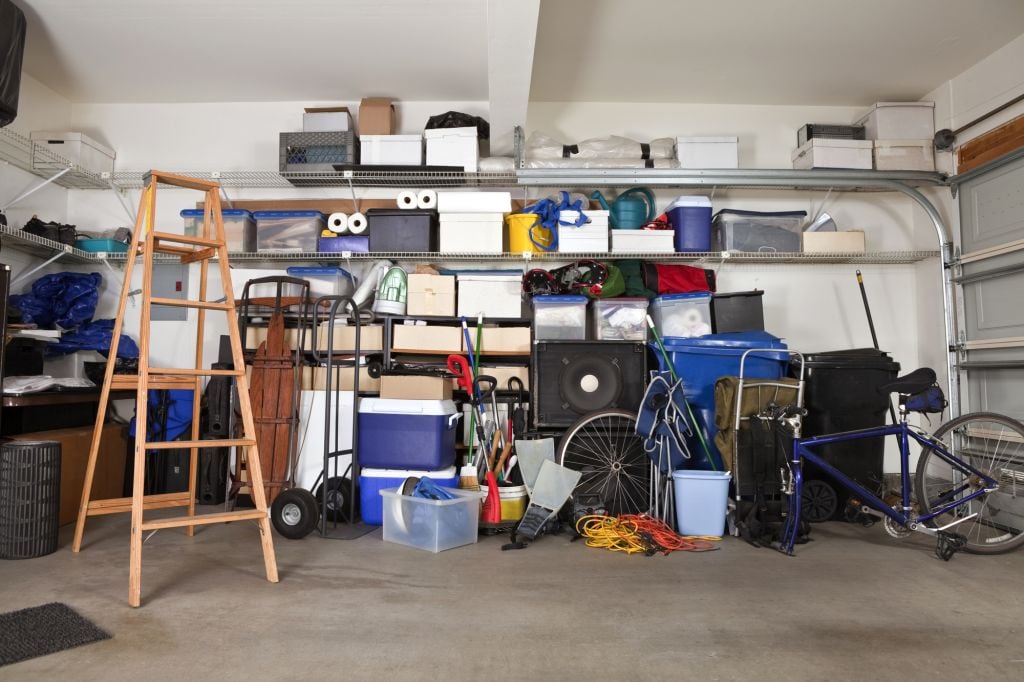 Here are some of the warning signs that were left unnoticed:
You Can't Find Your Things Easily
Imagine the hassle of going through every box, every storage, having to take big strides just to go from point A to point B in your garage. Yet, still, you could not find the specific tool that you need. Not only do you waste too much time, but eventually, you could be wasting money as well because buying a new one could be more logical at this point.
You're Storing Things That Shouldn't Be There
If you are storing moisture-prone items such as food, wine, paint, wood furniture, electronics, and textile or paper-based products, then it could be a recipe for disaster. Pests such as rodents could make a home out of these items, and subjecting them in an area such as the garage may deteriorate or damage their conditions. Also, these items can easily hog the space in your garage, which could have been used to store more fitting items.
Seasonal and Bulky Items Are Stored on the Floor
When you step foot in your garage space, you are hoping to see a tidy and spacious area. However, due to lack of proper storage, you are left with leaving the seasonal items and bulky ones on the floor instead. And that could mean instant deduction to your much-needed floor space that could be utilized as a work area for your projects, and parking space for your vehicles.
Junk Lives Rent-Free in the Garage
As to what classifies as junk, it varies from one person to another. But, the common denominator is that these items should not be in the garage in the first place. Case in point: you have the television monitor for repair left in the garage in the hopes of sending it to the repair shop. But because there is no urgency and you have already bought another set to replace it, you have decided to park it elsewhere first. And that may stretch into weeks, then months, or worse, years. Also, you may be holding onto the original packaging or box of electronic products or furniture in case something goes wrong, or the boxes may come in handy when you move out. However, the longer you store them in the garage, the more they accumulate dusts and acquire visible signs of damage due to pests and moisture.
Using Ineffective Garage Storage and Underutilizing Walls and Ceilings
Aren't you tired of having to fix your cabinets from time to time, and buying and installing more storage that are ineffective? Well, then, it is about time that you rethink your garage storage solutions. Look around the garage and identify which areas are not being used at all. Most probably, these are your walls and ceiling. As every square foot in your garage is important, leaving the walls and ceilings empty is a huge wasted opportunity. Having your storage off the floor frees up valuable space, which could be used for other activities and purposes. This is especially advantageous when you have small or narrow garage space. So, you do not need to make the garage as storage entirely, but can also park your car indoor, and work on your projects under the roof.
Your Green Flag When It Comes to Storage
Overhead garage storage racks are the most in-demand organization tools nowadays. Sharing your vehicle space with your things can be troublesome and chaotic. These will take up too much floor space, which should have been dedicated for your vehicles alone. Fret not because the overhead storage rack is an ideal choice to tuck away something you do not need to use regularly. Thus, leaving more space to park your cars.
Fleximounts have an offering of a variety of overhead garage storage racks. Among the bestsellers is the Fleximounts GR48-H 4′ X 8′ Overhead Garage Storage Rack. This durable and heavy-duty overhead storage system provides a safe place to organize your stuff. It also helps avoid flood damage by storing your things off the garage floor and protecting your treasured items. The overhead storage rack makes your garage look neat and get away from insects and rodents.
The rack is made of heavy gauge cold-rolled steel construction, which is responsible for the safety loading of up to 600 lbs. Its integrated wire grid design and frame are welded together, making the unit more sturdy and stable. Moreover, the wire grid underwent strict tests with triple load breaking strength. It is specially designed for easier assembly.
The height can be adjusted from 22" to 40", providing a convenient and safe place to store your stuff. The height-adjustable ceiling drop-down lets you customize to your preferred height.
The ceiling brackets are designed to be attached to two joists for more flexibility and security. The rack is suitable for securing to either ceiling studs or solid concrete ceiling. The screws provided are thicker than comparable products available in the market and have gone through strict tests to prove the top-quality make of the hardware.
All necessary hardware and instructions are included in the package. An installation template is also provided to help you devise a plan to store your stuff in the most efficient manner possible. Also included are three bags of screws, namely, wood screws, installation screws and bolts, and cement installation.
In the box, accessories such as four pieces Flat Hooks (GRH1) and two pieces Utility Hooks (GHR3) also come with the racks.