W

ho says Valentine's Day is exclusively for romantically linked couples? While it is true that February 14 has long been associated with romantic love, more and more have turned this yearly celebration into a family affair or friendly celebration. As this day is all about love–well, every day should be–take this as an opportunity to teach your kids the importance of celebrating love even in small ways. As they say, love begins at home.
Try these simple activities this Valentine's Day as a simple way of saying "I love you" or showing that you care for them.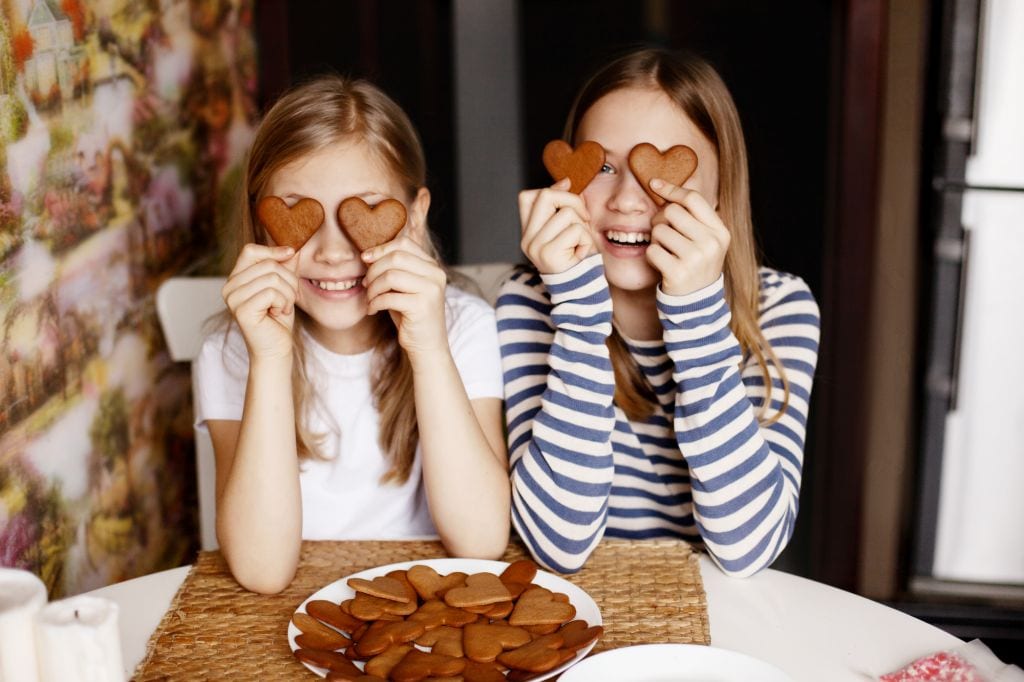 Love-Themed Munchies
First off, it's all about food! Anyone who receives food will surely feel loved. Food is the number one pick-upper that will lift your mood and spirit. Kids will love these as well. If your kid is picky when it comes to food intake, then this activity will spark his interest and will devour the food in an instant. There are easy-to-make Valentine's Day foods.
One of which is a heart-shaped Valentine's French toast. You need to prepare bread (whole wheat, if you prefer the healthier variety), egg, skim milk, strawberries, and maple syrup. You can let your kids beat the eggs using a fork in a medium, low bowl. Then add ¾ cup of skim milk per egg used. Pour in a teaspoon of maple syrup. Make sure to blend all the liquid ingredients. Using a cookie cutter, cut out hearts from the center of the bread slices. Then dip all bread pieces into the egg mixture. Brown lightly on both sides on a large skillet set on medium heat. Finish the French toast by garnishing it with strawberries and maple syrup.
Another great idea is to make chocolate peanut butter cookies in a heart shape. No kid wouldn't love to munch on cookies. Prepare a pouch of peanut butter cookie mix. There are ready-made packs that can be bought in the grocery. Other ingredients that you need to prepare are vegetable oil, water, egg, sugar, and chocolate chips or if you can buy heart-shaped chocolate candies, the better the outcome will be. Preheat the oven to 375 °F. Stir the cookie mix, vegetable oil, water, and egg in a medium bowl well until dough forms. Shape the dough into 1-inch balls, then roll them in sugar. Place them on ungreased cookie sheets, two inches apart. Bake for 8 to 10 minutes until light golden brown. Immediately after removing from the oven, press the chocolate chips or candy onto each cookie. Lastly, transfer to cooling racks.
Valentine's Day Treasure Map
This could be a whole day activity, depending on the tasks that you want to include. Basically, the premise of this activity is to accomplish each task to gain a sticker. Completing all tasks will be rewarded with a token that you and your kid will surely love like a coupon for one-day use of Playstation or a two-day exemption from doing house chores. Or you can also prepare tangible gifts like a box of chocolates or new clothes.
First, gather as a family to decide what kinds of activities you all like to do. So you can curtail them down and include them in the task sheet. Then, personalize each treasure map. Have your kids draw or paint on them, put stickers or glitter, and so on. Then, place all the treasure map cards on the breakfast table or on the refrigerator door so that on the day of Valentine's it would be the first thing that you will see.
Some fun activities that you can include as tasks such as making a Valentine Card and writing in two sentences why you love that certain family member, do one task that a family member wants you to accomplish like sweep the floor or arrange the slippers at the door, hug a family member for five minutes, play a board game, deliver a note to your neighbor, write encouraging words for a friend, ride a bike or go for a walk, and so on.
There is no special prize on who finishes the tasks the fastest, but put a premium on being able to accomplish everything and eventually get a reward.
For the activities you have prepared on this special day, a sturdy workbench is a reliable helper. One that does not shake easily, especially for kids who can't keep still, and one that has a built-in drawer for you to be able to access easier materials that you will be using in the activities.
Designed with high-quality craftsmanship, the durable frame of this workbench is made of cold-roll steel. It has a convenient built-in storage drawer that is embedded in the worktop. The pull-out drawer provides seamlessly integrated storage space for the supplies that you would be needing in the activities. The modern design blends in perfectly while keeping your belongings out of sight and neatly put away.
The work surface is free of scratches and chips due to its material. It is made of 1-in thick rubberwood that is sealed with varnish. As it is understandable that garage workshops tend to be on the heavier side of activity, and the materials and tools used are mostly made of metals and carry heavy weight, protecting the worktop is a feature that is made especially to last the wear and tear of things.
Garages, oftentimes, have uneven flooring. So, to be able to enjoy a stable work surface, the workbench has adjustable feet to make it easy to level the workbench as deemed fit.
The WB201 is an all-purpose workstation that is suitable for many purposes–both commercial and personal. It is fit for use in your home space, garage, warehouse, mailroom, basement, workshop, or office.
Fleximounts Valentine's Day Sale
If you are still thinking of giving a tangible gift on this special day, skip the lines and check out the products on the Fleximounts website. Practical gifts such as bike racks for vehicles and walls, overhead garage storage racks, wall-mounted storage racks, hooks, and workbenches are available. If the purchases reach over $300, you can enjoy a 10% discount.