N

ot every family parks their car in the garage. Nowadays, there are homeowners who use the vacant space as a walk-in closet for power tools, utility tools, huge equipment, athletic gear, and holiday decor that they tuck away for future use. There are also homeowners who use the garage as a functional space—may it be as a fitness center, a recording studio, a business hub, an events place, a workshop area, and many more. But whatever you use the garage for, clutter follows. Your belongings are messed up with dust and pests. This is why it's important to always do some spring cleaning in your garage or do a thorough cleaning of the area from time to time.
What you do first is to make a checklist in order to have a clear track of your garage cleaning. Move this here, set this aside, clean that, and you're all set. With a checklist, it's also easier for you to divide the spring cleaning of your garage over multiple days by assigning one section, one day at a time. If you want your kids to help you out, your checklist would come in handy so that they know what they need to do.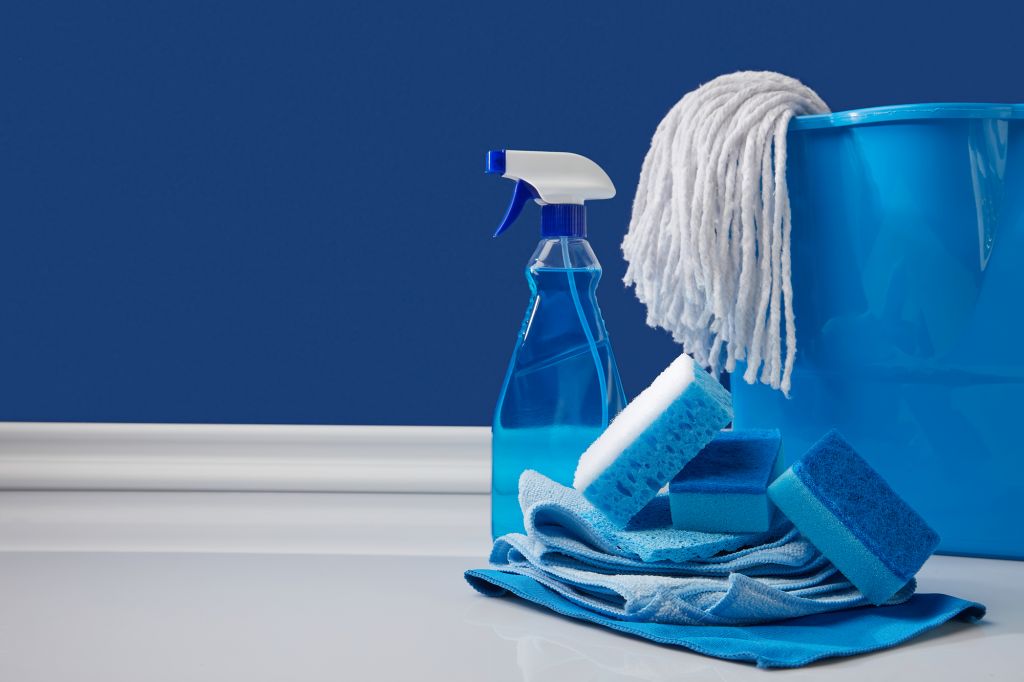 So what would you need for your thorough cleaning of the garage? Well, things are about to get messy so make sure you have work gloves for everybody. Then there's the broom to take away dust on the floor and extension duster for the walls and ceiling, step stool for high items, an all-purpose cleaner to wash everything thoroughly, boxes to sort your items, trash bags for belongings to be discarded, and microfiber cloths.
The next thing you'll do is to empty your garage. Get your boxes and trash bags and determine which place the items will go, depending on the item you pick up or the trash you discover that has accumulated in your garage. Remember to keep the hazardous waste out of the trash and take them to a waste disposal facility.
Emptying your garage will make cleaning much easier and more manageable.
Once you've cleared the garage, the next step is to clean it from top to bottom. You start from the ceiling using your extension duster. You also inspect your garage door and check for cracks and holes. Clean out oil spots and scrub with your all-purpose cleaner.
After thoroughly taking out the dust and grime in your garage, take a look at it and plan your layout. Know what you'll do in each area of the garage so that you could plan how you'll make space for say, a workbench, or your sports gear.
Install smart storage solutions so that your items are off the floor. Good thing that FlexiMounts has an ongoing Spring Sale wherein you could get 10% off on your final bill if it reaches $300.
Here are some of the items that you could grab from this spring offer:
Price: $179.99
To optimize your garage space, you may want to check this wall shelving out. It will maximize the corner space available in your garage. It can be used as a corner shelf or a 2-pack shelf. Like other wall shelves and overhead storage racks from FlexiMounts, this item features an integrated grid design. One person can easily install this because the package comes with all the necessary hardware. An installation template will help locate where to mount the holes. You may install it in wood studs or a concrete wall. For additional storage, this is compatible with FlexiMounts GRH2/GRH2B and hooks GRH1/GRH1B.
Price: $398.99
This workbench offer, height adjustable and all-purpose, will be a perfect addition to your garage. It is made of solid rubberwood surface and a steel frame with a maximum load capacity of 500 pounds, comfortably carrying your sewing machine, laptop, and other business essentials. It's spacious with 47.2" x 23.6" x 1" dimensions while the height can be adjusted from 29.5" to 44.1". With a wide range, this multipurpose desk lets you sit or stand comfortably while planning for a project of yours that you want to do in the garage or elsewhere at home.
It makes use of a crank handle to manually adjust the height that allows for easier lifting of the desk, even when the load is heavy and full. It also means you won't need extra tools or an electrical outlet just to adjust the height of the table.
Price: $259.99
An alternative to wall shelves is ceiling-mounted storage solutions. This overhead garage storage rack is a FlexiMounts offer that you wouldn't be able to resist. It's 4'x8' in size and is made of cold-roll steel. It uses thick screws, both guaranteeing the product to be sturdy and safe to hold up to 600 pounds.
This stands out in the market because of the integrated grid design that enables it to be assembled easily. It all comes in one box with the hardware and instructions included in the package. People encounter installation problems with products they buy but this one comes with a step-by-step installment instruction and template to follow.
Moreover, this is waterproof and can avoid damaging your seasonal items from water, in case of water leaks in your ceiling when the rain falls hard and seeps into your garage.
What we love the most about this garage storage rack is its height adjustable feature. Each tier can be adjusted from 22" to 40" that can be entirely customizable to the customer.
Price: $129.99
Racks or freestanding ones are perfect for those who have multiple bikes, especially if a lot of people in your family are cyclists. This is very easy to install and set up. Make sure there is space in your garage to accommodate the rack and the bikes that will come with it. It's foldable, made of cold-roll steel, and can carry up to 165 pounds. The arms can be folded when they are not in use. The straps are adjustable and can hold up to four bikes. Its tiltable mainmast helps lift bikes easily. Moreover, the steel structure of this bike rack is durable and of high quality.
We hope you take advantage of this spring sale so that you could finish cleaning your garage and not put it again on hold. Of course, after installing the storage solutions, you return to the garage the items that you have decided you will keep. Label them when you put them in storage so that they're easier to find the next time you need them.