W

hen you're new to joining triathlons, it's understandable that you're at a loss on what gear you should have.
You might be tempted to buy the newest and trendiest in the triathlon market without even considering if your bank account can afford it. You might think it'll help you better during training and on race day. Maybe you're intimidated by the pro triathletes that you want to at least keep up with your gear.
Not everyone has the money to spend though. You don't need to invest a lot of money on triathlon gear; most likely, you have been cycling, swimming, and running for a while so you would pretty much have everything you need already to finish and even ace your first ever triathlon.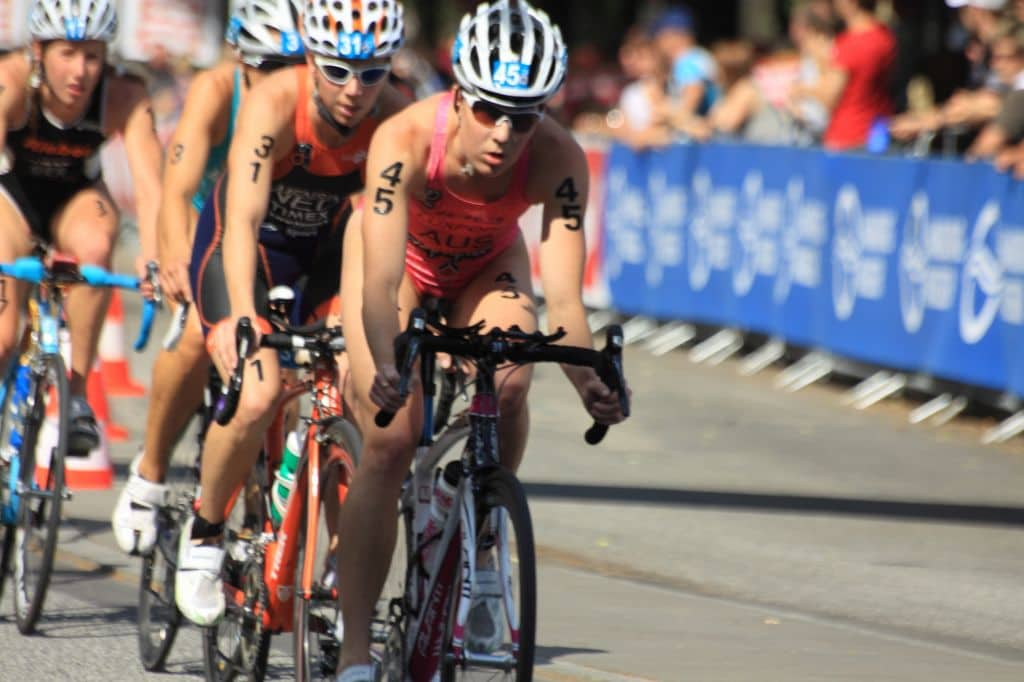 Remember you should only have two goals and those are to have fun and to finish the race. Considering that you are a beginner, you will more likely join a short-distance triathlon. Since the goal is to not have a record-breaking finish, then the number one choice factor for your gear should be your personal comfort. You should know your body and what its needs are. Here are everything you need as a beginner in the triathlon space.
1. Swimsuit
Since you will be joining the swimming leg, then you should have a swimsuit. For guys, wear tight briefs or boxer shorts. For girls, a one or two-piece T-back will protect your bust and you need not worry if straps will fall down during the intensity of the race. Literally, any swimsuit is fine to use. Just make sure that you are comfortable and you could pick up speed with your swimsuit of choice.
2. Goggles
You need goggles for the swimming leg as well. It could be anything as long as they properly fit your eyes and head. According to Prescription Swimming Goggles, the eyewear "should sit comfortably on the bridge of your nose and create a seal all the way around your eyes without any gaps." If you are unsure even after checking on a mirror, ask a friend to double-check if it is the perfect fit.
3. Swim Cap
You have to clear your head and vision of any obstruction when doing the swimming leg. You don't want to be doing butterfly strokes and then suddenly your bangs block your vision and your form gets broken. Wear a swim cap to not have hair on your face while swimming. It also protects your hair from chlorine, if your swimming event will be held in a pool. Plus, a swim cap will make you a bit more hydrodynamic while underwater. Note that the most durable material used in constructing swim gear is silicone.
The swim cap is usually provided for by the race.
4. Towel
You might not think much of it but you need a towel right after the swim leg before you hop onto a bike. You want something that's fast-drying and made of 100% cotton. You need to completely dry yourself out after the swimming event to ensure your safety when you go next to your bike event.
5. Bike
Of course, if you are joining a triathlon, you need to have a bike for the cycling leg. It can be anything that is in your garage, may it be a mountain, a road bike, or a gravel bike. If it's a mountain bike, just replace the tires with slicks so that you'll be faster come race day.
Where to store your bikes?
Hoist Bike Storage
With the name itself, in this type of storage, you'd be using your vacant ceiling space. With a straightforward pulley system, your bike will be lifted up—it won't be taking up the space on the floor for your other objects. Just take note of your ceiling height and if it falls within the minimum requirement before you purchase anything.
The bikes can be hung in FlexiMounts' Basic 4'x8' Overhead Garage Storage Rack GR48. It's a ceiling type of storage where the height can be adjusted from 22 to 40 inches. It's made of cold-roll steel that has a weight capacity of 600 pounds. It's waterproof and can store seasonal items and those that you don't want to be damaged by water. It stands out because of its integrated grid design, which means the bike can be hung onto the grid.
Racks
Racks or freestanding ones are perfect for those who have multiple bikes at home. It's easy to install and set up. Just make sure there is space in your garage to accommodate the rack and the bikes that will come with it. FlexiMounts has a flexible bike hitch rack foldable BHR4. It's foldable, made of cold-roll steel, and can carry up to 165 pounds. The arms can be folded when they are not in use. The straps are adjustable and can hold up to four bikes. Its tiltable mainmast helps lift bikes easily. Not to mention, its steel structure is durable and of high quality.
6. Helmet
Accidents can happen anytime on the road. One of the danger zones is your head so protect yourself by always wearing a helmet. They won't even allow you to join the bike event if you don't have a helmet. Take note that if your helmet has been with you for five years, then it's time to buy a new one.
7. Running Shoes
Buy the best quality running shoes for comfort and speed. You have to make sure that these shoes fit you like a glove. It also needs to match your style of running so that you can perform at your best.
8. Shirt
There are races that don't allow guys to have their bare chests out in the open during the bike and run events. Make sure you have at least two prepared so that you could change anytime you need it.
9. Water Tumbler
You should not forget to hydrate during the race. You can only perform and finish it if you are in the best condition. Of course, one leg after another, you would be sweating a lot and would need water to hydrate. Make sure you have your water bottles prepared.