B

elieve it or not, all cyclists--beginners and masters alike--face the same problems. It's just that these problems often go unnoticed until they have become severe, especially when it comes to our physical health. Oftentimes, too, we quickly dismiss these problems as just a happenstance that we think would not ever occur to us again. Or sometimes, since we are just starting to venture into cycling and we do not have the support group or cycling club to guide us and answer all our questions, it is easier to just accept these problems as a newbie problem. But all the problems that we encounter should not be dismissed so easily as they will affect or cause bigger problems in the future.
In this article, we've rounded up the three most common problems that cyclists face. And we will try to give solutions that have worked for us. But take note that certain solutions to a problem may vary from person to person and that there is no one solution to all. So this guide should be taken with utmost care.
[caption id="attachment_213436" align="aligncenter" width="1024"]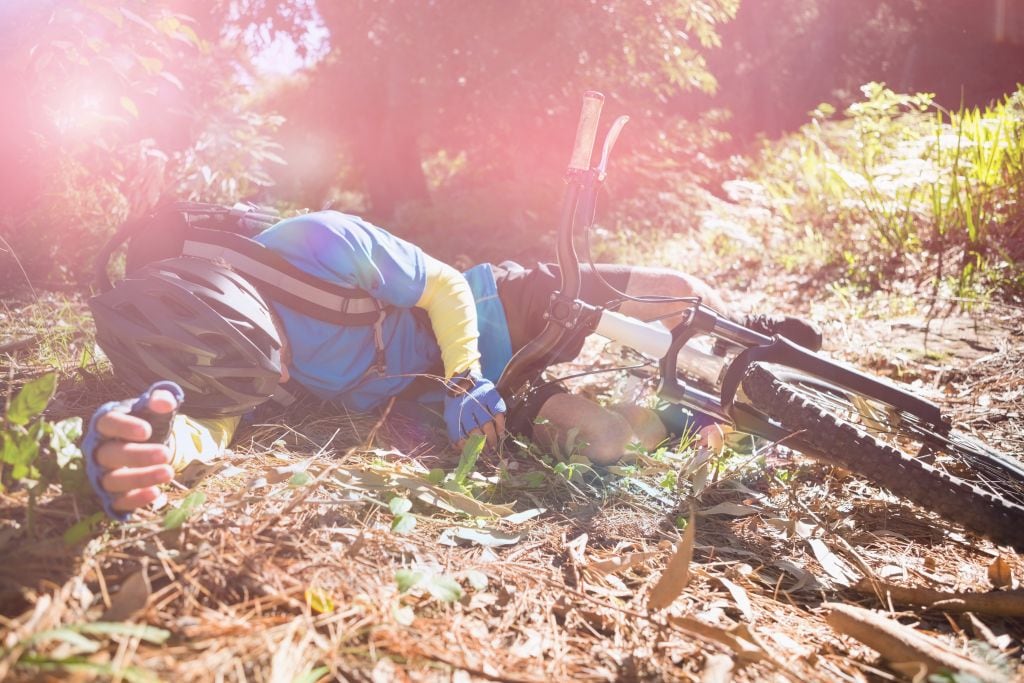 Male mountain biker fallen from his bicycle in forest on sunny day[/caption]
Health problems related to cycling
It has long been established that cycling is a good exercise for you as it involves the entire body at once. It is a good cardio exercise, which can help maintain weight and boost overall health. However, it is seldom talked about how cycling--or developing the wrong form in cycling, and outside elements that affect our safety when cycling, can also result in health or physical problems.
In a study published by the African Journal of Health Professions Education, of the "80 million cyclists in the U.S., about half suffer from neck problems, 42 percent have injured their knees, 36 percent hurt their groin and buttocks, 31 percent damage their hands, and 31 percent hurt their backs." These problems may occur due to sudden falling off a bike or from recurrent movements when cycling. Other causes can also be riding at high speed, which if not controlled will result in a collision against a hard surface, or worse, another speeding vehicle. These injuries may vary in degrees of seriousness, from slight scratch to musculoskeletal trauma to head trauma.
To prevent such untoward accidents, always exercise safety and precaution starting from wearing appropriate gears. Wear a helmet, knee pads, and other protective gear. It is also important to observe and practice proper posture when riding bicycles. It cannot be stressed enough that the pains we feel after a long ride can be stemmed from poor posture and wrong bike parts that don't fit us. So it is crucial that before you buy a bike, make sure that every part of the bike feels comfortable when riding it. Check the brakes, the saddles, the pedals.
Knee pains, muscle tightness, and foot numbness can be overcome with proper warm-up exercises before you get on a bike and cool down after the long ride. Your muscles will be strained abruptly when they are too relaxed. So, it is good to stretch your muscles. Also, make sure to wear proper fit shoes as riding in different landscapes can put too much strain on your feet and knees, and do not forget to fasten the feet to the pedals with cleats on the bottom of the shoes. A massage can also help with the relaxing of muscles. Putting a kinesiology tape before riding a bike will also do wonders for your muscles.
Road safety when cycling
It is inevitable to share the roads with other and bigger vehicles. Although most roads have a lane solely for bicycles, there is still fear in us whenever we hit the roads, especially along the highways and busy streets.
The rule that we abide by is to always think that all drivers are bad drivers--there are drivers who are distracted or hostile, speeders, texters, or have no in any way respect to the road safety signs. And if we think this way, we will be extra cautious when cycling and sharing the roads with them. This is not to say that we are the only ones to adjust most of the time, but it is a caution for us to safeguard our safety.
In the dark, always wear everything reflective--from jackets to decals to neon bags, and always attach lumen lights onto your bicycles.
It is always a protocol to check the condition of your bike before hopping on. Check if the air in your tires is enough, brakes are well-functioning, pedals are not slippery, and the likes. Make it a habit to have a checklist to assure that your safety will be met.
Securing bike storage
A responsible cyclist not only secures the gears one wears when cycling but also safekeeping when one is not using the bicycle. And of course, good equipment to safeguard the transporting of bikes when you decide to have a hillside ride or off-city rides.
Fleximounts offers reliable products for every cyclist's needs. First on the list is the BR1 Wall Mount Bike Rack. It supports up to 6 bikes and 300lbs. Durability is no question as it is made of powder-coated, cold-rolled steel, which resists rusting, chipping, and cracking. It also goes with premium bike hooks that are wrapped with dense sponge foam tubing to prevent aging and cracking while also protecting your bike's wheels, hubs, and spokes. The J-shaped hooks perfectly fit the curvature of your bike hubs and provide a firm grip to secure the bicycles in position.
And the product that provides assurance when transporting the bike is the BHR4 Bike Hitch Rack. The rack has adjustable straps that can hold up to four bikes with different frame sizes. The rack's body can swing up, down, forward and backward, which allows easier lifting of bikes. It also has an anti-wobble knob to push it back to its original position and also strengthens the connection between the mainmast and folding armens. This means that the bike rack can be securely fixed in place. Moreover, the rack's arms can be easily folded when not in use, so they won't get in the way even if they are installed in your vehicle.