O

nce you have been bitten by the cycling fascination, there is no going back, honestly. You start to purchase a commuter bike, then appropriate gears and accessories. The next thing you know, you are in the bicycle store inquiring about a mountain bike. Then, you will see yourself going home with the newly bought mountain bike and thinking when to free your schedule to finally hop on your new baby. If you think it will stop here, then you are mistaken. Over the years, your biking arsenal will grow and grow in number. And you will be needing an effective and organized storage space for your cycling hobby.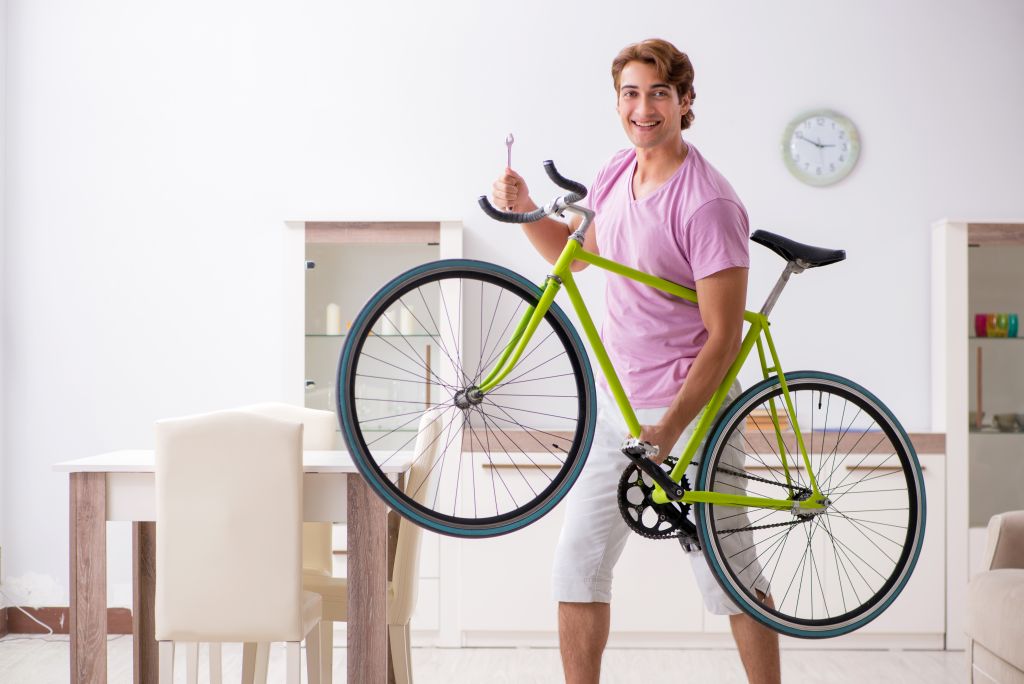 You have spent hundreds or even thousands of dollars purchasing your bicycles and accessories, and surely you want them to be kept in pristine conditions. Parking them on the lawn or in front of your house will never be an option. The open-air parking will make your gears susceptible to external defacing as the weather temperatures vary from season to season. Too humid or too cold is not good for your gears.
Storing them indoors is the best option that you will have. If you only have one bicycle, and a folding one at that, storing it in the living room or bedroom would not be a problem at all. However, since you are using your bicycles outside, it is exposed to too much dirt. Even if you are a clean freak who washes his bicycles after use, trust us when we say that it is not hygienic to store them in spaces that are used for sleeping or eating.
More problems arise when you own two or more bikes that could be cramped up in the living space together with your furniture. A good way to solve this is to store them in your garage. Do not worry if a car already parks in the space, or your bike needs to share the space with boxes and boxes of seldomly used home stuff. A vertical wall mounts to store your bikes will be the most convenient. Aside from not having to eat too much floor space, the wall-mounted storage will generally be safer and kinder to keep your bicycles in pristine condition.
The first thing that you have to check is the heating and air conditioning of the garage. When moisture builds up in the space, your bicycles will be susceptible to rust, components to loosen or worst case, crack. It is actually not the mere hotness or coldness of the temperature in the garage that is bad for your gears, but the changing of temperatures. If you ride your bike during winter and the garage space has too much heat, then your bike will build up moisture. It's also the same case when it is summer and yet the air conditioning of the garage is too low.
Another moisture-inducing element that you need to handle is resting your bike's tires on a bare concrete floor for a long time. The moisture that the concrete floor will draw out from the rubber of the tires will cause them to dry rot and age prematurely. To avoid this, store your bikes by letting them stand upright on the garage floor. Another solution is to put wood, carpet, rug, or rubber mat to avoid direct contact with the concrete floor.
However, bikes stacked horizontally on the floor are not a really good way to store them, especially if you have more than one bike as they will occupy a large amount of floor space. And storing them upright would only make them lean on another bike. Most storages like this only have hoops that support the front tire of the bike, which will mess up with the weight support of the whole bike. And if you have more than four bikes stacked together, you will have a hard time getting to the bikes and pull out a certain bike when you need to use it.
What we would suggest though is to mount your bikes to the wall or ceiling. This is the most space saver alternative, generally cheaper way to stack your bikes, and simple to use. But if you are renting your place, better ask permission first from your landlord as you will be drilling the walls.
Fleximounts BR1 Wall Mount Bike Rack
The J-shaped hooks are easy to use as they fit perfectly to the curvature of your bike hubs, thus, providing a firm grip to secure the bicycles in their proper position. You need not worry about the hooks coming off the hanging bikes because each hook is mounted securely. And the good thing also is that the premium bike hooks are wrapped with dense sponge foam tubing, which prevents aging and cracking and offers better protection for your bike's wheels, hubs, and spokes.
The hooks can easily be re-positioned anywhere on the rack to suit different bicycle sizes as storage needs change. The bike wall mount hanger fits most types of bicycles (within 2.56-in range in diameter), including mountain bikes, road bikes, and kids bikes. But this excludes wide-tire bikes.
The wall mount bike rack is made of high-quality materials. It is created from powder-coated, cold-rolled steel for durability, which resists rusting, chipping, and cracking. The racks available can hold 1 bike, 4 bikes, or 6 bikes. It can hold up to 300 lbs or 136 kg for the 6-bike rack. They are heavy-duty and long-lasting that can withstand years, and are dependable for load-bearing performance. This is especially good for cyclists who will take this lifestyle for a very long time. And of course, as you venture into cycling, a high chance would be to buy more bicycles that fit a certain activity. So, this could mean the need for more storage space and durable storage racks.
Easy Installation
You don't need to be a pro to install the bike mount rack. The easy-to-follow step-by-step guide is made doable for novices out there.
First, make a horizontal line and mark the mounting holes. Then drill holes and install the wall plates with tapping screws.
Second, Pass the bike rod through the left wall plate.
Third, Insert hooks from the right end of the bike rod in order.
Last, fix the left end of the rod with two screws. Then plug in the right end of the rod.
Final Thoughts
Utilizing the Fleximounts BR1 Wall Mount Bike Rack in your garage offers maximum use of your garage space as every square meter is utilized well especially if you use your garage as storage space for a lot of things, as well as parking space. Moreover, easy access to the bike racks will save you energy and time! And not to mention money-saving as the bike rack is durable and you can use it for many years to come.