W

hile there are already many uses for garages today aside from storage, it still remains to be the primary purpose of your garage. You might not know what exactly you can store inside it, apart from your car of course.
You might think that you can store anything in your garage but that's not the case. There are many materials that are dangerous to store inside your garage. This is why you need a rough guide on what you can store in the vacant space and what you couldn't.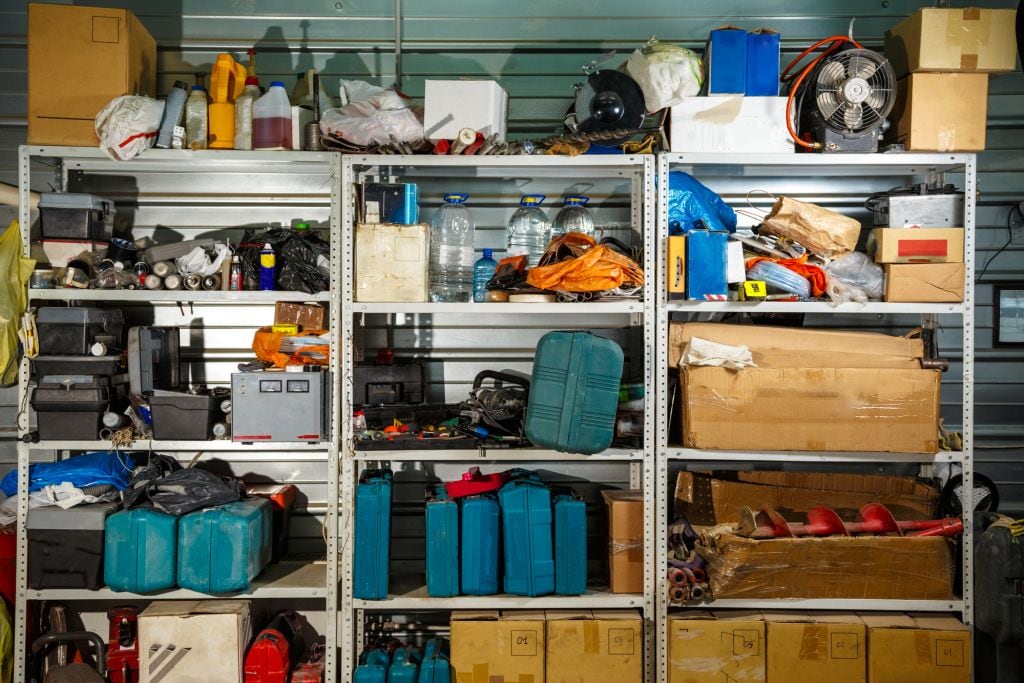 We listed down items below for garage storage and those that aren't.
As a rule of thumb, the things you store in the garage are mostly those that you use outdoors.
Supplies for your Car
When you are not using your car, it is most likely parked in your garage. Or if your garage is full of clutter, the car is in your driveway or somewhere near your house. This means it only makes sense to store everything that you need to maintain the car in your garage. These might include tire inflators or wiper fluid which you usually would use for your car. You can also put in the garage the items that you always put in the car for transport. Say you go camping with your family every now and then. The gear for that is placed in the car every time you'd go out to a site to camp.
You can always make use of wall shelves or overhead storage items for big and bulky items to be stored in the garage. In this way, you are able to maximize the storage space of your garage while also keeping the floor free for car parking and other purposes. It also ensures that your items are organized and are easier to find and access.
Tools for Gardening and Maintaining the Yard
Since your garage is the closest to the garden or the backyard, the perfect area to store tools for these areas is the garage. So what do you use in a garden or backyard? You make use of a lawnmower, hoses, outdoor extension cords, shovels, flower pots and anything you can think of for the garden. You can also store in the garage the soil you need for potting, ice buckets, and other bulky supplies you need for the outdoors. A good garage layout includes a pegboard where you can easily see the tools that you have and grab it anytime you need.
Toys for the Outdoors
If you have kids at home, you would most likely have outdoor toys. These are best kept in the garage when the kids aren't using them. For example, an outdoor inflatable pool can be kept in the garage. You can also include accessories for the pool, small bicycles, and even unused furniture for the patio. The Spruce suggests to keep toys in clear plastic storage bins so that it's easy to spot what toys you have in the garage.
Occasional/ Seasonal Items
There are items that you really only use depending on the occasion or the season. These include sports equipment, holiday decor, and documents. Documents are better kept in the attic or basement. But for athletic gear or heavy duty items, the garage is the better place for them.
You can also tuck in garage items that you are eventually planning to discard or move to a different location. The garage can be their temporary residence.
So now that you have an idea what to store in the garage, you need to have smart storage solutions in place to organize them in an orderly and neat fashion. When it's nice and tidy, it is much easier to spot items and access them.
Here are FlexiMounts items where you can store your belongings in:
The things listed above are usually big and heavy so you need to get a wall shelf with a big weight capacity, those that specifically accommodates heavy-duty storage equipment. This product has a weight capacity of 200 to 400 pounds in total. It is of high-grade powder-coated steel that guarantees stability and security of anything you store inside of it.
When this arrives at the house, all hardware would be included in the package including a manual to guide you installing this storage option. The design is signature of FlexiMounts: a buckle design that comes with velcros to avoid anything from falling. It has undergone strict quality tests so you can be assured that it's made of top durable material. Buy this if you have wood studs and a concrete wall.
FlexiMounts also provide this with thicker screws, compared to other furniture stores that only use thinner screws. When checking out, don't forget to use the code, 7DD15, for the discount to apply in your order.
This product offers vertical support and longer ceiling brackets. It will prevent the shelf from falling from the ceiling because it is secured on the wall. Its weight capacity is 400 to 600 pounds and the height can be adjusted from 22 to 40 inches. It is made of cold-roll steel that is guaranteed to be of their belongings damaged from water. It could store seasonal items such as athletic gear they will only use for winter or for summer. This comes with an integrated grid design, a standout design from those available in the market. This comes in black and white and different storage spaces: 4' x 8', 4' x 6', 3' x 8', 3' x 6', and 2' x 8'.
WS SERIES ADJUSTABLE 3-TIER WALL SHELVING
If you need a space-saver, go grab this 3-tier wall shelving. It features up to three levels of shelves that will provide multiple storage compartments for a small garage. The brand boasts of a patent structure design where they won't be needing any tools to adjust the product. The weight capacity of this wall shelf is 300 to 450 pounds in total. They may adjust the height of each level according to their actual needs. It comes in two sizes that they can choose from: 1'x3' and 1'x4.' It is made of powder-coated steel that is guaranteed to be of high quality.