T

here are many things to consider when buying a new bike. First, you have to take into account what you'll be using it for. Will you be biking more on the road, up the mountains, or on more rough terrains? Second is you have to check your budget. How much can you shell out and you're willing to pay for a bike? The third is you have to consider the brand's legacy and the country where the bike was made. The top five bike-producing countries are China, India, Taiwan, Japan, and the European Union. These affect the price more than you think. Fourth is to know what size you are getting. What's perfect for your height and body type? Will the frame size help you attain the ideal riding posture? You have to consider the gears. Do you want a drop-bar or a flat bar? How long should the stem be? What accessories should you get and will help you when you're on the road?
With all these in mind, some people tend to forget that they also need to think about bike storage. Do you have a garage at home and is there a space in it for your new bike? Are you storing your bike at a secure place or do others have access to it? Is it okay for your landlord to install a wall hook for your bike? How heavy and big is your bike? You should give this careful though because you did not just spend a thousand bucks or more to let your bike rot in waste.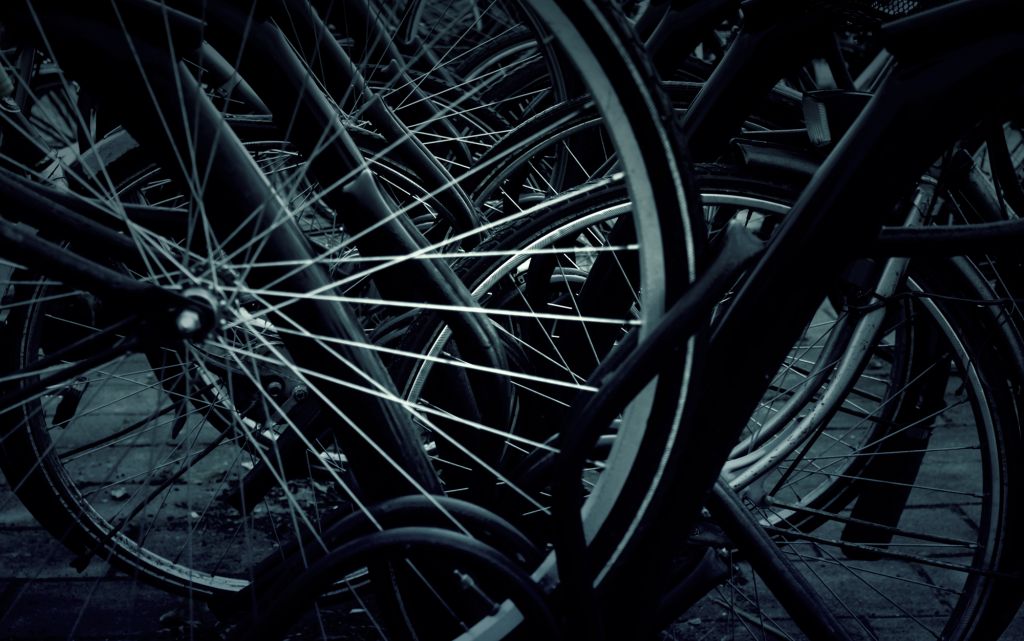 How to Store Your Bike in a Cramped Space
Wall Shelves
Easy to install and doesn't take up floor space? Sign us up! Most wall mounts will have your bike hanging vertically so it's only the front wheel that should be lifted into position.
First of all, know how heavy your bike is and if your wall shelf can carry it. Most bikes are 17 to 21 pounds heavy so make sure that your wall shelf, considering the belongings it already houses, could still carry light to heavy bikes. FlexiMounts has a Classic 2-Pack 2'x6' Wall Shelving WR26 that is wall-mounted, has two tiers, and can carry up to 400 pounds in total. It's made of powder-coated steel that has undergone strict tests. It can be suitable for wood studs or a concrete wall. It has a grid design and buckles with velcros installed. This means the bike can be hung onto the gridlines.
Pre-Black Friday Sale alert: From $229.99, you may get this at $195.49 using the code BFCM15 up until November 14, 2021.
Wall Hooks
Another way of storing your bike is by installing wall hooks. These are usually screwed into the wall where the bikes can be hung like they're a magnificent store display. Same with wall shelves, it won't take up floor space.
FlexiMounts has a hanger wall-mounted bike rack BR1 that's priced at $45.99 to $69.99. The height is adjustable and the weight capacity is up to 300 pounds. It's made of cold-roll steel that can support up to six bikes. These are J-shaped hooks that will secure your bike in the proper vertical position. The hook spacing can be adjusted because it's your discretion where to position them. These can also be easily installed with just four steps to follow. Drill holes in a horizontal line where you can install wall plates with tapping screws. Pass the bike rod through the plate in the left wall and insert the hooks on the right end of the bike rod. Last is to fix the left end of the rod with two screws then plug it into the right end.
Hoist Bike Storage
With the name itself, in this type of storage, you'd be using your vacant ceiling space. With a straightforward pulley system, your bike will be lifted up—it won't be taking up the space on the floor for your other objects. Just take note of your ceiling height and if it falls within the minimum requirement before you purchase anything.
The bikes can be hung in FlexiMounts' Classic 4'x8' Overhead Garage Storage Rack GR48. It's a ceiling type of storage where the height can be adjusted from 22 to 40 inches. It's made of cold-roll steel that has a weight capacity of 600 pounds. It's waterproof and can store seasonal items and those that you don't want to be damaged by water. It stands out because of its integrated grid design, which means the bike can be hung onto the grid.
Pre-Black Friday offer: From $275.99, you may get this overhead storage rack at $234.59 on the Pre-Black Friday Sale of FlexiMounts. Just use the code BFCM15 until November 14 to avail of this once-in-a-lifetime discount.
Racks
Racks or freestanding ones are perfect for those who have multiple bikes at home. It's easy to install and set up. Just make sure there is space in your garage to accommodate the rack and the bikes that will come with it. FlexiMounts has a flexible bike hitch rack foldable BHR4. It's foldable, made of cold-roll steel, and can carry up to 165 pounds. The arms can be folded when they are not in use. The straps are adjustable and can hold up to four bikes. Its tiltable mainmast helps lift bikes easily. Not to mention, its steel structure is durable and of high quality.
Outdoor Storage
If you're storing your bike outdoors which we don't recommend for security reasons but just in case, have bicycle sheds, tents, or cover ready for your bike. A bike cover can help your bike withstand changing weather while on the outside; a bike shed can store more than one bike and provide some sort of security; a bicycle tent can be set up by using a floor stand, rack, or kickstand.
Final Thoughts
Don't ever take bike storage for granted because it will secure your bike from thieves as well as your bike's life expectancy.