T

he garage is an often neglected area of one's home. Since neglected, most homeowners realize late to the game that they could have actually increased the value of their home by upgrading their garage. Don't commit this mistake and see your house as an investment. Every time you remodel an area means you are increasing its value when you decide to sell it at some point in your life. You may even track your house's current value by comparing available housing market data.
It may seem like remodelling or upgrading your garage can be an additional expense right now but you'll see how much it's worth the extra payments once you're about to sell. When you renovate or improve your garage, you don't even need to be an expert to execute some trends that will increase its current value. Here are four ways that you could upgrade your garage.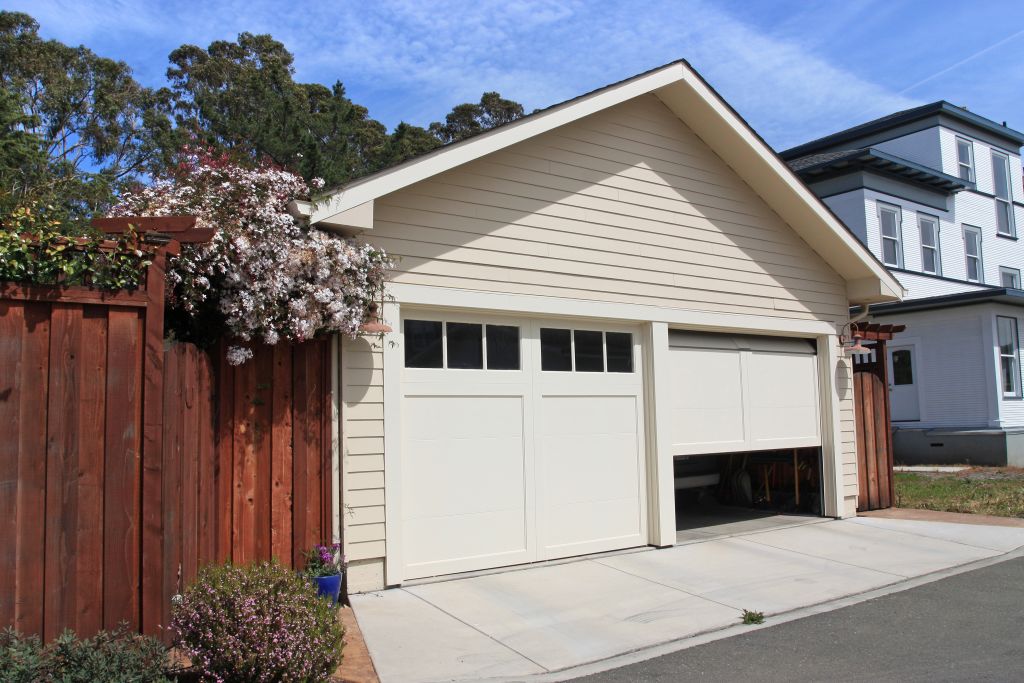 1. Increase the value of your garage by buying a new garage door.
Your garage door makes up for a portion of your home's exterior which means sprucing it up can increase your curb appeal. It will make your house look nicer and more expensive which will make future potential buyers line up their bids. One thing to increase that curb appeal is to invest in your garage door. Compared to other renovations you have to do at your house, changing the garage door won't be as pricey. It still depends though on what you will replace it with or how you're going to make it look more eye-catching without being tacky.
2. Increase the value of your garage by installing storage solutions.
Your garage is a space that can be used for storage. It's a practical use for your garage space that could automatically increase the value of your house. You might consider taking your cabinets and shelves along with you when you move to a new house but leaving them behind can also actually entice buyers to your house.
Go for storage solutions that have both function and style. You would want something that can make excellent use of your available space that takes advantage of every nook and corner. You can go for overhead racks, wall shelves, utility hooks, and heavy-duty storage shelves that are all available at FlexiMounts. Below are three storage solutions from the brand.
Giant 2' x' 4' Garage Shelving Heavy Duty FS24
Made of durable material that is high-quality carbon steel, this storage solution has a weight capacity of 4,650 pounds. It's sized at 2' x 4 and has adjustable shelves that you could customize the height and width of each tier. Its locking pins ensure that crossbeams stay secure and still. It can be used for garages as well as warehouses, factories, and even in your kitchen. You also don't have to worry about installation because some parts are already pre-installed and there are clear instructions available for the remaining parts to assemble. Moreover, it has four support straps and rugged plastic footpads.
Classic 4′ X 8′ Overhead Garage Storage Rack (with hooks) GR48-H
This storage solution is ceiling-mounted, sized 4" x 8," height adjustable from 22 to 40 inches, and it's also made of cold-roll steel. It boasts of high-quality construction that can safely carry a weight totaling to 600 pounds. It's also waterproof like the GF48F and is perfect as well for storing seasonal objects. It comes with two accessories: 4 pieces of flat hooks (GRH1) and two pieces of utility hooks (GRH3). The integrated grid design just made it, even more, easier to install by oneself. It also keeps the integrated wire grid and frames welded together that resulting in a sturdy and stable storage solution.
Hanger Wall-mounted Bike Rack BR1
This is just one of FlexiMounts' bike storage solutions. It has a weight capacity of up to 300 pounds. The material is made of cold-roll steel and has J-shaped hooks that could secure bicycles in the proper position. Its hooks can be re-positioned and be based on the spacing that you prefer. Bikes can be stored in a vertical position which will free up space and optimize your garage. It's easy and fast to assemble and could support up to six bikes.
Classic 2-Pack Wall Shelving WR Series
This wall mount shelving solution has a weight capacity of 200 to 400 pounds in total. It's made of powder-coated steel that is guaranteed to be of top material that has gone through strict tests. It has a buckle design that prevents falling and can be mounted on studs or a concrete wall. Three storage spaces are available for this wall shelf: 2' x 4', 1 x 6, and 1' X 4.' It comes in black or white.
3. Increase the value of your garage by changing its floor.
You may think that changing the floor would cost you a lot, and yes it might. It might also not. You could simply apply epoxy on your garage floor and you've already upgraded it. This would last you for years so you could enjoy a crack-free garage while you're still living in your house. Discerning buyers who pay attention to detail will surely not miss your perfect garage floor.
4. Increase the value of your garage by installing insulation.
You would immediately increase the value of your garage and your home if it has the proper insulation. The garage gets extremely cold during the winter and extremely hot during the summer season. Insulating all air entryways would help control the climate inside and make your garage usable during any season of the year. The market will surely see that benefit and would be happy to pay extra for a place that is adaptable to any season. You can install insulation all by yourself and it is also not that hefty to the wallet.
Black Friday Deals
Make the most out of Black Friday and enjoy a 30% discount on all purchases over $300 made at the Fleximounts' site. On-sale items are included in the discount and can be used along with coupons.