Their material composition mainly characterizes the ideal garage shelves and whether they can be used as a freestanding or wall/ceiling shelf. Of course, prices can vary by materials, shelf size, craftsmanship, and manufacturer. But for it to be the best match for you, here are some things that you need to consider before getting one for your garage.
Two is Better than One
There are three types of garage shelving that you need to consider. First is the freestanding shelf unit that you can move around a room quickly as you please. The second and third type is the wall or ceiling-mounted shelves permanently secured with structural studs such as metal brackets.
Freestand Shelves - Provides freedom and maneuverability due to their lack of attachment to any surfaces, but they can also consume useful floor space and obstruct other operations (like your parking space). Typically, they are constructed from timber, metal, or a blend of the two.

Wall-Mounted Shelves - These are secured with metal brackets at regular intervals into studs (vertical structural beams). After that, the steel, wire, or hardwood shelf is mounted to this bracket for optimal stability and durability.

Ceiling-Mounted Shelves - These are fastened to the ceiling studs with long, adaptable metal brackets which are suitable for keeping seasonal products and equipment that you only use on a temporary basis. Welded steel construction can provide secure and dependable storage (up to 600 pounds of weight). Utilize a ladder or step stool to get access to these shelves.
Materials Used for Your Shelf
There are three types of material that every brand utilizes for an elevated garage experience.
What Wood You Get?
Wooden shelves are an attractive and environmentally friendly addition to any garage space. It gives beauty to your working and storage rooms while being entirely functional. If you want a robust and sturdy shelf, oak and maple are the best choices for you. Not only would those add a warm look to your garage, but those two choices are also durable enough to keep their shape even as you load those with heavy equipment. On the other hand, softwoods such as pine and pressed woods like plywood and chipboard are suitable for light storage or for beautifully displaying your most prized possessions. As long as you put lightweight materials above these softwood shelving, you will never encounter any warp, buckling, especially breaking.
Wooden shelving usually comes in a build-it-yourself kit with all the necessary components and details instructions for you to follow. However, keep in mind that you will provide your lumber in most cases.
The only downside to a wooden shelf is the porous quality of every wood. Therefore, it would help to consider eco-friendly wood treatments to keep it in its pristine condition. Treating your wooden shelves would also help prevent termite infestation that could ruin all of your hard work in a snap. This step may seem like a nuisance, but it is worth it in the end as you save more money in the long run than building another one.
All for Metal
If you are on the lookout for a ready-made shelf, consider the ones made from metal.
Metal shelves are capable of supporting heavier weights and are available in several sizes and shapes. Furthermore, metal shelves are easy to maintain as the non-porous material will not absorb liquids or pigment in the event of a spill. Metal shelves are capable of supporting heavier weights and are available in several sizes and shapes. In addition, metal shelves come in a multitude of finishes, including charcoal or coated with a protective finish that inhibits corrosion and damages.
While durable metal shelves are ideal for heavy-duty apparatus, wire racks provide the strength and durability of steel without the additional weight. These shelves are intended for any cans, equipment, containers, and bins. In addition, those are often constructed from steel or chromium mesh: a surface composed of interconnected metal filaments that form a strong grid, webbing, or netting.
Adjust and Conquer
Depending on the things you intend to keep, you may need to adjust the height of your racks to gain or lose space between layers. Ergonomic rail shelves provide this versatility through the use of vertical metal tracks installed in the wall. These tracks are perforated at regular spacing and are equipped with metal brackets that fit into each slot. Depending on the things you intend to keep, you may need to adjust the height of your racks to gain or lose space between layers. To change the size of your shelf, remove it, modify the brackets, and reinstall your frame at the needed height. Adjustable shelves, which are frequently composed of steel wire, are capable of supporting hefty objects as long as the brackets are also soldered steel.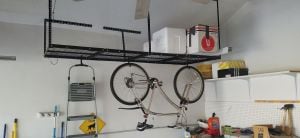 Where to Get the Best Garage Shelves?
These are some of the things that you need to remember before getting a garage shelve for additional storage. At
FlexiMounts
, we offer the best garage solutions according to your needs.
If you want a wooden rack with the durability of steel, consider purchasing the
GR48F/GR48FB BASIC 4'X8′ OVERHEAD GARAGE STORAGE RACK FRAME.
You can choose which type of lightweight wood to use for these overhead garage storage. Apart from that, we also offer a myriad of
FlexiMounts
wire grids to support the wood better. Our rack can be installed parallel or perpendicular to the wall. In any situation, the vertical posts should be 48" apart. If your ceiling is coated with drywall, locate the ceiling joists with a stud finder.
For your convenience, you can invest in the
GL44B 4′ X 4′ OVERHEAD GARAGE STORAGE LIFT BLACK
. Lifting and lowering your overhead garage storage rack is effortless with the supplied hand crank or perhaps an electric power drill (not provided). The
GL44B 4′ X 4′ OVERHEAD GARAGE STORAGE LIFT BLACK
is ideal for those in need of a secure, elegant, and convenient option for overhead home storage.
Any way you want it, FlexiMounts has the best storage solution for any size and type of garage.