It can be tedious to own and, more importantly, maintain a garage. Maintaining a clean and tidy facility costs money, time, and effort. But they won't be in vain if you start off with the correct equipment, tools, and supplies to make the most of every square foot you have while improving the space. It is never too late to reorganize your garage, even if you decide to do so only today. We know, the organization of your garage is something you've been meaning to do for a while, at least you have the motivation to do it now. I make it a practice to check every corner of my garage area at least three times a week since I'm a self-described neat freak. If my garage isn't thoroughly cleaned, cobwebs and insects could hide in the corners. The walls and floor might get damaged by rust, oil, and chemical spills. Boxes and storage spaces that are disorganized might lead to unfortunate accidents and force me to check each box whenever I require a particular tool. Thank goodness, I've discovered just the correct tools to meet all of my demands. Here's a list of the finest garage organizing purchases I've made.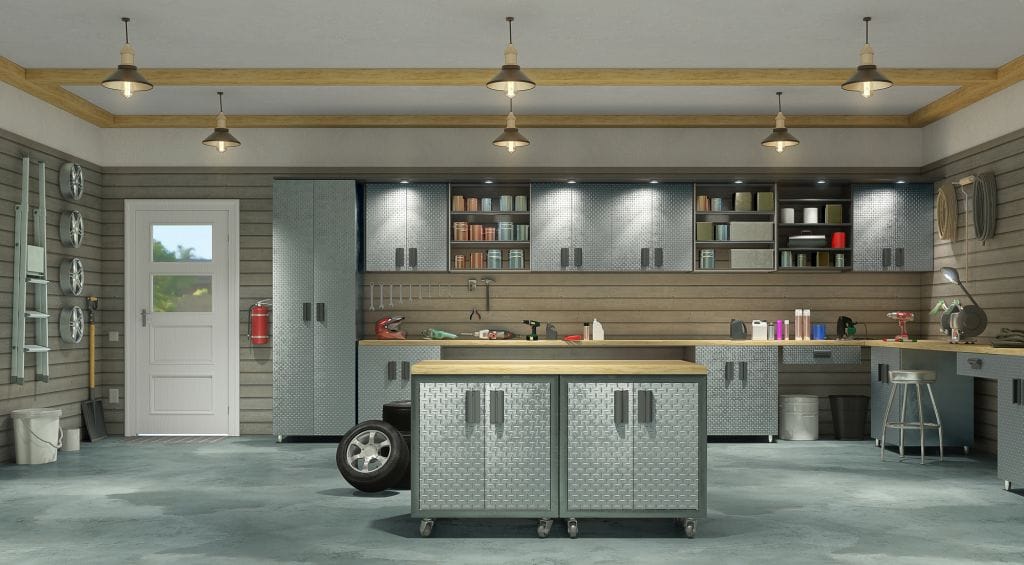 The first item on the list is overhead garage racks. To be honest, there's a lot of junk taking up too much room in the garage, making parking my car a bit difficult. There is a concern about accidentally slamming over a box of tools that are kept on the floor. As a result, overhead garage racks are a simple and effective answer to that problem. By installing them, I open up an extra floor room for my car. This sturdy overhead storage system offers a secure location to arrange your belongings. The frame and integrated wire grid design are welded together to strengthen and stabilize the system. Due to its design using thick gauge cold-rolled steel, it can safely support loads up to 600 lbs. Compared to similar items, the Fleximounts storage rack features thicker screws. A handy and secure area to keep your belongings is provided by the height-adjustable rack, which ranges from 22" to 40". Additionally, it is waterproof, so you don't have to be concerned about any water damage to your storage rack. Aside from that, assembly is made simpler by its integrated grid design. The storage rack is simple to comprehend and put together, even for non-mechanical persons.
Fleximounts WB107 Customizable Workbench Shelving Frame
Every garage workshop needs workbenches. The fact that you spend most of your time working on projects on a worktop only serves to highlight the importance of making a workbench your initial investment. You need to make a list of the qualities you want in your workbench because there are so many different workbenches on the market, all of which may fit in your garage. The workstation should be strong and roomy in addition to that. It is only appropriate for that initial criterion, given the sheer amount of equipment and supplies you would require. Next, having built-in shelving takes the cake on this one, likewise in relation to the prior two. When you have shelves to keep these products, you can reach them with less effort, which reduces the amount of time and energy you would need to use walking back and forth each time you need another tool or material. The Fleximounts WB107 Customizable Workstation Shelving Frame is one such dependable workbench that you may utilize to the most while working. This workbench can hold twice as much as conventional workbenches since it is assembled of heavy-duty steel, notably iron for the workbench legs. Its workbench legs are made of iron and last for many years. Additionally, it uses superior stainless steel screws. The workstation offers robust load-bearing capability with a loading capacity of up to 1000 lbs per shelf. You can paint, stain, or finish the wood any way you choose to fit your preferences for the color and finish of the WB107's lumber. The workbench may be as long as 96 inches, as wide as 48 inches, and as tall as you choose within the allowable height range. The workbench is adaptable enough to be used in the garage for a variety of tasks, including building tables, potting benches, or even serving as a home study desk. Furthermore, because the box already includes all the required components, you may assemble this desk on your own in the convenience of your own garage.
This wall shelf makes the most of the corner wall to reduce the amount of ceiling space needed. The fact that you can use it as a corner shelf or a two-pack of wall shelves makes it even better. Its one-piece integrated grid design makes installation simpler and increases stability compared to similar products that need many pieces. Additionally, with all the necessary hardware included in the box, it can be installed by one person. An installation template is included, which aids in mounting holes and includes a bubble level for precise horizontal positioning. It is more robust and strong because the clasp with Velcro prevents the brackets from dropping or bending. Safety loading up to 440 lbs total is provided by the strong gauge steel structure. As a result, it may be secured to substantial concrete walls or wall studs.
The J-shaped hooks are simple to use since they exactly fit to the curve of your bike hubs, offering a tight grip to hold the bicycles in their correct position. Each hook is secured firmly, so you don't have to worry about them coming off the hanging bikes. The premium bike hooks also have the added benefit of being encased in thick sponge foam tubing, which keeps them from aging and breaking, and provides superior protection for your bike's wheels, hubs, and spokes. As storage requirements vary, the hooks may be readily repositioned to accommodate various bicycle sizes anywhere on the rack. The bike wall-mounted hanger is compatible with the majority of bicycle varieties (within a 2.56-in diameter range), including kids', road, and mountain bikes. However, wide-tired bikes are not covered by this. High-quality materials were used to create the wall-mounted bike rack. For longevity, it is made from cold-rolled steel that has been powder-coated to prevent corrosion, chipping, and cracking. One, four, or six bikes may all fit on the available racks. The 6-bike rack can support up to 300 pounds, or 136 kg. They are trustworthy for load-bearing performance, heavy-duty, and long-lasting, and they can sustain years of use. For cyclists who intend to live this way of life for a very long period, this is extremely beneficial. And of course, as you become more into cycling, there's a good possibility you'll acquire more bicycles that are appropriate for particular activities. The requirement for greater storage space and sturdy storage racks may result from this.