D

uring the initial wave of the deadly virus, many people have resorted to transforming their garage into a place where they can find some solace as well as use it as a hangout point for everyone. And for men, turning the garage into their personal man cave is the right solution for their boredom.
You may be asking why the garage though. Well, for starters, most of the car stuff is already inside the area. A garage is also a place where they can make so much noise without disturbing the whole neighborhood. In addition to that, a garage is a place ripe with renovation ideas that would spring to mind. This is an area where everything can be made possible with just a little bit of ingenuity and a whole lot of patience plus effort.
With all of that in mind, it is vital to adorn the place with the right items which are both aesthetically pleasing and useful. These major items must be included in every guy's personal paradise.
The garage may only be a little area, but once it is appropriately outfitted, it may become a genuine enjoyment paradise for guys and their close friends. So without further ado, here is the stuff that will make a man cave the best area he would ever have.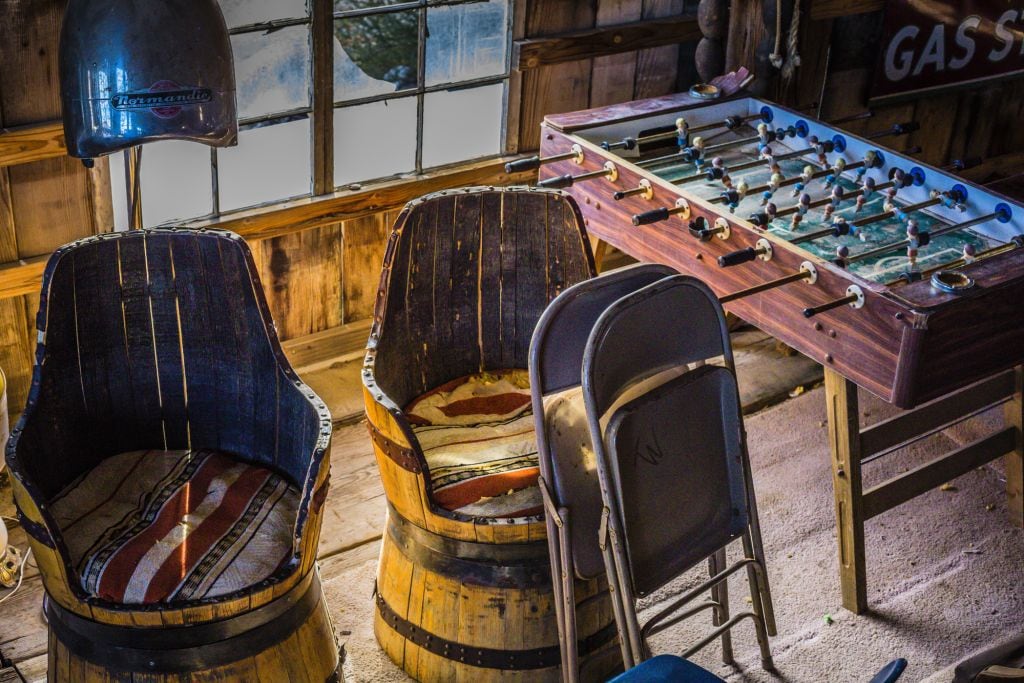 Surfing the TV and the Internet
Let us face it, most people cannot live without their daily dose of the internet. Everyone can spend their whole day surfing it because interesting things on the internet would never run out. On the other hand, televisions give shows which might not be available on the internet just yet. So why do people need to have a television and internet connection within their man cave?
As most sports fans know, watching a basketball or football game is more fun with the company of some close friends. This is where the television would come in handy. Having a smart TV within the man cave is a smart and surprisingly inexpensive way to have their personal cinema house. They can also add DVD players if they want an old-school appeal or just stick with the internet to get their fix.
Speaking of getting their fix, the garage tends to have little to no internet signal within it. To mitigate this problem, man cave owners can install Wi-Fi signal boosters within the area. These would hardly take away from the aesthetics that people might be going for since these boosters can be easily concealed within plain sight. If you are having trouble choosing the right signal booster for you, it would be best to check with the customer service of the internet provider. They would probably have a ready answer for you for just a small amount of cash.
If you have both of these in the man cave, lucky you because you can now connect the TV to the internet and surf as you please all day long in the comforts of your man cave.
Let's Play with a Gaming Console
Most often than not, gaming consoles are kept inside the living room and even the bedroom. While there is no right or wrong way to store these it would be better to keep this inside an area where no one would be disturbed. Especially if the rest of the household are not game-savvy, putting this inside the man cave is a better idea.
By adding a gaming console within the man cave, anyone could shout, holler, and even cuss without the worry of someone overhearing (especially kids.) The man cave is also a perfect room to play video games since your friends can easily access it without disturbing the other people inside the house.
Having the gaming console within one place would also make it easier for everyone to organize. There would be no need to move this around as it now is placed on its permanent location.
A Little Man Cave Gym for those Big Gains
While a man cave is meant for chilling and hanging out, there is no hard rule that states that guys cannot use this as a fitness area as well.
You can add barbels and other gym equipment that would hardly take up some space. Speaking of space, FlexiMounts amazing shelf like the FREE 2′ × 4′ GARAGE SHELVING HEAVY DUTY GS24 is the perfect way to organize this man cave gym. And you should not worry about its weight capacity as well. Load it up with all of your gym equipment and you would be surprised to know that it can carry up to 4600 pounds or more! FlexiMounts guarantees every user that the FREE 2′ × 4′ GARAGE SHELVING HEAVY DUTY GS24 is durable enough to last for a long time of heavy usage.
And for those who want sleek gym equipment, our sister company, FlexiSpot offers the Folding Treadmil 01. Both of these items are a space-saving addition to your quaint man cave.
Play that Funky Music
Music will always be a part of our lives and what better way to honor this than to have amazing speakers? For this to be mind-blowing, it needs to have the option of mixing your preferred levels of bass and trebles.
Having speakers within the area would also provide a source of entertainment whenever you have guests over or you are throwing a major party. These speakers can also heighten your gaming experience as sounds do provide another layer of dimension to any gameplay.
Final Thoughts
As you transform the garage into a man cave, you need to keep in mind the things that would make staying there a fun experience. You must turn your man cave into a place that refreshes and relaxes you as this is your personal sanctuary. If you still have not gotten around to making one, you would soon realize why other guys treat this as sacred land.
If you want more carport transformation tips, check out the FlexiMounts website for the best storage deals you could have.