P
ossessing a magnificent wardrobe brimming with exquisite garments is a young lady's fantasy fulfilled.
Most women find joy from looking at their sartorial collections that range from suit jackets, flowy garments, and tight outfits. Following a long day's duty, lying on a nice, comfy mattress is like being in heaven, and applying beauty products with a divine smell before a grooming station with a huge mirror is like encountering the deities of beauty.
However, several individuals abandon their visions owing to the inadequacy of available rooms in their homes or because they are perceived to be too extravagant. Nevertheless, all these are misunderstandings, and FlexiMounts will provide easy ideas. Allow us to bring this goddess vision to life by converting your carport into a lavish suite.
[caption id="attachment_212073" align="aligncenter" width="1024"]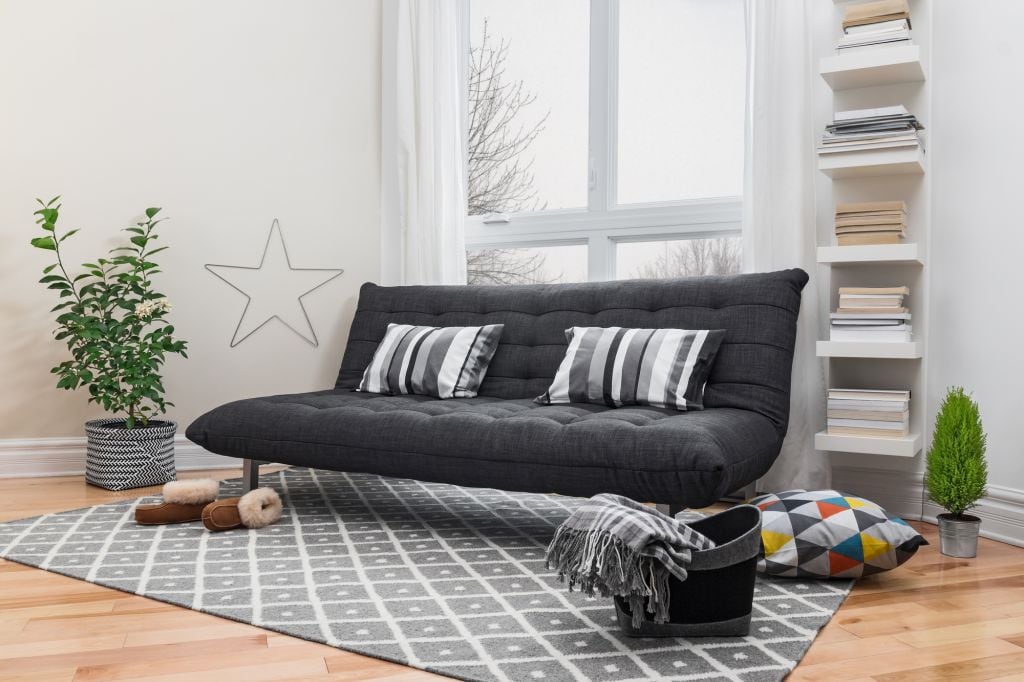 Spacious living room with gray sofa and modern decor.[/caption]
Utilization of the Appropriate Storing Rack Solution
The most difficult aspect of housekeeping is downsizing. Regardless of how many outdated and useless objects you take in the storage, storing these in any part of the house creates an untidy appearance. A suitable storing shelving solution is required to do this. The following are a few storing shelving devices that can undoubtedly resolve your mess issues.
The assurance that comes with choosing a Fleximount storage shelving solution.
Users might well be concerned for their security, fearful that such carport storing shelving solutions might collapse and fall over you as you rest in your freshly transformed room. But at the other side, storing racking systems, regardless if it is overhead or wall shelves have noteworthy protection measures.
To begin, the metal chosen is quite sturdy and will undoubtedly endure a good number of years. It is constructed of cold-rolled metal that is resistant to lumber bugs. Metal has a tensile toughness 20 times that of timber. This is why FlexiMounts storage racks are more secure and durable than those constructed of hardwood. Additionally, there are security bolts at each connection to withstand the pressure of the items you wish to store on our rack. Its bolts snugly attach to the rack, ensuring that it does not wobble and is devoid of separation of parts, preventing this from dropping.
The safety of our storage shelving device is determined not only by the material employed but also by the place to which it is connected. Both the GR48M PRO 4' X 8' OVERHEAD GARAGE STORAGE RACK and the WRC24B 2-PACK 2' X 4' CORNER WALL MOUNTED SHELVING are hung on the home's raised sections. This means that utilizing these sophisticated storage racking systems is the most effective approach to keep youngsters away from dangerous goods or substances kept on carport flooring. Additionally, the elevated storage shelves can safeguard stowed objects from harm caused by flooding and ground leaks.
Why are these 2 FlexiMounts Products the Best Choice For the New Room?
Anything left on the ground deteriorates greatly because of the dirt and humidity. The GR48M PRO 4' X 8' OVERHEAD GARAGE STORAGE RACK allows customers to conserve more room by storing goods higher. Apart from providing you with larger storage, it will also end up saving everyone effort and time while cleaning a prospective room. When dusting the flooring of the garage, you will not need to transport the debris forward and back several instances to keep things from becoming damp and dusty. With the FlexiMounts rack system, users can be certain that their garage, which will eventually resemble a sweet suite, will be more organized than anyone imagined. The GR48M PRO 4' X 8' OVERHEAD GARAGE STORAGE RACK is available always for any prospective customer who is looking for ways to be organized no matter the part of a home. It is constructed of cold-rolled metal, which ensures its endurance. It is simple to mount, as it comes with a process of instructions. This movable above garage storage rack allows you to rearrange its placement according to the way users need their area to feel. The shade of black that covers this overhead garage storage solution effortlessly complements the ambiance of the newly changed luxurious room from a messy carport.
WRC24B 2-PACK 2' X 4' CORNER WALL MOUNTED SHELVING
If the storage mess includes ornamental objects, the WRC24B 2-PACK 2' X 4' CORNER WALL MOUNTED SHELVING may be a good alternative. It pulls out the creativity within yourself by arranging your belongings appropriately on this wall-mounted shelf. One could utilize the wall-mounted shelf to display huge framed pictures. This one was considered so that users were decluttering the garage in order to create a beautiful personal room. This wall-mounted corner wall shelf may function as a beautiful closet for your luxurious area or as a place to store your bed linen, cushions, and comforters.
The WRC24B 2-PACK 2' X 4' CORNER WALL MOUNTED SHELVING is constructed of a cold-rolled metal bar. As with the above garage storage rack, this also comes in a beautiful hue. Users can select the dimension that they believe will provide the best match depending on the dimensions of the space or on appearance. Our FlexiMounts storage racks solution can assist you in creating a wide room that allows for comfortable movement.
Final Words
All is possible with ingenuity and minimal expenditure. After you've cleaned and organized your garage's mess with a fantastic organizational shelving solution, you may pick any décor or wardrobe style you like, considering your decisions will make a huge difference in this transition! Remain aware that while purchasing furniture, you would no longer ought to bother regarding garage capacity, because you'll be protected by the FlexiMounts storage systems.
You would never get tired and lose your innovative ideas. Utilize the entirety of your ingenuity in this makeover. Rather than wasting a fortune on decorators and creative supplies, you may repurpose your unused stickers by adhering them to the edges of these racks. Additionally, any owner possesses a shining quality, which you may replicate in your home using some multicolored sparkles and glue. Repair and organize your magnificent space and revel in the artistic freedom that comes with converting a messy carport into an upscale area for yourself
Your decision is the guiding principle in this change.