W

orking in the garage is not a new concept anymore. Gone are the days when the garage space is solely used as a vehicle parking space. The creative use of the garage varied from owner to user. But many use the space as a working room for all the woodworks, metalworks, and other hardware works.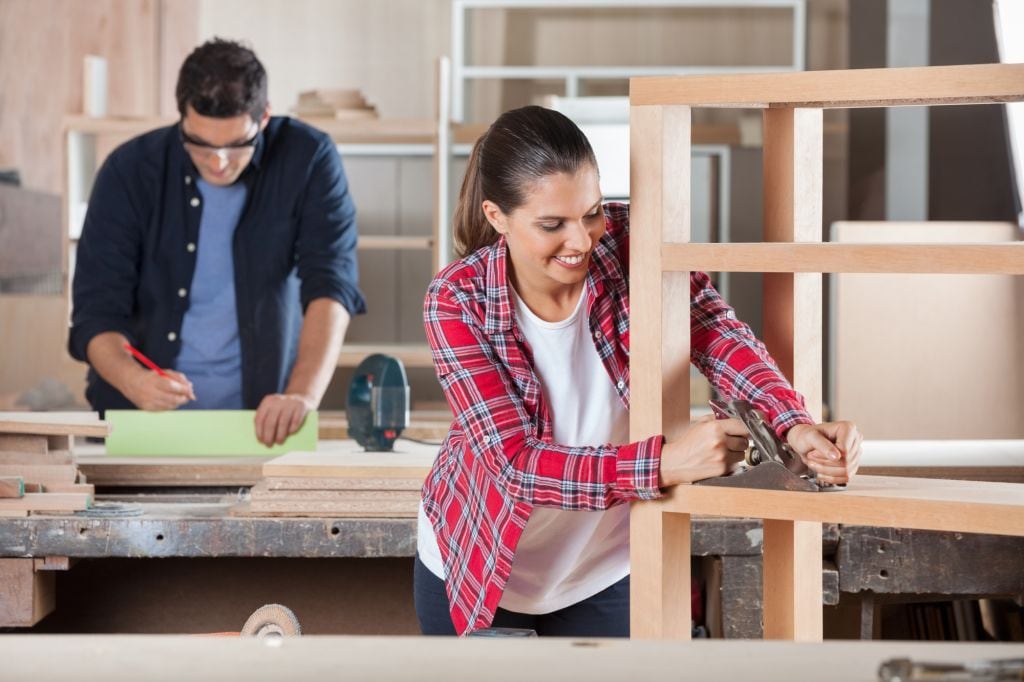 One of the first pieces of equipment an individual invests in aside from the tools is a reliable workbench–one that also offers storage capacity is on top of the list. Workbenches are a necessity for whatever sort of work needs to be done.
Workbenches provide a safe and appropriate place to work and offer practicality and ease when working. Since some of the heavy work is done on a workbench, it is only natural to look for one to handle all the activities. Some of the qualities a suitable workbench must have are:
1. The workbench must be made of high-quality materials that ensure safety and long-lasting performance.
2. The workbench must have a sturdy top with a sizable amount of space to accommodate different tools and projects.
3. The workbench must have a storage facility or compartment to store items and tools we frequently use in our projects, such as hammers, tape measure, pliers, screwdrivers, and other essentials.
4. The workbench must provide a flat, durable workspace to handle making and assembling projects.
5. The workbench must provide strong support that resists swaying, especially when working with heavy materials and pounding activities.
Another option to look into is a movable workbench–one that you can place the working space against a wall or corner, or anywhere depending on the need. Overall, a good workbench should provide a comfortable working space for you to focus only on the work at hand and not think of the workspace.
FLEXIMOUNTS BLACK FRIDAY DEALS
Not all workbenches and shelvings are created equal. And what you should always look for when buying workshop tools and storage is value for money. The equipment should be sturdy and stable and can last for a very long time despite heavy usage. One brand that delivers all these is Fleximounts. All products are tried and tested, even ranked as one of Amazon's bestsellers.
Grab the chance to own any products from Fleximounts at a discounted price. You can get a 10% discount on your purchases if the total bill exceeds $300. Items on sale are also included in the discounted promo. If you have coupons, you can also use them in your Black Friday purchases. That is, discounts plus discounts plus discounts equal significant savings for you.
If you are still unsure about what to buy this Black Friday, read on below to learn more about the Fleximounts workbenches and shelving.
Fleximounts Durable Workbench with Built-in Drawer WB201
Priced at $259.99
Additional discount to enjoy: Enter coupon code SALE15 on the checkout page to get 15% off the original price
Designed with high-quality craftsmanship, the durable frame of this workbench is made of cold-roll steel. It has a convenient built-in storage drawer that is embedded in the worktop. The pull-out drawer provides seamlessly integrated storage space for your workshop supplies. The modern design blends in perfectly while keeping your belongings out of sight and neatly put away.
The work surface is free of scratches and chips due to its material, and it is made of 1-in thick rubberwood that is sealed with varnish. As it is understandable that garage workshops tend to be on the heavier side of activity, and the materials and tools used are mostly made of metals and carry heavy weight, protecting the worktop is a feature that is made especially to last the wear and tear of things.
Garages often have uneven flooring. So, to enjoy a stable work surface, the workbench has adjustable feet to make it easy to level the workbench as deemed fit.
The WB201 is an all-purpose workstation that is suitable for many purposes–both commercial and personal. It is fit for use in your home space, garage, warehouse, mailroom, basement, workshop, or office.
Fleximounts Customizable Workbench Shelving Frame WB107
Priced at $89.99 to $94.99
Additional discount to enjoy: Enter coupon code SALE15 on the checkout page to get 15% off the original price
This workbench is made of heavy-duty steel, making it possible to store twice the storage than traditional workbenches. Its iron-made workbench legs last for years. Plus, it has top-quality stainless steel screws. The workbench has a loading capacity of up to 100 lbs per shelf.
The WB107 can be customizable to suit your taste, and you can stain, paint or finish the wood as desired. The maximum dimension of the workbench is 96 inches in length, 48 inches in width, and adjustable in height. The workbench is flexible enough to be used for multiple uses for the garage, such as assembling tables, potting benches, or even as a study desk for home.
Fleximounts Free 2' x 4' Garage Shelving Heavy Duty GS24
Priced at $219.99
This garage shelving is highly durable as it is made of carbon steel, and it can hold up to 4,650 lbs. The 3-tier heavy-duty storage shelf has a large storage capacity on each shelf. Moreover, it has a stable structure, so you do not need to worry if things will go awry as it has four support straps and sturdy vertical beams.
The GS24 is durable steel constructed with a powder-coated finish that enhances stability, durability, and corrosion resistance. Not only does it look classic and beautiful, but it is also effortless to clean.
This shelving is also flexible to use because the height of each layer is adjustable. You can place items of different sizes freely to adjust the height of the layers according to your needs. But do not worry, the shelves are secure, and there are locking pins to ensure that the cross beams stay seated.
Protective plastic foot pads are attached to prevent the bottom of the rack from rusting while protecting your floors from abrasion.
The GS24 is easy to assemble as parts are already pre-installed, and the package comes with clear instructions. The rack is ideal for usage in garages, warehouses, kitchens, etc.